After doing 2 seasons living and working in Chile and seeing the popularity of the place increase dramatically for paddlers, I thought I would write a helpful blog for all those hoping to go out there and do the same. So here are my top  tips for working as a safety kayaker/raft guide in Pucon, Chile.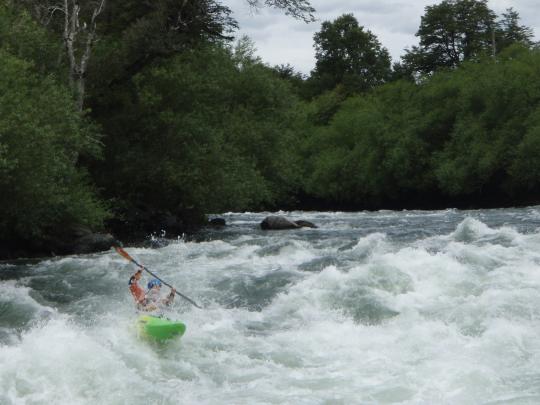 GET OUT THERE EARLY TO DO THE TEST.
 In Pucon, at least, there is a test that must be taken by all people who want to work on the rivers. The Municipalidad set the test so the quality varies greatly but do not allow yourself to think that means it will be easy.  The test takes place sometime in November/December so make sure you contact someone in the know to find out the exact date. Ben at kayakchile.net is a great resource for this. Pre-requisits for the test are a Rescue 3 SRT or WRT and at least a 16 hour First Aid qualification both of which are now being run in Chile. You will not get away without doing the test as no company will employ you without it on the rivers. They are also getting very hot on checking for work visas so ensure you have researched how much one will be and indeed whether it is worth you going out to work. In 2010/2011 the visa went up to $1400 for people living in the UK but for Australians it was the equivalent of £70!!
 
TRY AND LEARN SOME SPANISH.
 Most of your clients will be Spanish speaking and there is a specific part in the test where you need to perform the safety speech in Spanish. Also not that many people speak English so it will only help you in the long run.
 
 
GO BEFORE THE SEASON STARTS.
 Most of the rivers are running from October so that is when the best boating levels are. In the two years that I was there the level dropped off very quickly, so to make sure you get some boating in for yourself get out there early enough (it will also give you time to learn some Spanish, practice on the river that the test is on and get to know people who may offer you work). However the main money making season is between January and February.
 
 Unlike the rest of South America, Chile is about as expensive as the UK in many respects. Renting a room/house can be very expensive as it is a tourist town so people can basically charge what they want between December – February another reason to go out early and bag yourself a cheaper house. Food is about the same price as the UK aswell.
 
 
BRING OUT AS MUCH KIT AS POSSIBLE!
 There are plenty of opportunities to sell your kit as most Chileans can't/won't spend the money on new kit and are really eager for anything they can get. Also there is a limited choice of kit to buy out in Chile despite there now being two shops in Pucon which sell kayaking equipment, and because some prices are more expensive than the UK.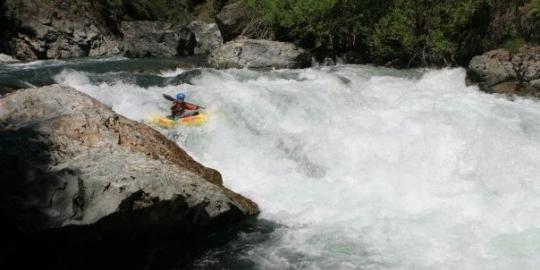 The first season I flew out with Iberia and had to spend £400 flying my boat out! The Second year I flew with TAM airlines and only had to pay £40!!!
 
 
 The rivers worked on are the Trancura Alto (Gd 4+), the Trancura Bajo (Gd 3/4) and the Liucura Bajo (Gd 3/3+). Most of the safety kayaking work is on the Alto and it pays fairly well, but they now raft and ducky both the Tancura Bajo and the Liucura Bajo. However they only have a Gd 4 safety kayaker test so you must do this to work on any level of river. They do have a grade 3 raft guide test and Grade 4 raft guide test but you must have international raft guiding experience to take the Grade 4 test.
 
PUCON IS NOT THE ONLY PLACE TO WORK.
 Although Pucon is one of the most popular tourist towns there are other areas to work in Chile. Near Santiago there is rafting work to be had on the Rio Maipo. Further south there is work in Puerto Varas on the Rio Petrohue (pronounced petroway) but less rivers around to paddle in your own time; and of course there is always the Futaleufu. However I do not have any knowledge of finding work in these places so you would need to do a bit of research yourself.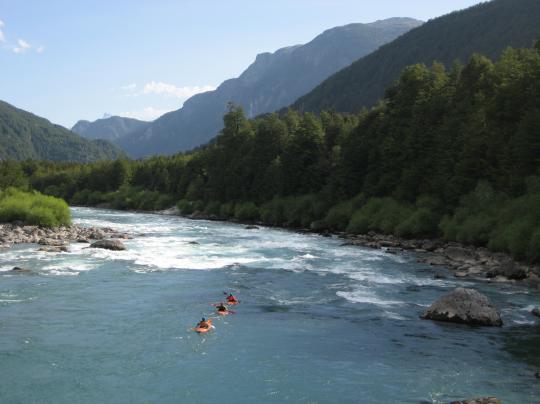 COACHING CAN PROVIDE EXTRA WORK.
There are two Kayak companies in Pucon who also offer kayak lessons, so there is some coaching work to be had but it is more infrequent.
Chile is a fantastic place to live and work, but it can be difficult to start out. I'm happy to help anyone who has any queries on working or boating in Chile. Please email me at frankie790@hotmail.com with any questions.
See you on the water! Fran Kohn