The James River in Richmond Virgina has multiple  play spots, good attainment routes, and small creek lines.  This is all located right in downtown Richmond.  I have been to Richmond several times to paddle on the James and it's always entertaining.  Every time I end up at the take out for the Richmond town run there is a parking lot full of local paddler's gearing up for the James.  This particular weekend is the Richmond River Rocks Festival!  I'm going to have to admit my favorite part of this festival is the music.  They always have some fun funky music that I end up in the front row for!  Other than that I would say it compares to a smaller Vail Mt. Games!  It's damn fun and I was very happy to have won the Freestyle comp yesterday at the event!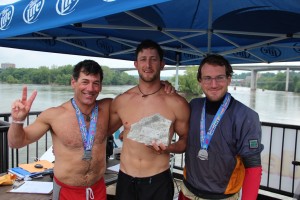 Photo By:Â  Chris Gragtmans
Winning!
On this trip I was lead down the James town run by locals Daniel Digrys and Chris Neighbors.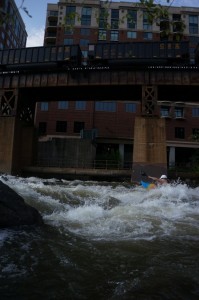 Daniel Digrys surfing with a industrial back drop.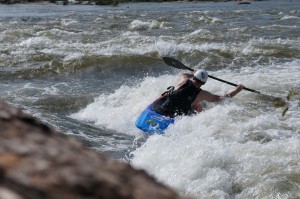 Daniel on one of the upper playspots.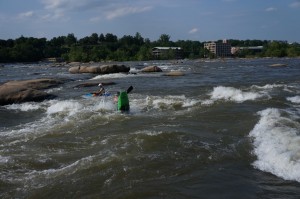 Chris Neighbors dancing down the river.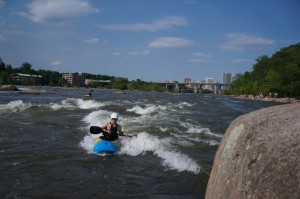 Daniel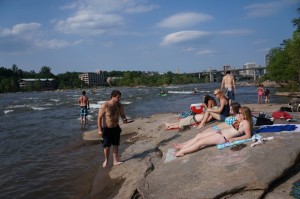 The local wild life.  This is a good opportunity to do one of those roll over things for a beer!  They love when demshitz does rolls.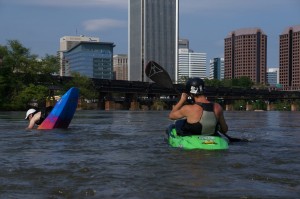 Big City life in the background.  Richmond here we come.
I think those are some pretty unique photos.  Not many places look like the James River.  If you are near Richmond I would say giver hell down the river.  There will be locals to hook up with at the Take out at the 14th street bridge.  There will be plenty of whitewater.   The local wild life will be nice to look at and may give you a beer, and the take out is downtown.  If you don't have a kayak or want to learn demshitz needs to check out the Appomattox River Company.  Daniel and the rest of the good folks at the shop will set you straight.
See yinz in Colorado!