I flew out to North Carolina for the NOC Team Trials and after a weekend of rain, the creeks in the Smokies started to rise. Along for the ride with Demshitz, we hit the West Prong and Big Creek at nearly perfect flows. The West Prong is a fairly steep continuous class five run and Big Creek has a similar feel but is a little less steep and technical.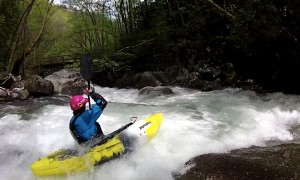 Me in the Nano on Big Creek
I didn't have any of my own gear so I got use whatever boat was on top of the van. I usually paddle a small Shiva on creeks because of its speed, stability, and because it is easy to boof. But, I ended up paddling the Nano and loved it! I was, admittedly, a little nervous putting on the West Prong, but by the end of the run I felt totally confident and unstoppable in the Nano. I had not problem staying on line just reading and running, even down the steeper continuous drops. The Nano is a very playful boat, easy to maneuver, and very easy to boof. Even though it is a smaller boat, I was extremely impressed with the primary and secondary stability. I really liked the edges, making it easy to turn and carve in and out of eddies, but it still felt very forgiving, just like the Shiva. Overall, I was extremely impressed with the Nano and I thought it was the perfect boat for the steep and technical runs in the southeast. The Nano is my new favorite boat and the West Prong is my new favorite creek run! See you all out west!
Erin