Below: Must be going the right way, photo by Evan Alfano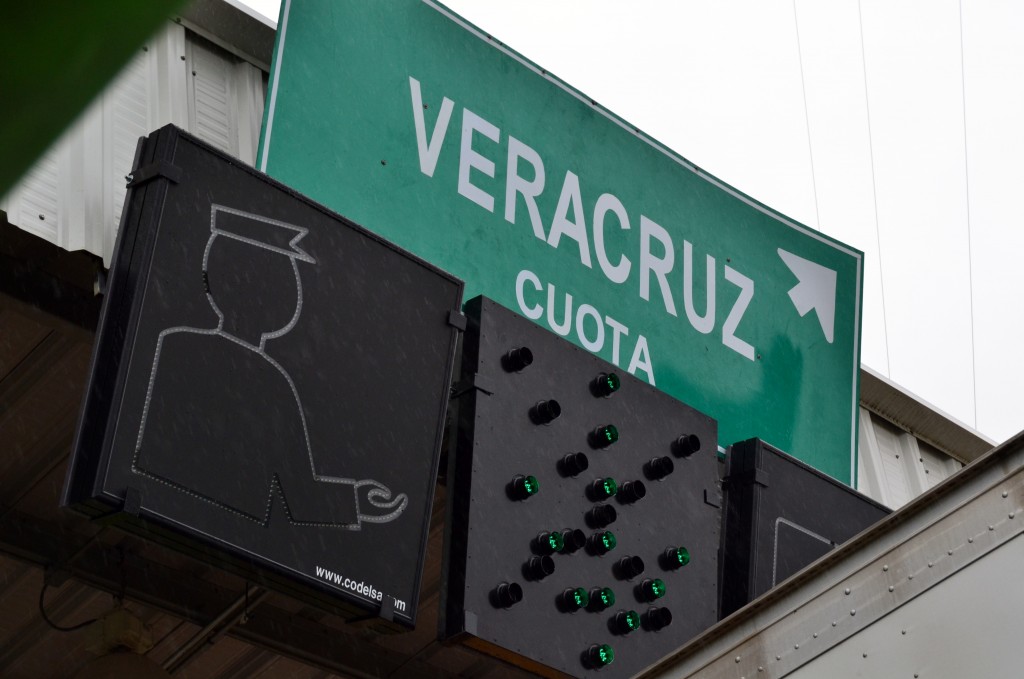 Below: Adam Goshorn on the Rio Alseseca , photo by Shannon Goshorn

The day after we paddled the second canyon of the Rio Verde with Team Previa (see: Mexico 2013 part II HERE); we woke up early and broke down our camp at Aldea Huseteca. Eager to get on the road south towards Veracruz, we skipped breakfast, planning to find something to eat along the way. It was raining lightly as we departed our campsite and the rain continued throughout the day, slowing traffic everywhere and lengthening our already long drive to Tlapacoyan. While driving through a small town, the name of which I have already forgotten, we did eventually find an awesome place for breakfast. We spotted fresh bread and pastries in a storefront window along the main road. A couple of blocks later we found a spot to park and backtracked on foot. The storefront was indeed a bakery, but was also a café with a counter and table-service in the back. No one spoke any English, but like so many times before we used a combination of our limited Spanish and pointing at meals being consumed at other tables to place our orders. We didn't think we had all ordered the same thing, but when our meals appeared they were identical. We each received a big platter containing a slab of flank steak, a pile of eggs, fried potatoes, and a serving of beans. A couple stacks of tortillas also appeared; ready to be loaded with the contents of our plates. We ate to our hearts content and bought a few pastries on our way out the door, beyond pleased with our random breakfast stop.
Below: Matt Beauchamp on the Rio Alseseca, photos by Adam Goshorn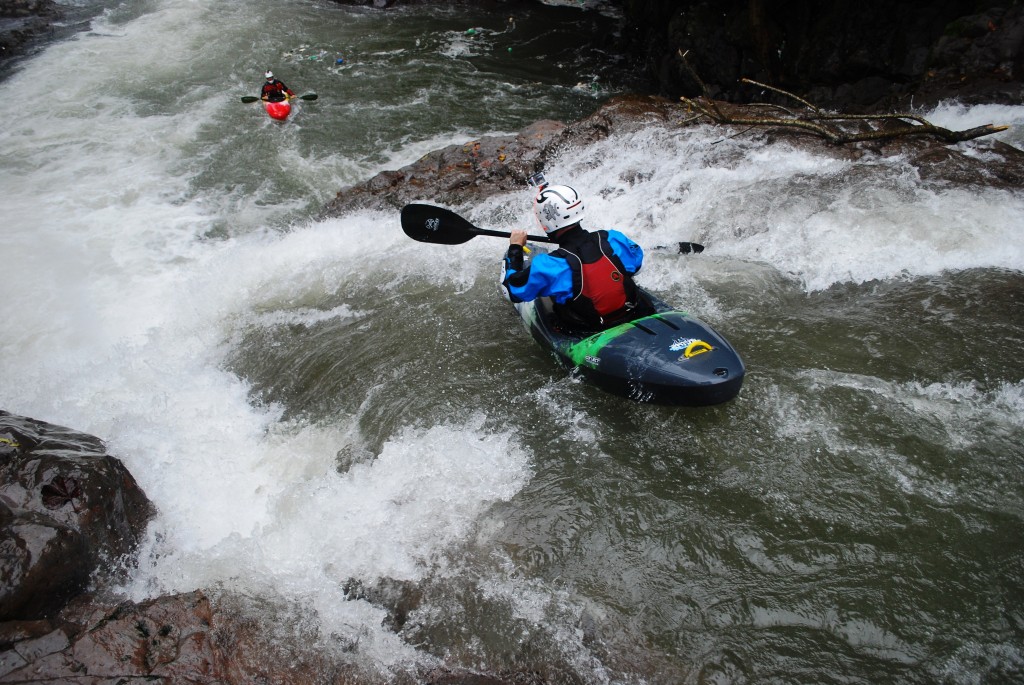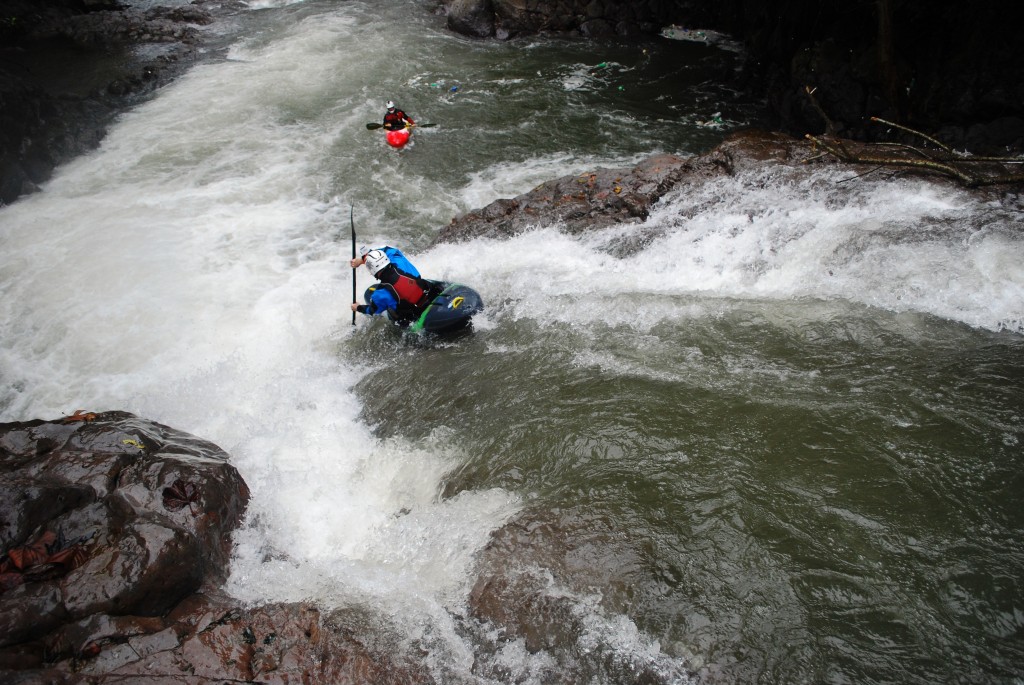 Back on the road again, we slogged on through the rain. We passed through two state police checkpoints where the officers first asked… then insisted, that we buy them a cup of coffee. Their exaggerated shivering was effective charades in communicating to us that they were cold from standing in the rain… despite if being about 70 degrees outside. We complied, not too put-off by the ten peso price tag, after all the current exchange rate put ten pesos roughly equal to $0.75 USD. It was a small price to pay to not get hassled any further and to move through their checkpoint as quickly as possible. Soon we were winding along the Emerald Coast, catching glimpses of the beach and its waves on our left. Had it not been a rainy, foggy day, it would have been quite a beautiful spot. Eventually we turned right, leaving the coast behind and heading back into the mountains towards our destination, the small city of Tlapacoyan.
Below: Adam Goshorn on the Rio Alseseca, photos by Evan Alfano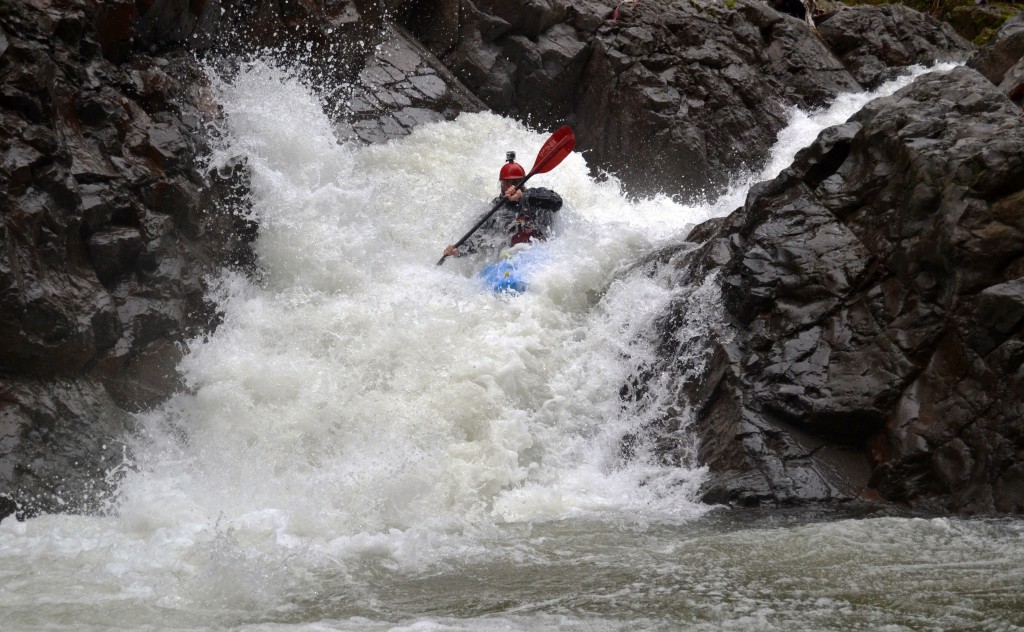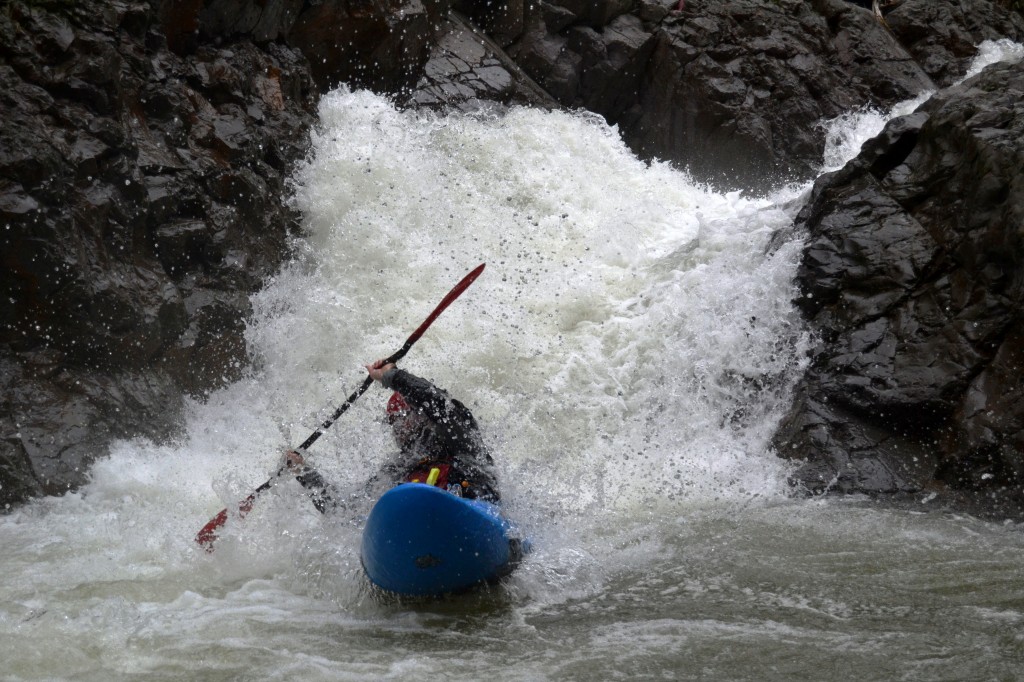 Over the past few years the state of Veracruz and the especially the area around Tlapocoyan have become the most well known destination for paddling in Mexico. Its popularity is due in part to the many great whitewater runs that are in relatively close proximity to each other, but it's not just the richness of the whitewater that have made it so popular. In large part, the boom in paddling in the region is due to ease of logistics because of the services provided by a family-owned company called Aventurec. Unlike most of Mexico, where paddlers are pretty much on their own to figure out logistics, Aventurec makes paddling around Tlapacoyan downright simple! Aventurec a eco tourism company that has rafting, horseback riding, zip lines, a campground, hostel, rental cabañas, a restaurant (with meal plans!), a bar (that allows tabs!), and can provide shuttle services for kayakers. Pretty much anything a nomadic group of paddlers could need or want is all right there and coordinated by people who know the area like no outsider ever could. There is also usually a variety of different paddling groups from around North America and Europe staying at Aventurec, creating a great vibe every night at the bar and around the campfire.

Below: Evan Alfano on the Rio Alseseca, photo by Adam Goshorn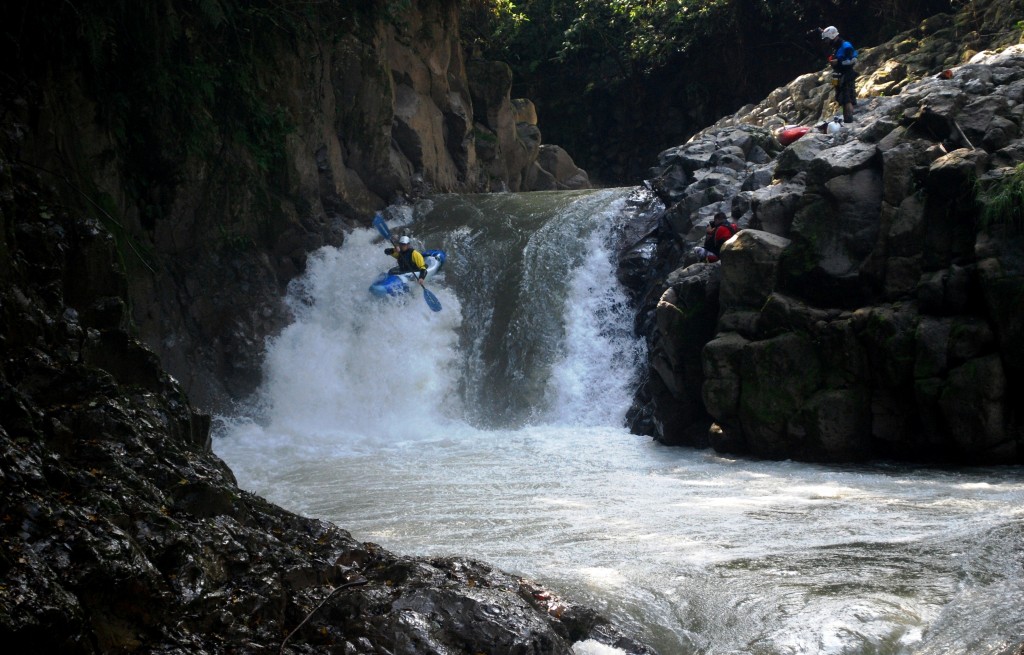 Below: Matt Beauchamp on the Rio Alseseca, photo by Evan Alfano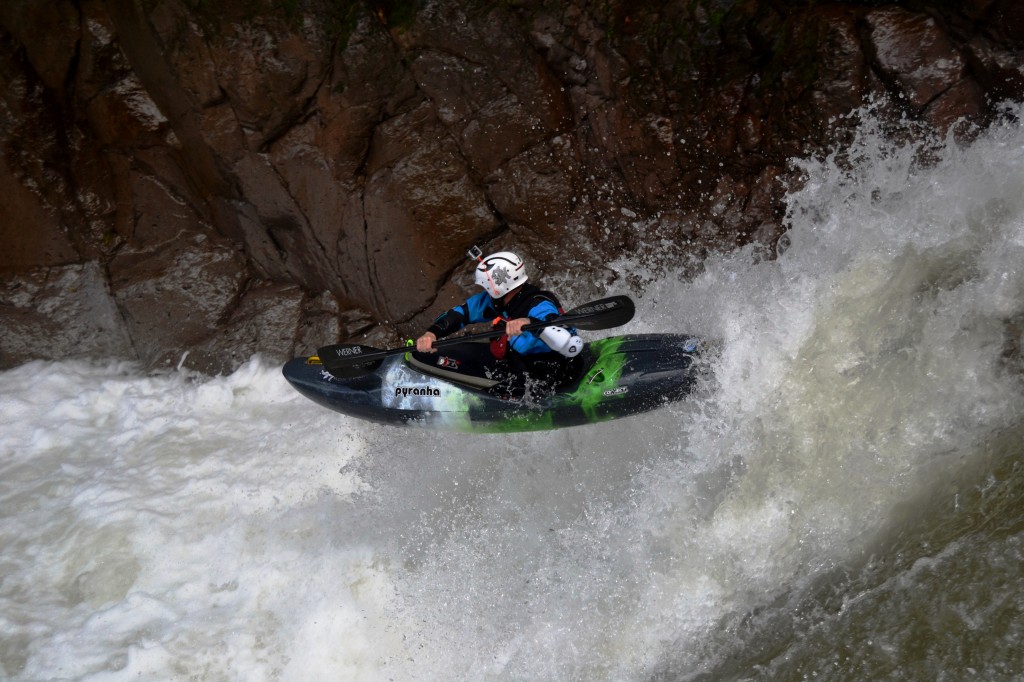 We arrived at Aventurec late in the afternoon and secured accommodations for the rest of the week; a hostel room for Evan and Matt and a cabaña for Shannon and me. We were also able to start on their meal plan (highly recommended!), beginning with dinner that night. While we ate, we met a Canadian paddler, Patrick Levesque, who had also just arrived and made plans to head to the classic Roadside Section of the Rio Alseseca with him the next day. The Roadside is the easiest section of the Rio Alseseca and was also the first section of the river to be explored by paddlers. In a year with average rainfall, by December the Rio Alseseca is at a nice low-ish flow… perfect for the harder sections like the Big Banana and makes the Roadside a low volume bedrock run that is mostly class IV. In other words, it is usually the perfect warm-up run for the area. However, this was not an average year.
Below: Patrick Levesque on the Rio Alseseca, photo by Evan Alfano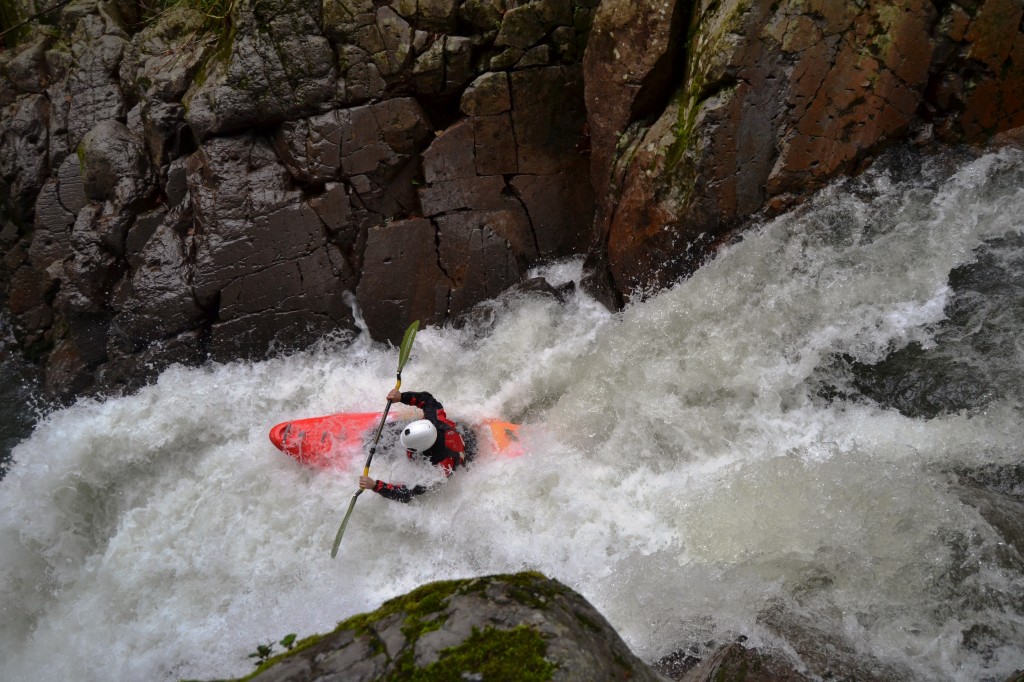 Below: Evan Alfano on the Rio Alseseca, photo by Shannon Goshorn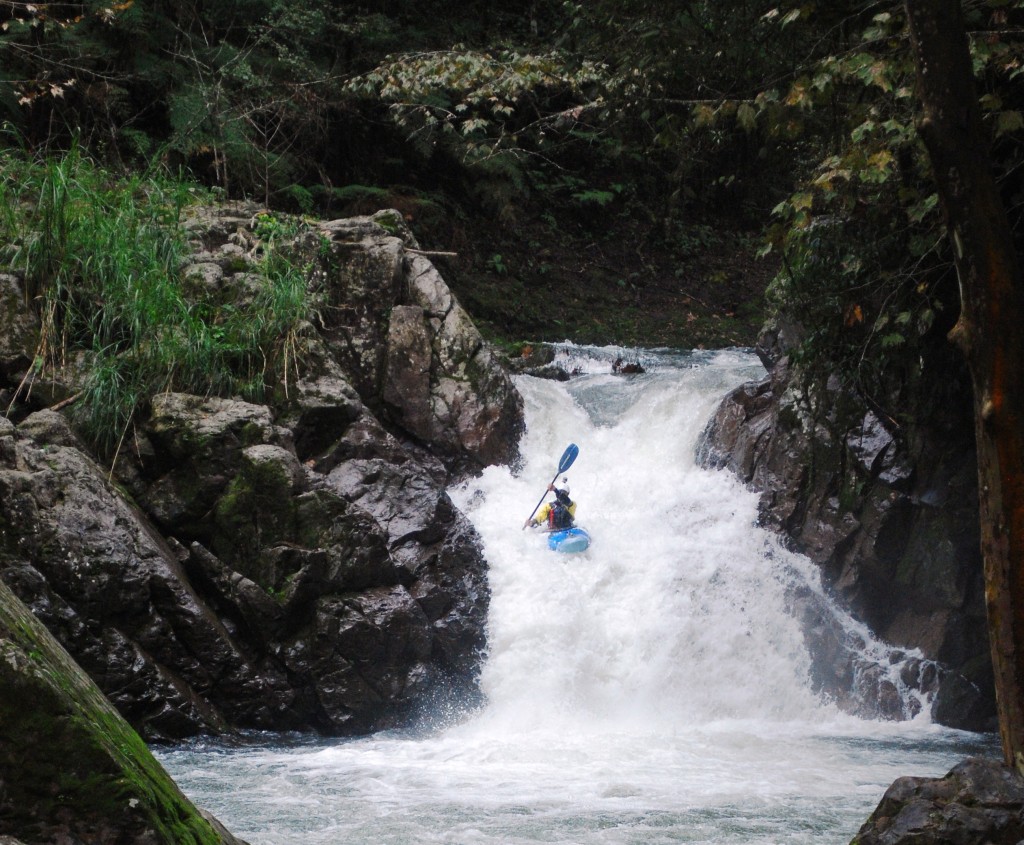 Hurricanes had caused severe flooding throughout Veracruz and the surrounding states in September of 2013 and frequent rainfall continued throughout the fall. The result was the high water season extending into December, and unbeknownst to us at the time, it would continue into January as well. When we got to the put-in, the Roadside Section was quite a bit higher than when we paddled it the previous year, perhaps as much a vertical foot higher in some rapids. The higher water really padded out some of the rapids that were boney the previous year, but also created some severe holes and resulted in several portages and beat downs. No one even considered running S-Turn and Matt was the only person to run Sticky Hole and Typewriter. He had an awesome line at Sticky Hole, easily cleaning it, but took quite a beating at Typewriter. At one drop, that I don't even think has a name, I took the worst beating I've had in years. I was surfed, cartwheeled, and power-shaded a few times before I swam and then I was recirculated a few more times out of my boat. When I finally resurfaced, coughing up water, I was done with battling holes at what was obviously too high a water level. After sticking around to set safety for Matt at Typewriter, I walked up to the road and followed it to the truck, skipping the last half-mile of the run. Matt, Evan, and Patrick arrived back at the truck a short time later with more tales of high water epicness, which included Evan's GoPro being ripped off his helmet and lost to a watery grave. No other groups ran the Roadside Section the day we did, but over the next few days other groups did paddle it at progressively lower levels and still returned to Aventurec each night with tales of beatings and swims. I have to admit, there stories were a bit of solace after the rough day we had out there.
Below: The view of the Zapotitlon Section from the hike in… still a long way to go, photo by Patrick Levesque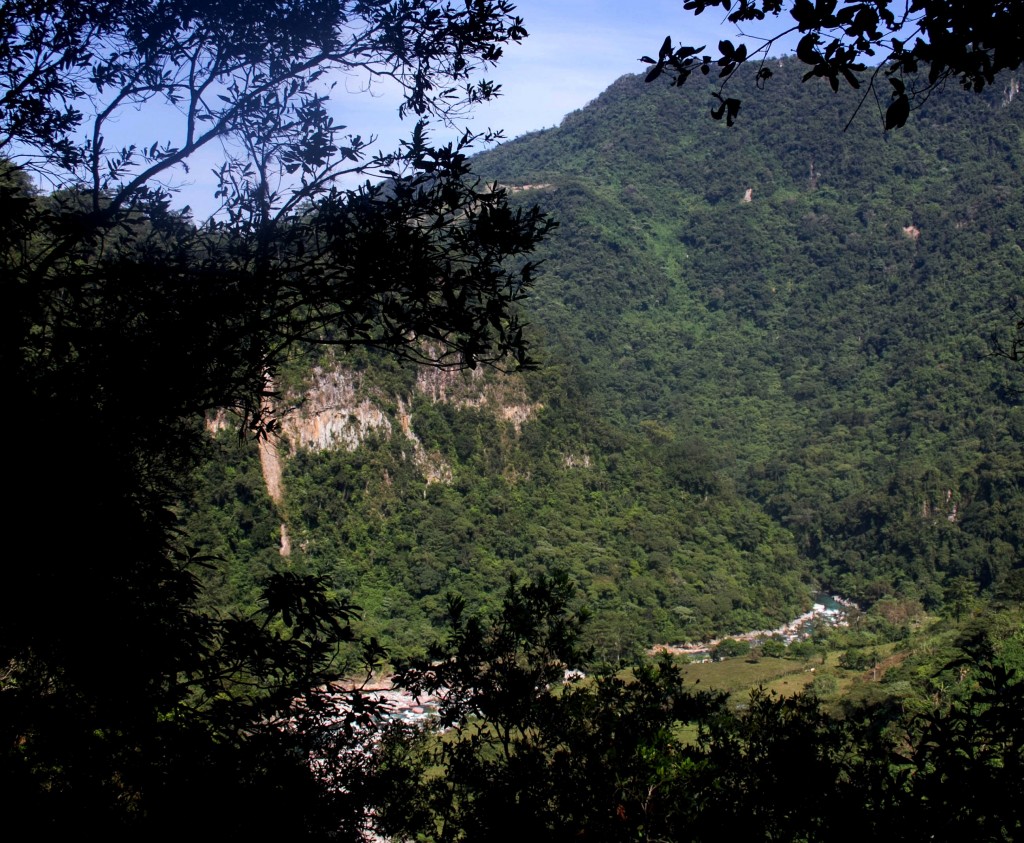 Below: Adam Goshorn hiking into the Zapotitlon Section, photo by Patrick Levesque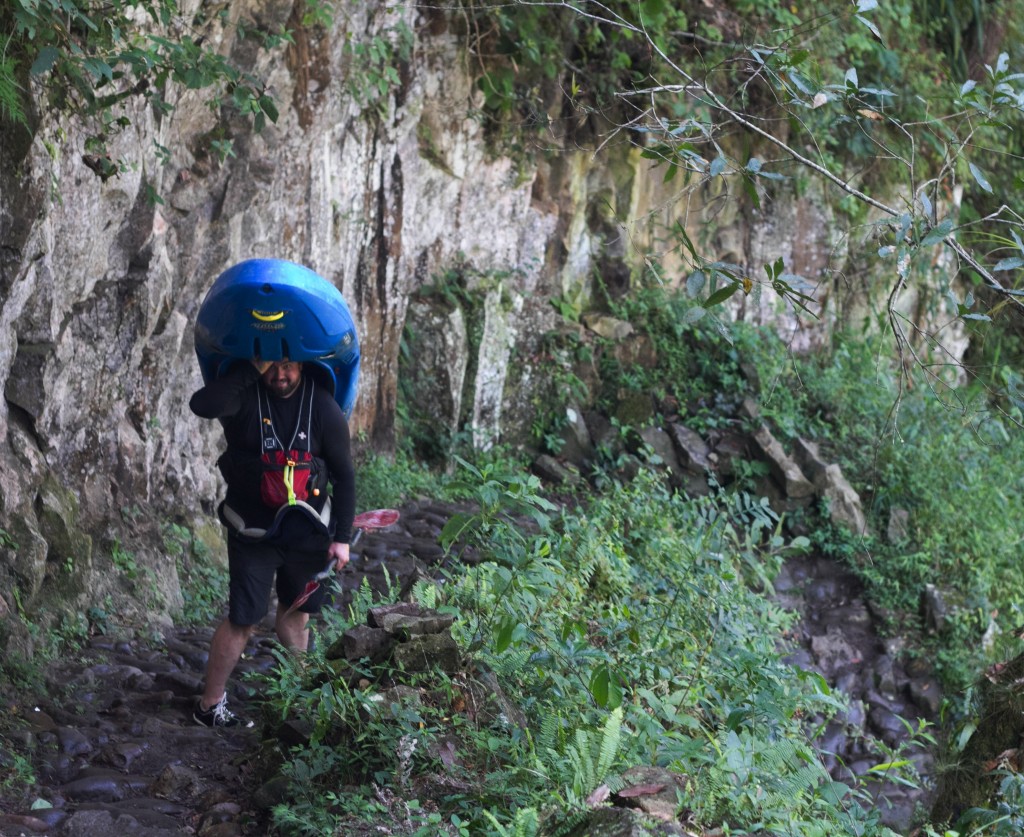 The evening after our high water day on the Roadside Section of the Rio Alseseca, we decided on a low-stress plan for the next day. Hiking into the upper Rio Bobos near Zapotitlon provides paddlers with around nine miles of read-and-run class IV boulder gardens in a beautiful canyon. We had done the run the previous year at low water and were looking forward to repeating it at a better level. After a long drive to the trailhead, the hike into the Zapotitlon is down a rocky switch-backed path that takes paddlers from the top of the canyon down to the grassy valley floor and eventually the river. Even with the recent rain, the trail was much dryer and less slick than on our 2012 trip and we knocked out the hike fairly quickly. Despite the high water level we had experienced the previous day on the Rio Alseseca, level on the Rio Bobos were only a little higher than when we had run it 2012. We had a very fun day and upon reaching the take-out we spent some time enjoying some beers at small café at the take-out, which apparently specialized in preparing large crayfish, caught from the river. The proprietor of the café, a very nice lady, showed off some live crayfish awaiting their fate in a bucket and also showed us some fresh from a boiling pot she was preparing for her customers.
Below: Adam Goshorn on the Zapotitlon Section, photo by Patrick Levesque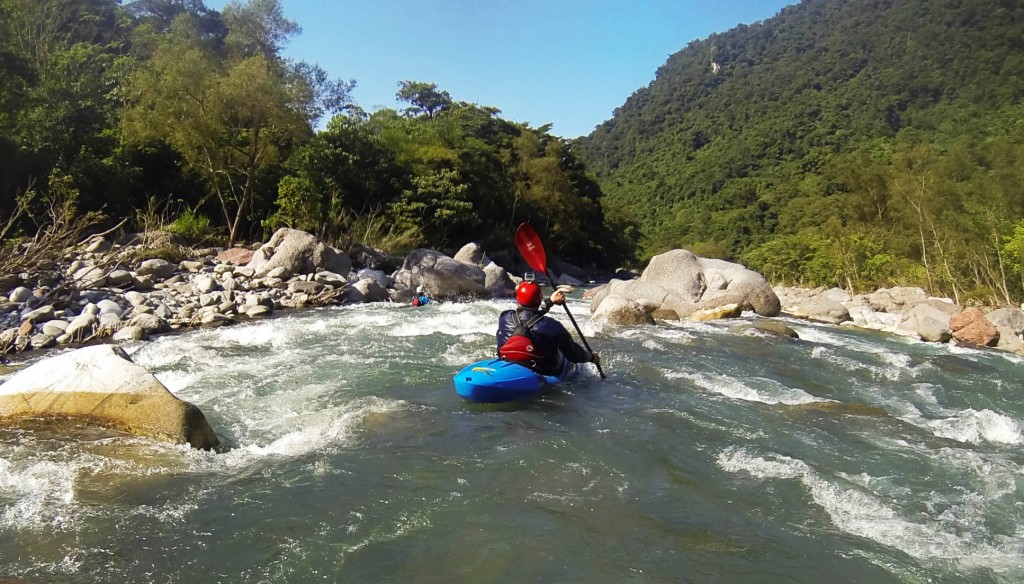 Below: A tributary joins the Zapotitlon Section via a 200" waterfall on river left, photo by Patrick Levesque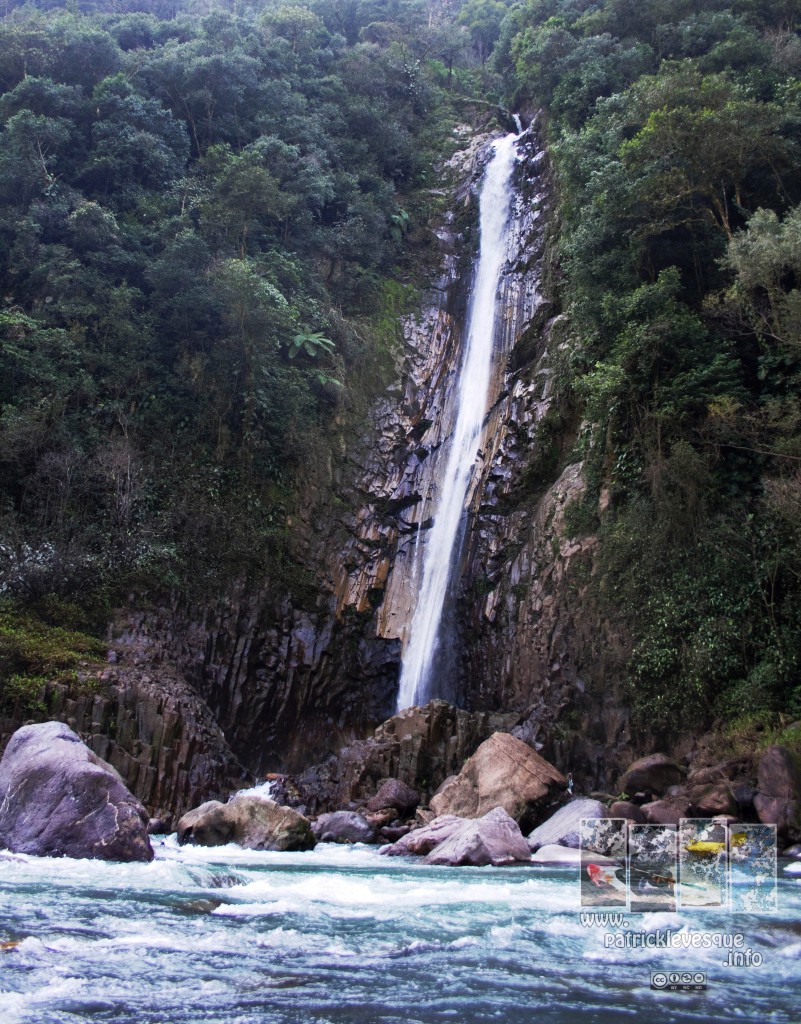 Back at Aventurec there was a lot of discussion of what we should do next. The water levels still seemed too high for the Rio Alseseca. There was no recent information on the water level of the Rio Jalacingo, although with the levels of the Rio Alseseca it seemed logical to assume it was high as well. So, after much indecisiveness, we finally decided to undertake all three sections of the upper Rio Bobos (Pimiento, Tatempa, and Zapotitlon) as a single long day. We had originally planned to do these sections as an overnighter, but eventually decided we didn't want to devote two days of the trip to something that we could probably do in a single day. We made arrangements with Aventurec for a driver and a 6:00 AM departure and went to bed early in anticipation of the long day ahead. Matt, Evan, Patrick, and I were joined by Brett Barton for what turned out to be one of the most rewarding days of the trip. Departing at 6:00 AM the drive to the put in was long and at times scary. At one point we drove through muddy, rutted out tracks across a massive landslide… white knuckles all around and a sigh of relieve on the other side! Once on the river we were treated to some high quality paddling with very few portages, amazing canyons, and countless waterfalls streaming off the walls. We made steady downstream progress all day, but were beginning to get worried about running out of daylight when we reached the Zapotitlon put-in late in the afternoon. With nine more miles to paddle we shifted into overdrive and bombed the whole section that usually takes half a day in a mere two hours.
Below: Morning Sunshine, photo by Evan Alfano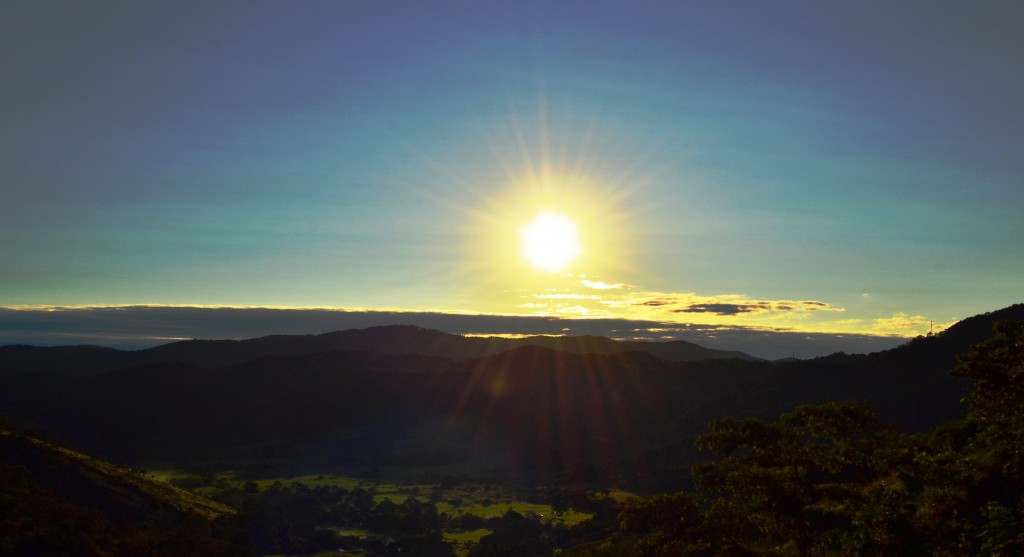 Below: The view upstream from the put-in for the Pimiento Section, photo by Patrick Levesque

One of my goals for the trip was to make sure Shannon got to paddle and wasn't just along for the ride. We had done a good job of getting her on some runs during our time in San Luis Potosi, but so far in Varacruz she had spent our whole time there hanging out, while we paddled runs that were above her comfort level. I decided I would spend the next day paddling with her on the classic rafting section of the Rio Bobos, known as the Filo Bobos. By morning, Evan and Matt also decided that a relaxing day would be nice after our very long run the previous day, so all four of us hopped on board one of the rafting buses leaving Aventurec and had a great day paddling a run that was new to all of us. Back at Aventurec that night, we began once again to debate what our next move should be…
Below: Matt Beauchamp boofing on the Pimiento Section, photo by Patrick Levesque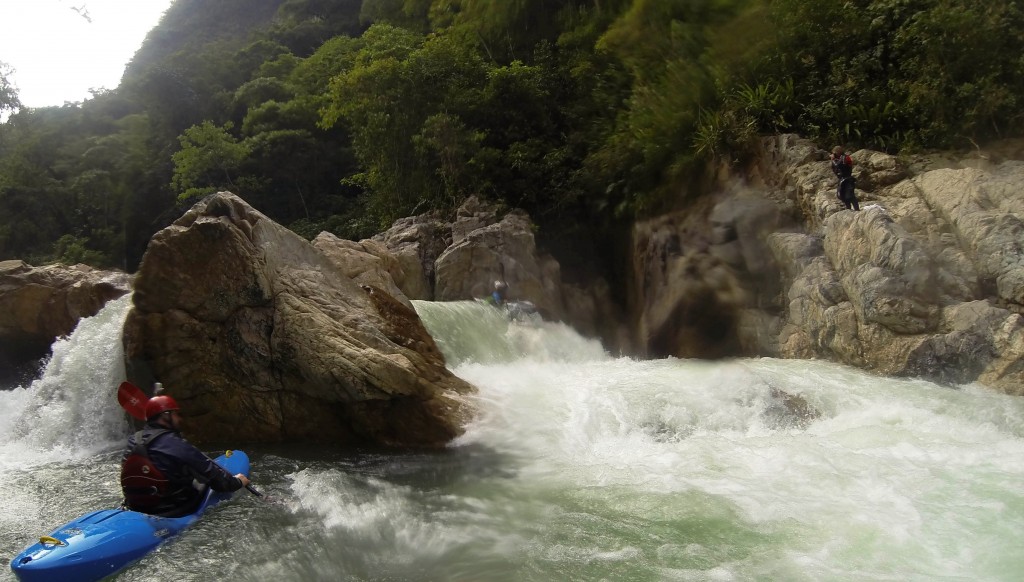 Below: Adam Goshorn boofing on the Pimiento Section, photo by Patrick Levesque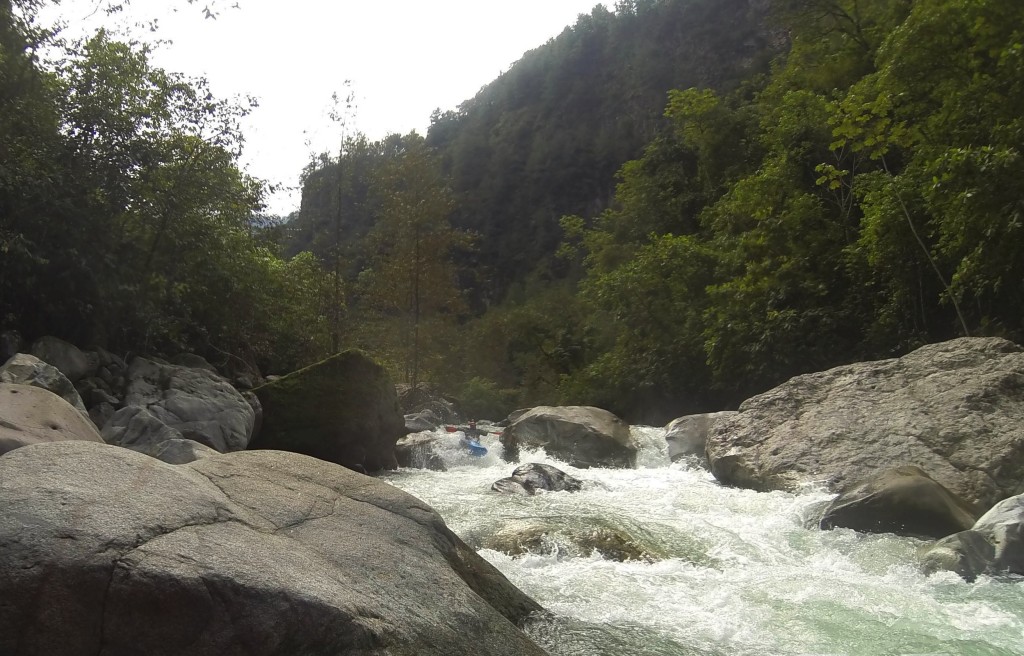 Stay tuned for the fourth and final chapter in this trip report, which will include our crew returning to San Luis Potosi and running a couple more classic there and more excitingly… the video compilation from the whole trip!
Until next time…
-Adam Goshorn
Below: Scouting on the Rio Alseseca, photo by Evan Alfano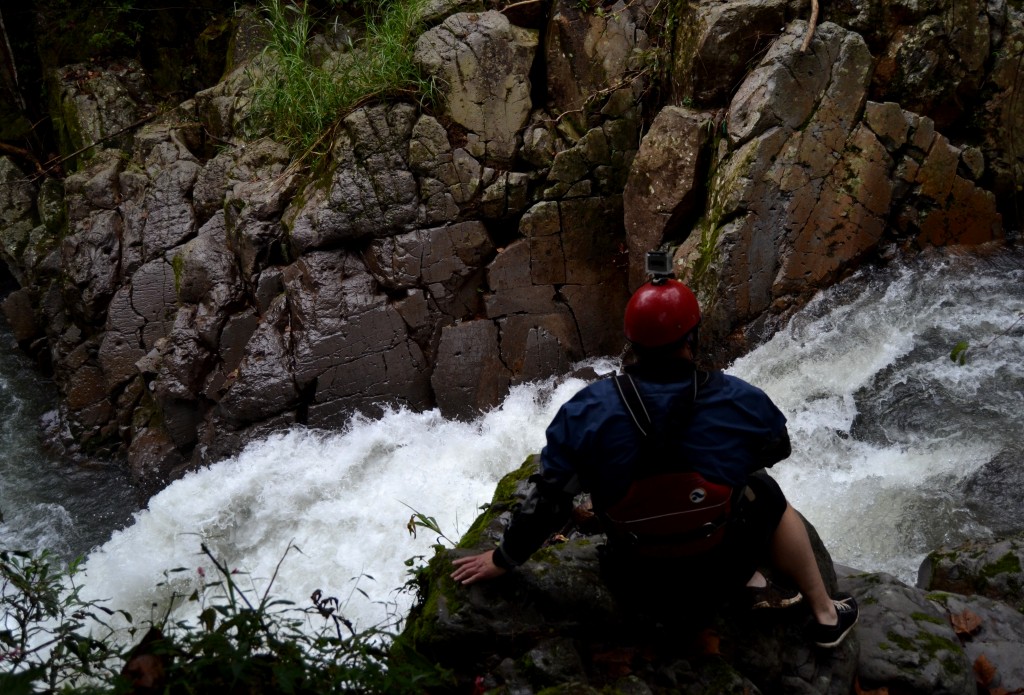 Below: A nice pic of Adam Goshorn right before he got destroyed by the hole at this drop, photo by Evan Alfano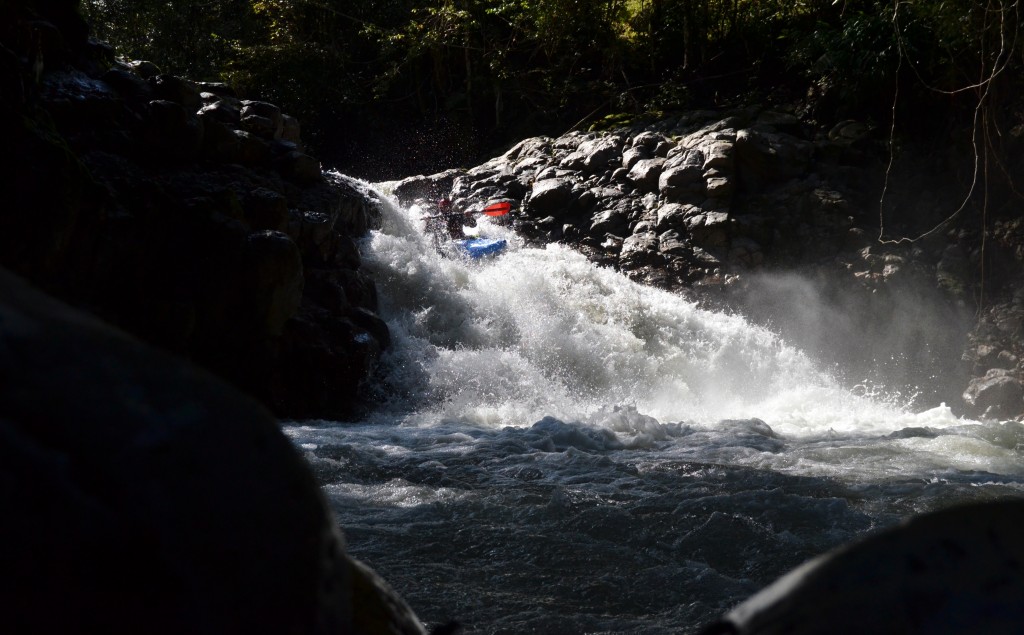 Below: The road to the put-in for the Pimiento Section where it crosses a recent landslide, photo by Patrick Levesque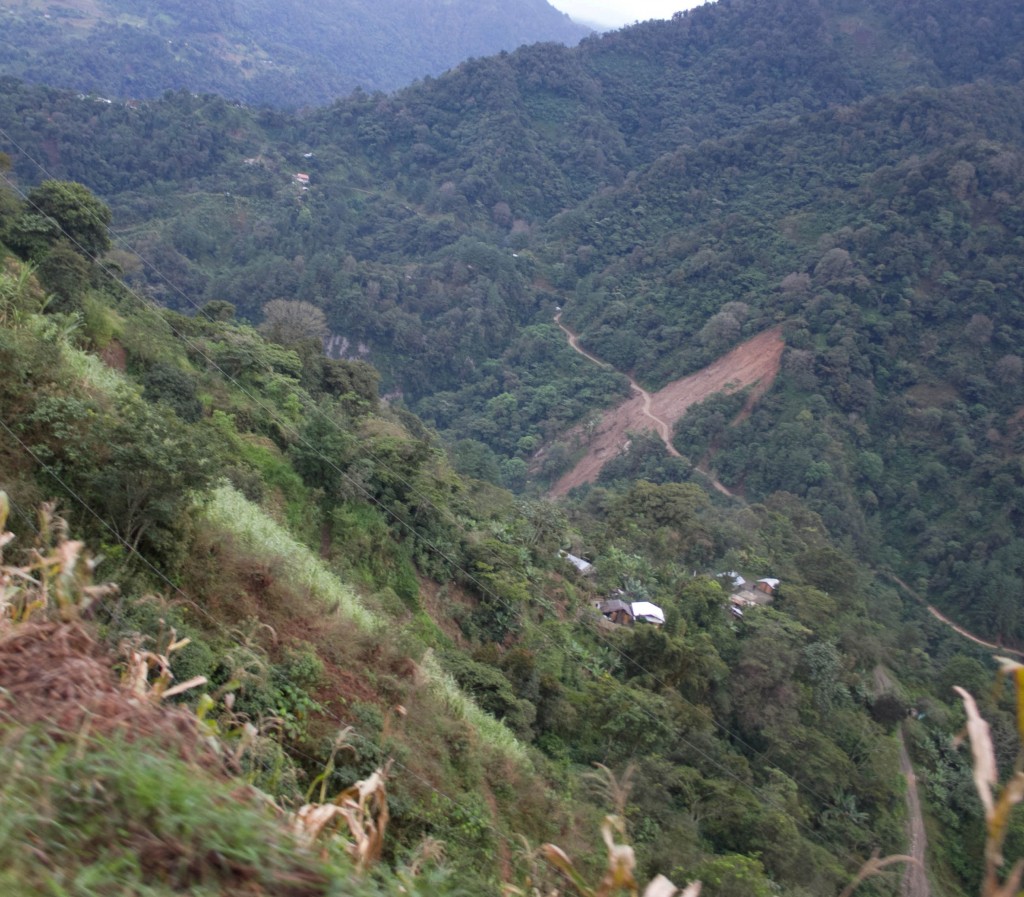 Below: Matt Beauchamp on the Rio Alseseca, photo by Adam Goshorn