A kayak can be a lot of things: it can be a toy, for surfing and playing; it can be transportation, covering long distances by freshwater or saltwater; it can be a school, an opportunity for constant learning and development. A kayak is also an incredible tool for discovery. From the seat of a kayak, with a paddle in hand you can go places few are able to go. With basic whitewater knowledge, those places become more remote, and much less traveled. Canyons inaccessible by foot become highways for river people. Raging rapids that would take days to portage become playgrounds.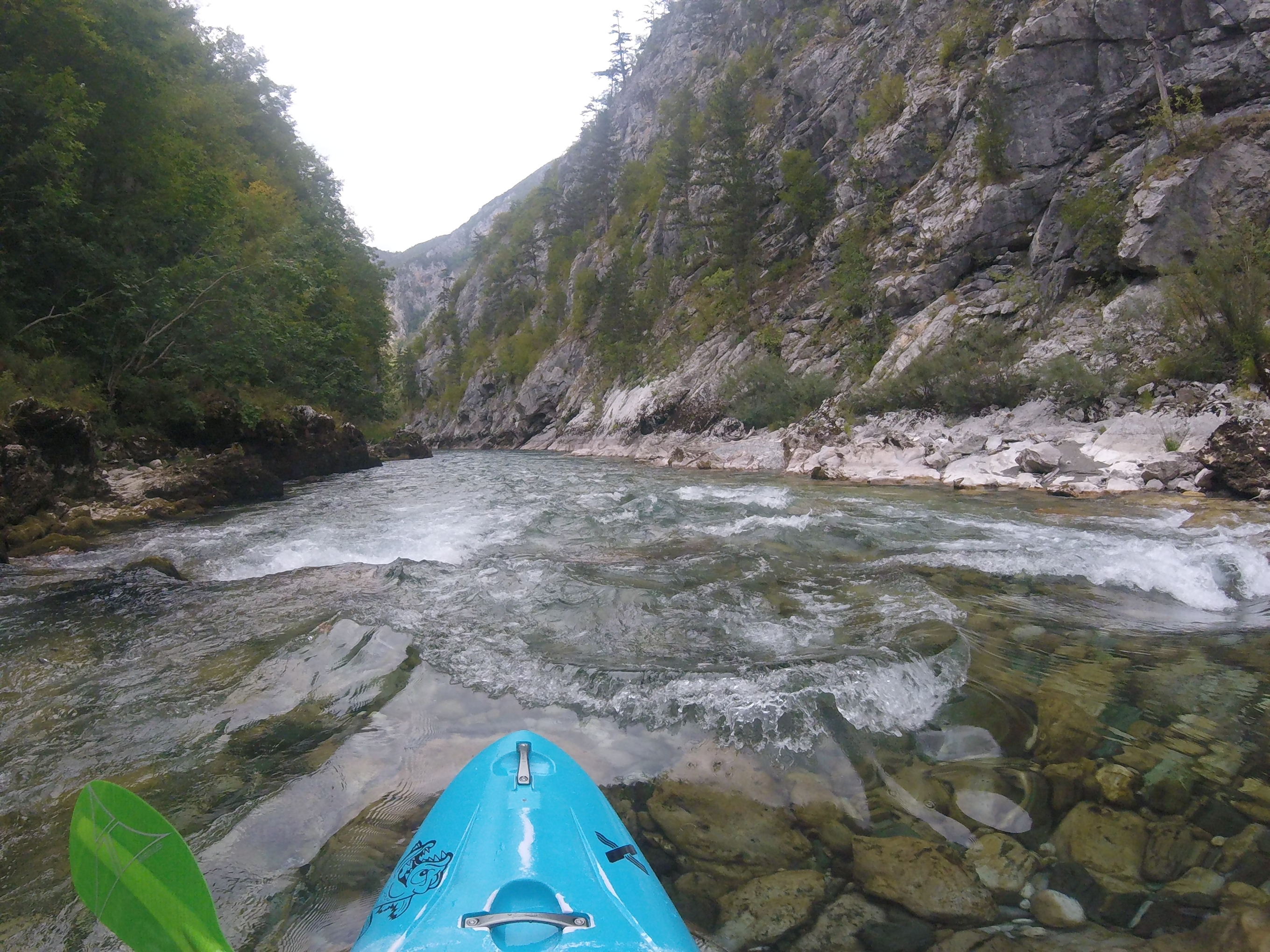 This summer I spent the month of August living beside the Tara River, deep in the karst canyon, one of the deepest in the Europe. With Camp Grab and Ethno Village as our home base, my boyfriend and I were able to explore different pockets of the river-rich country of Montenegro. Located in the heart of the Balkan Peninsula, the country boarders Serbia and Kosovo to the west, Albania to the south with the Tara River acting as the boarder between Montenegro and Bosnia and Herzegovina for a section, to the north.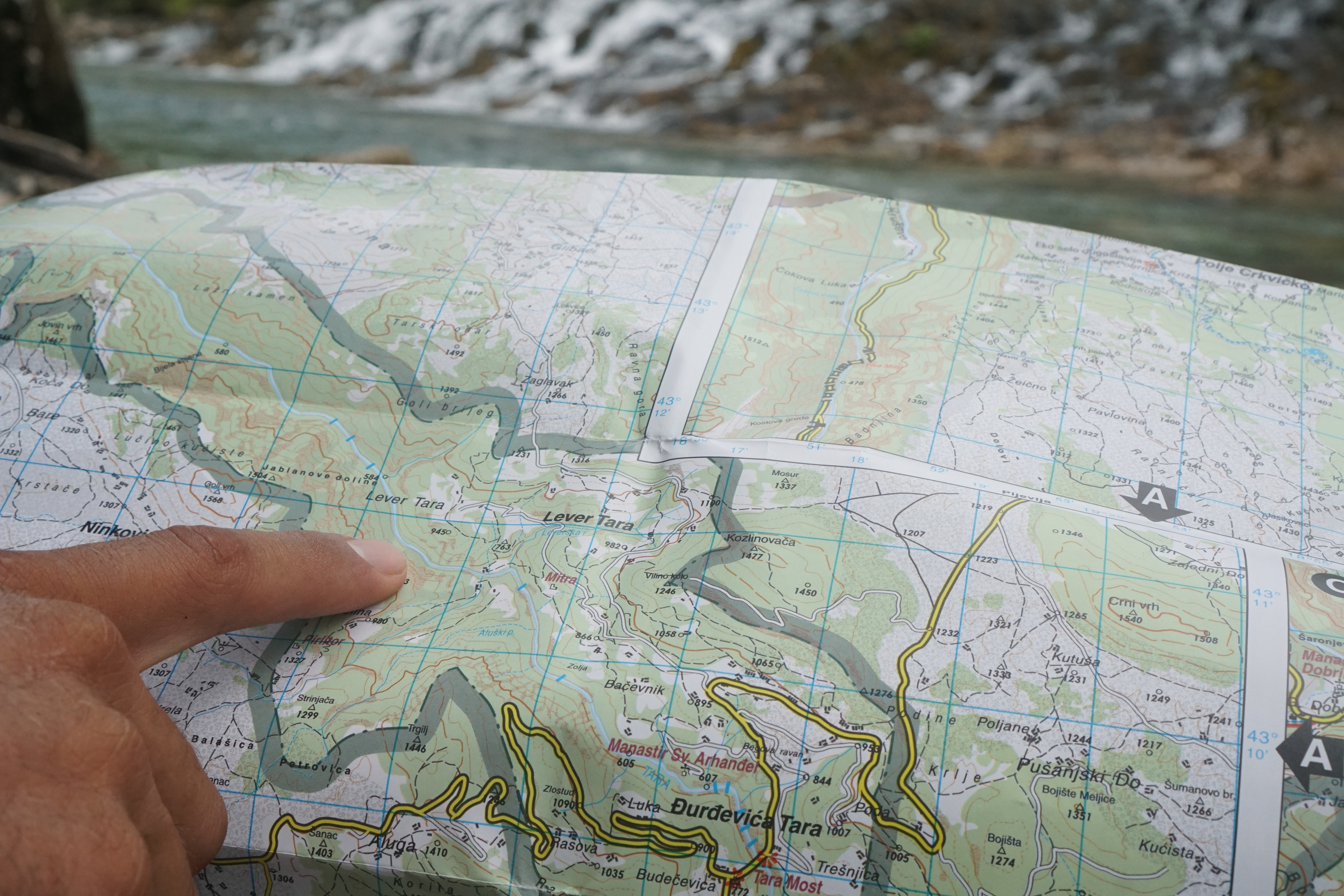 We spent a week exploring Durmitor National Park where the high limestone peaks and deep glacial lakes are home to wolves, bears and birds of prey. The park is also home to part of the 1,300 meter-deep Tara River Canyon. After hiking in the arid mountains, we were ready to get wet and get away from roads, phones and car camping.
The Tara is a river trip where – on account of the mellow whitewater – you don't have to be overly strategic in what you decide to pack. With the mellow whitewater we knew we would be paddling during the lowest month of a low water season and the desire to escape it all for a few days, we planned to take 3-4 days to paddle a river that – were you really motivated and with higher water levels – you could basically do in a day. One long day. This was going to be the kind of river trip where you can literally fill your boat to the cockpit rim, and as we were both paddling Machnos, we had lots of room. Weight distribution was still important, but the Machno is so stable that even fully loaded (whiskey, beer, fresh veggies, my book and watercolour paints), I was still able to put the boat on edge comfortably, pivoting and manoeuvring it easily on the water.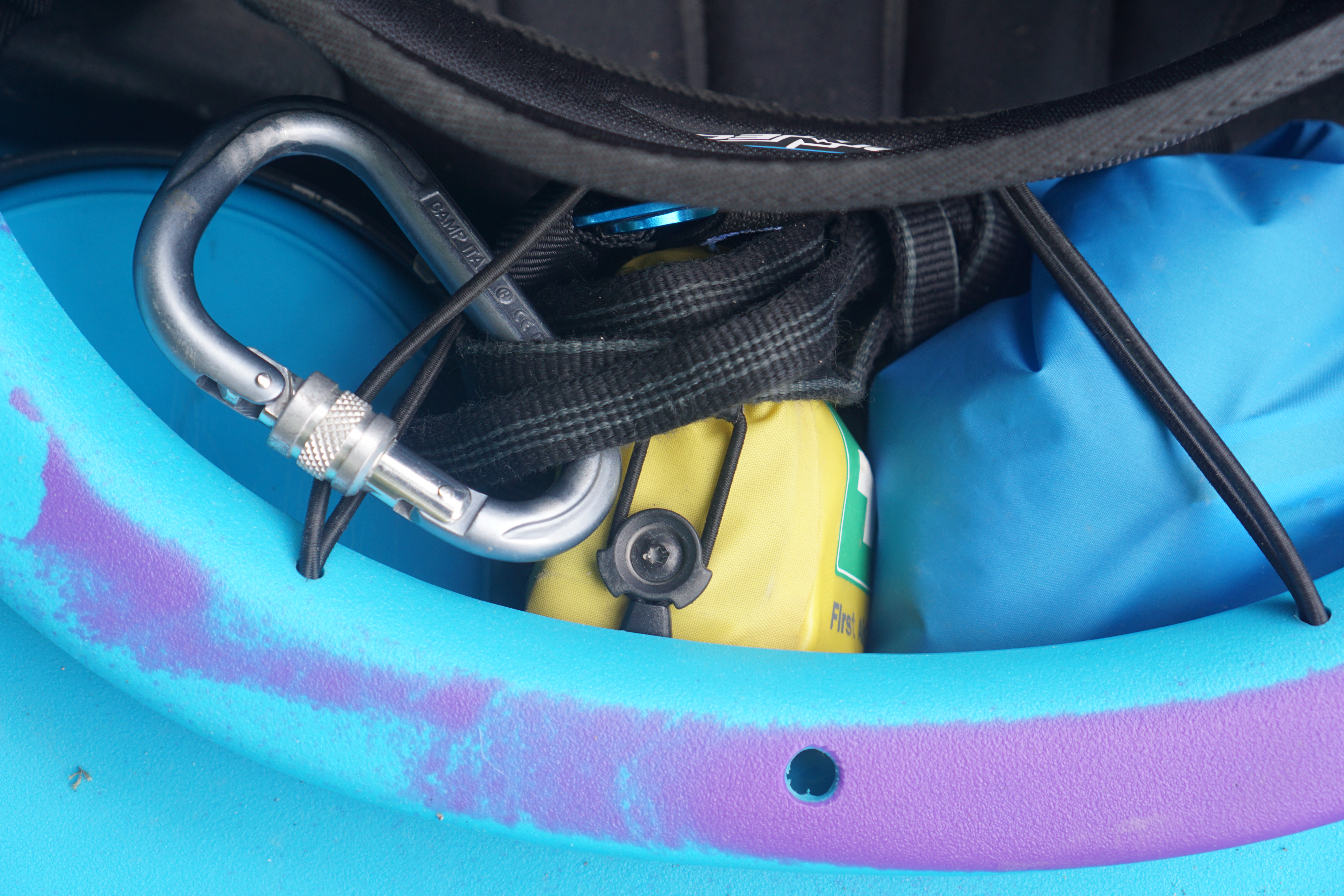 From the first paddle strokes I was blown away by how clear the river was. The undulating waves that acted as the entry ramps to rapids were like a curling piece of glass, so clear you could perfectly see the multi-coloured, rounded river stones for a split second before you were whisked into the mild whitewater. Low water season, due to small snow pack and a really dry summer season meant we could spend the whole day either gazing down as fish darted under our boats, or staring up at colourful songbirds, black woodpeckers and even a golden eagle that soared silently overhead just a few meters above the river.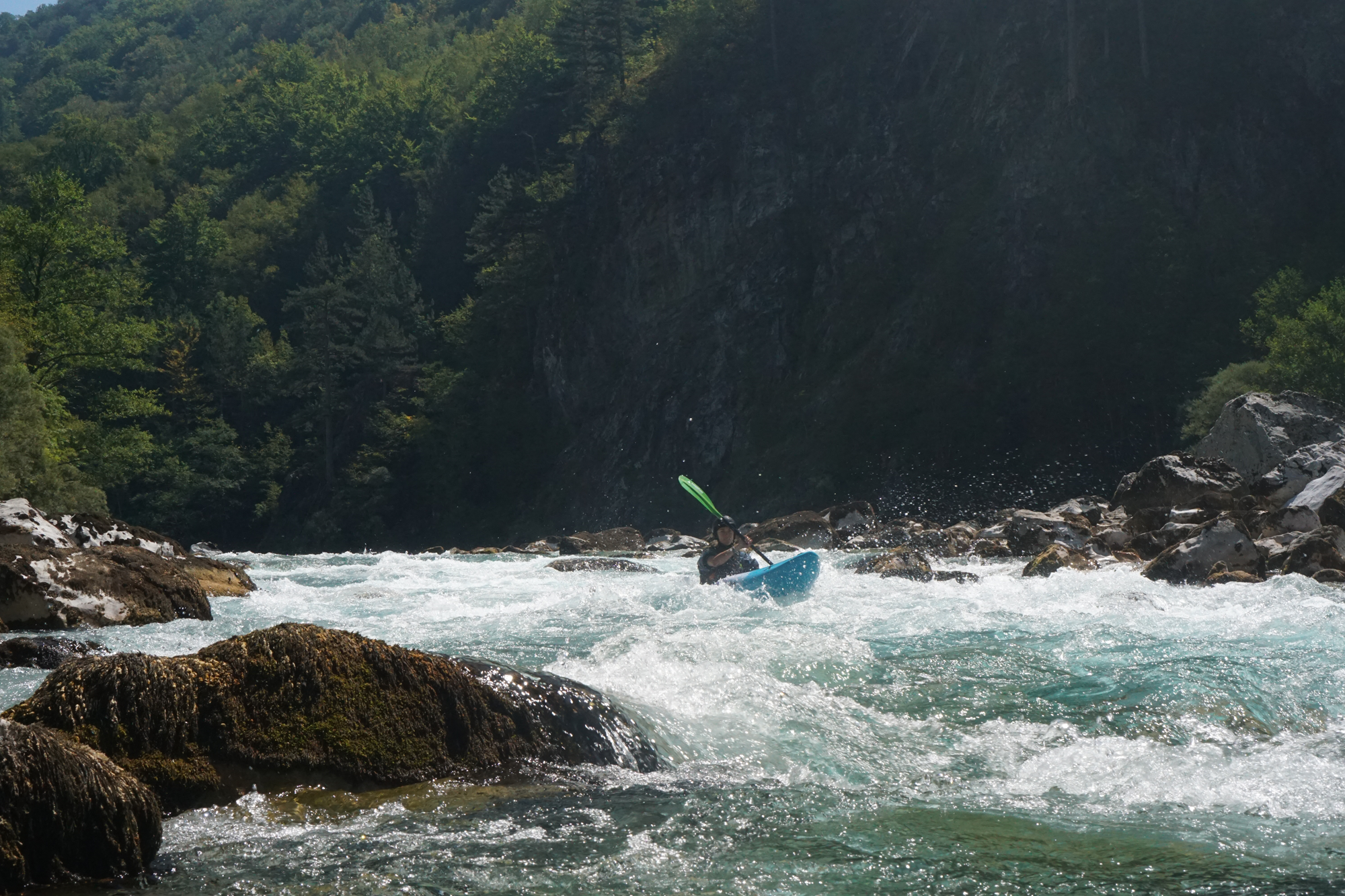 For a river that is heavily commercially rafted (an estimated 40, 000 people from both Bosnia and Herzegovina and Montenegro go down the commercial section per year) we were completely alone camping on the pebble beaches, sitting around the fire and enjoying the bright star show, framed by the canyon wall.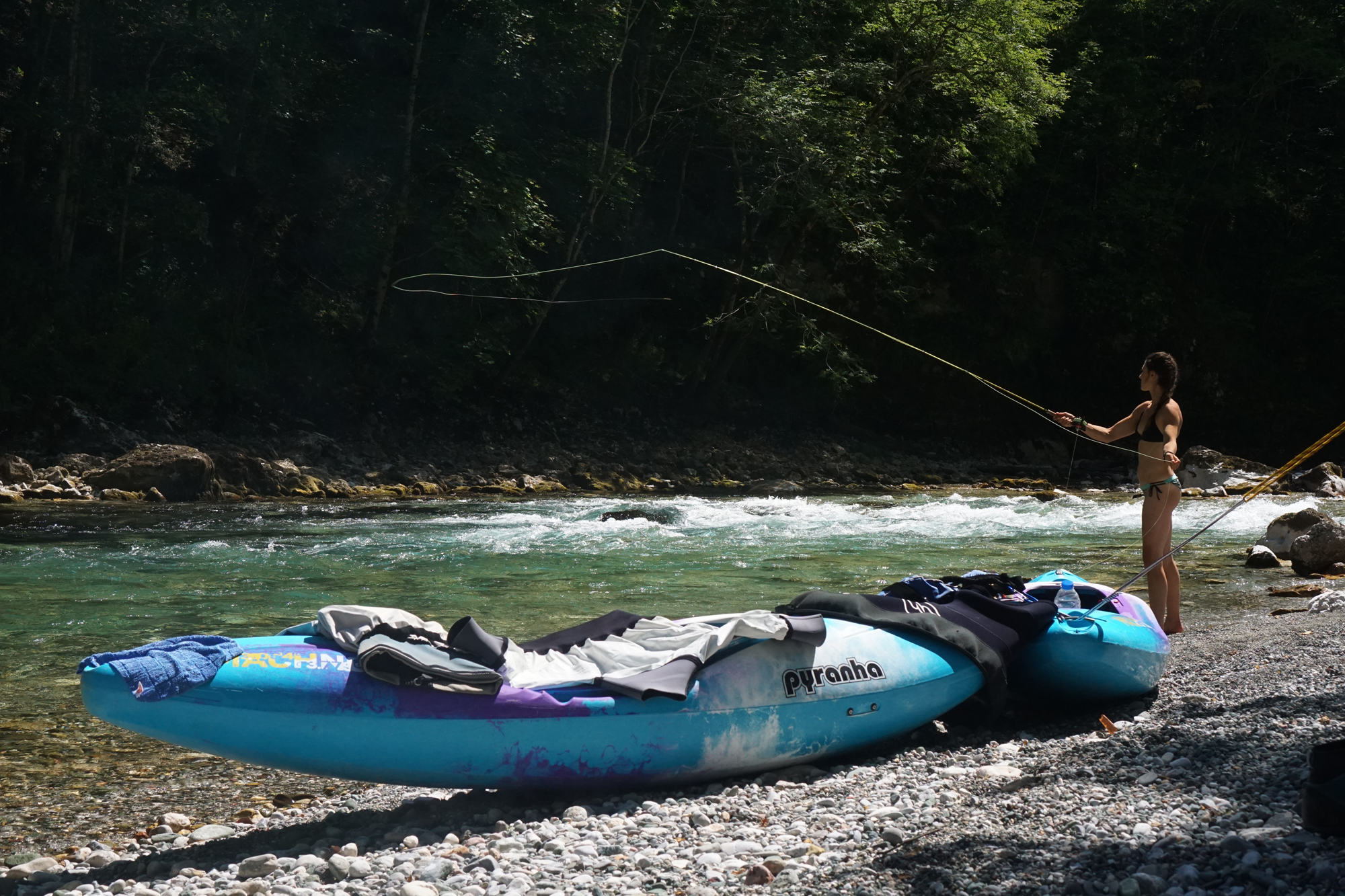 For me, this is what whitewater kayaking is about. Getting away from it all, deep in a canyon or on some far away riverbank. Traveling on moving water, traveling on whitewater is a gift. Covering distance with little effort. Sure, running tough lines and challenging whitewater is a part of it too. But getting to tune out from survival paddling and tune in to what is all around is part of the journey with a paddle too.
I feel grateful to be one of those people that gets to experience a country like Montenegro, a region like the Balkans and a canyon like the Tara from the seat of a kayak. I feel lucky to share this river with it's inhabitants, even just for a few days. I may not be pushing first descents for the sport of whitewater kayaking, but they are first descents for me, and feel just as good as far as I'm concerned.