Pyranha Kayaks came out with a new creek boat this year and its called the Machno. When I first saw this boat, I knew it was going to be awesome. I then ordered one and took it up to Northern Canada and paddle some of the rivers there. I jumped in it and the first thing I did was roll it. I was in shock on how easy it was to roll. It popped right up, and I was stoked. I started to paddle it through some rapids and it did everything I wanted it to do. Catching eddies, boofing, and getting speed was so easy.
After doing some river running I took it off some waterfalls and I could not be happier with how this boat runs waterfalls. The first drop I took it off was Honey Pot Falls on the Valin River in Chicoutimi, Quebec. This waterfall is not straight forward, there is a bend in the entrance and a curler right above the drop that you must be on to go off in the right place, then you boof 20 feet into a small pool at the bottom.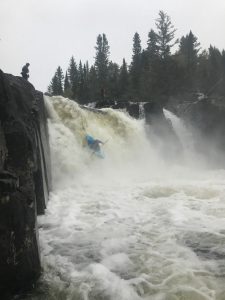 I jumped in my small Machno and started to paddle towards the entrance and when I used my hips to turn the boat to go off the drop it instantly turned. Then I boofed and stomped the bow don into the pool as I landed. I was in shock on how easy running that drop was. The Machno did everything I wanted it to do and I was so stoked. The Machno has the perfect balance of rocker, which helped me run Honey Pot Falls the way I wanted too. Lifting the bow up and then effortless to boof. Then the hull is large and curved which helps making landings off drops softer, so when you stomp your bow down, it doesn't hurt a bit.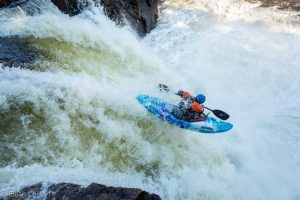 The Machno also has a great amount of volume and this is one of the things I love the most about the Machno. On the Rouge River in Quebec there is a waterfall that is sloping and about 15 feet, and you can choose to plug or boof the drop. I first went off it and plugged this waterfall and I went off the lip and plugged it and I resurfaced quickly and it was awesome. I resurfaced so fast because of how much volume in the boat. Another thing I love about the new Machno is how easy it is to stay on line. On the Upper Valin there is a rapid called the Crack and it is a rapid with a small entrance. When entering, you have about 6 feet between the side of the rover. You then paddle towards middle left and boof into a 4-foot slot and paddle out the rapid. Though the Crack can be difficult because all the water is pushing towards a small seam that you don't want to go in.
After scouting for a bit, I jumped in my boat and started pa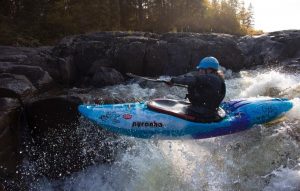 ddling the rapid. I was focusing on keeping my line and the Machno helped me do that. The Machno has a curved deck peak which helps the kayak stay on line and that was what I needed to successfully run this rapid. The boat stayed on lien the whole time and I paddled up to the boof and because this boat is so effortless to boof, it went right off the drop and landed right where I needed to be.
I am so stoked on this new boat and I hope everyone else is to! No matter how big or how small you are the Machno can be a perfect fit for anyone. This boat is available in small, medium, and large, so you should go to your local kayak dealer and try one out for yourself!