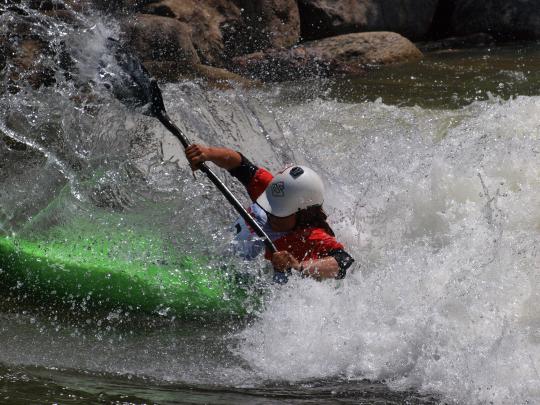 Hannah Kertesz throwing down in the Salida Hole where she ended up 2nd in the Junior Women's class!!
Read on for more results and photos from the last 4 days at Colorado's oldest & biggest whitewater festival.
We're all exhausted after another busy Fibark weekend. Â Demshitz Jared Seiler and Dave Fusilli were out of all competitions due to injuries, but there were still plenty of people representing in all of the whitewater kayaking events.
Graham Seiler stout looping. Â I don't have any photo evidence, but he placed 2nd in Thursday's Pine Creek Race! Â I think he's one of the only competitors that managed to not get beat down in the hole atleast once! Â  4 out of 15 competitors swam. Â Graham didn't. Â He almost won.
Craig Kleckner McNastying his way to 9th in the Pro Men's Rodeo.
Myself looping in the women's comp… I didn't make the cut into finals.  Sunday morning I used a Speeder to compete in Fibark's classic 26-mile downriver race.   I won the women's class with a time of somewhere between 2 and 3 hours.  (closer to 3 hours rather than 2)  Also paddling a Speeder, Tiff Simpson was between 1 foot and 25 yards ahead of me for the first 23 miles making it hard for me to  zone out and slack off.   I've never done anything like it before, and it ended up being a good race except for all the new blisters on my left hand.
Our friend Paul Palmer, competing in the Junior Men's class in Jared's Molan.  He  tied for 10th in Prelims, but lost the tie-breaker to qualify for semi's.
Jones Cochran throwing a sweet entry move in the Men's Rodeo.  Throughout the weekend, a whole bunch of people were trying out the Molan  and borrowing the demos for the competition.
Mike Patterson rocking the pink
Jeremy Laucks competed in the C-1, OC-1, and K-1 Men's Rodeos.
Now, we're kicking it in Buena Vista. Â Friday there's a Demshitz paddle session in Glenwood Springs from 5-8pm. Â Come join us!