For UK boaters the Afon Conway is a classic river. It is the place many spend unsure first steps. The guidebook splits it in 3 obvious section, upper – middle – lower, the latter featuring the Fairy Glen.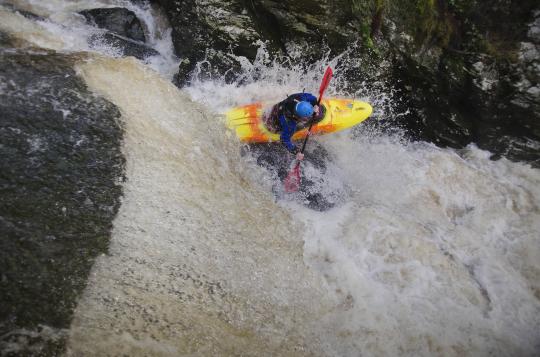 Above the upper section, falling from the moorland we find the section that is hidden from view. It cuts deep in a gorge. Sharp banks go from left to right, undercuts and blind bends. Bad landings and good lines. This section is a mini expedition, a strong crew required.
Hidden falls, steep and not deep, snow, hail, rain, portages, slides, pocket siphons, undercuts, wood. Were all our gifts when we went in to this section during the midweek storms.
This is the river that will live in my memory for years to come. Its in no classic guidebook. A true Welsh expedition. Upper Upper Conway.
This section seems to complement the Glen section. Book marking the Conway nicely. Attempts have been made to make a full run of the Conway from source to sea but kayakers are often forced to portage, aside from the obvious at Conway Falls.
For me, as a local, its nice to know that the area still holds some magic.
See you in the flow
DAZ