A phone call later and our planned commercial Zanskar multi day expeditions was cancelled. As always before any decision was made a mug of chi was needed. This allowed us time to take in surroundings and think. Daz Clarkson-King and me a long time holiday boater had a week before an IRF course based on the Indus and Zanskar by Mark Hirst.  We paddled the Tsarap Chu & Zanskar multi-day combo last year taking our time to enjoy Puckhtal Monestry and the delights of Padam, four days Tsarap Chu and two days on the Zanskar. Then the question how far is the trip could we do it?
We had a borrowed map with all the bits we needed, a chi glass was exactly 10km on the scale. The Tsarap Chu was apparently 100km and Zanskar 120km. This was a bit inaccurate as rivers don't flow in a straight line it's more like 140km for Tsarap Chu and 130km for the Zanskar we did a proper measurement on completion using string so this is still probably wrong not that it matters.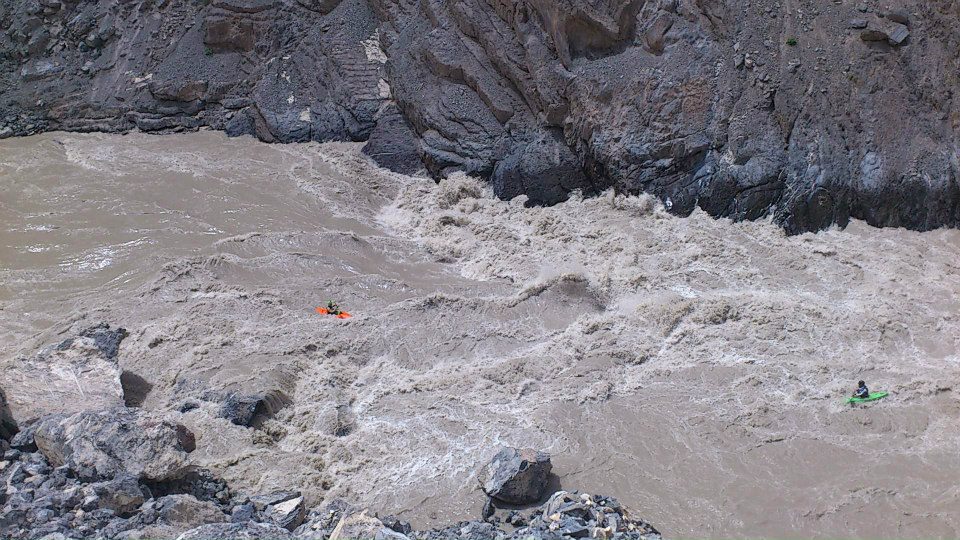 We packed for 3 days knowing resupply in Padam (confluence of Tsarap Chu, Stod, Doda and start of Zanskar) would be fine, stove and pans aren't needed added weight change of clothes added faff. Food was important biscuits, peanut butter, cheese and dried tomato for dinner, multi-purpose donuts (pillow) for breakfast and mango juice for day 1. Snickers and nuts for snacks.
5am Wake up rivers looks cold and lower than last year rapids will be more technical with less boils in the boxes the flat will be hard. Daz hasn't moved lie in till 5:30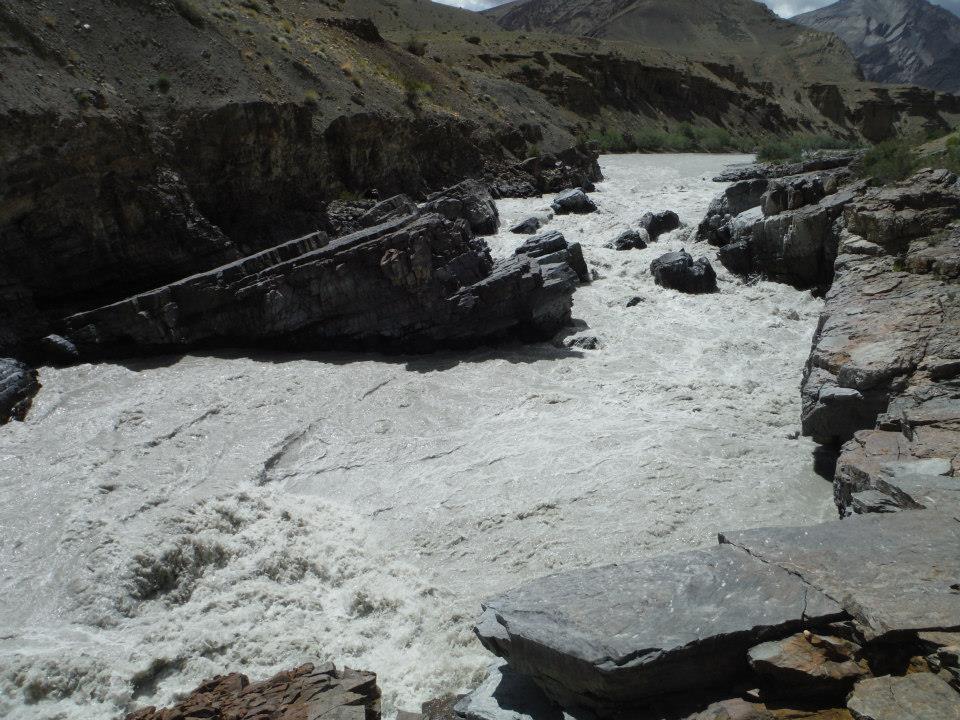 6am in kit on river paddle into the gorge flat 25km braided low and COLD
9am Box 1 on a left hand bend trust it goes through the pinched gorge that feels like a cave with a footbridge on top. Box 2 hits you within 10 minutes sometimes a boily mess with a chossy bend, we drop in with the familiar shrug of the shoulders as were in it now. We pass the German team who were at their first night camp, they were a bit surprised!
9:30-9:45 A quick 15 minute portage around a sumped out section, this action required a Snickers portaging a loaded boat at over 4000m isn't fun.
11am Quickly blasting through a couple of boxes we arrive at 2nd night camp porter hut river right next to a small trib spooky but good if it rains!!!! 2 hours of flat the beautiful blue Zara Chu enters from the right, one for the brave.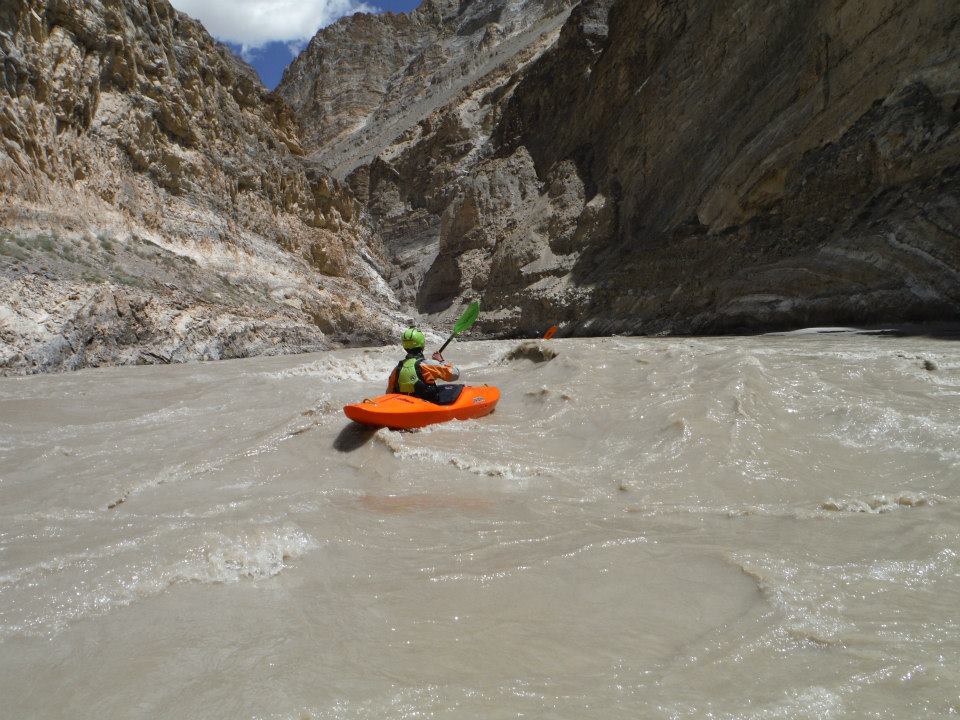 2pm Pucktal Monestry we stop, we're both feeling cold and tired sit in the sun for 15 minutes and chat to a monk and EAT! Below Pucktal lies some beautiful read an run slaloms between big bolero sized boulders perfect.
5:30pm We hit Reru a major rapid and portage for most possibly possible at certain flows. We spot the beach and the scree slope of doom. Reru can lull you into running the lead in section and making the portage worse the scree is longer and steeper. We scout it's a no for me were cold hungry and tired so we drag the boats onto the beach and realise the portage can wait till the morning.
6pm fed in bed possibly out tomorrow?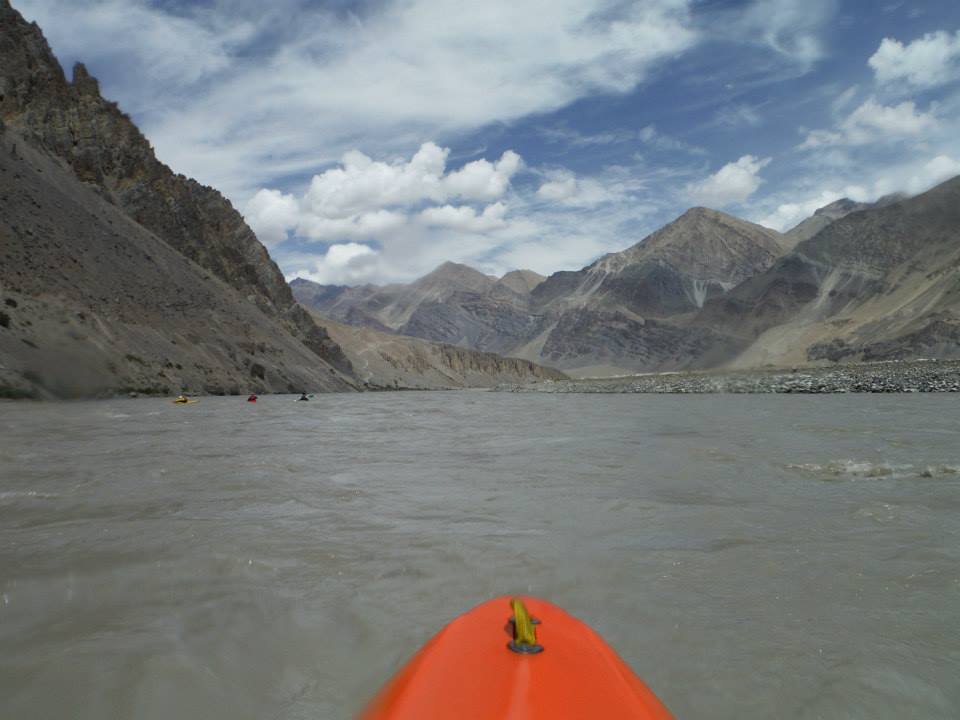 5:30 up 6am changed portage complete by 7:30 take a long line 35m send one person up the scree and haul try not to dislodge a cliff onto the people below, Shouldering your boat up the scree is a miserably dangerous experience. The portage is still 4000m + altitude so allow time for lungs to burst and lie down to check out the scenery and scout. The run out is your reward for your hard work possibly the sketchiest part of the trip has now been completed time for the FUN.
The river down to Padam is an awesome section of world class ww with rapids up to 10 minutes long constant action for 25km big volume fun.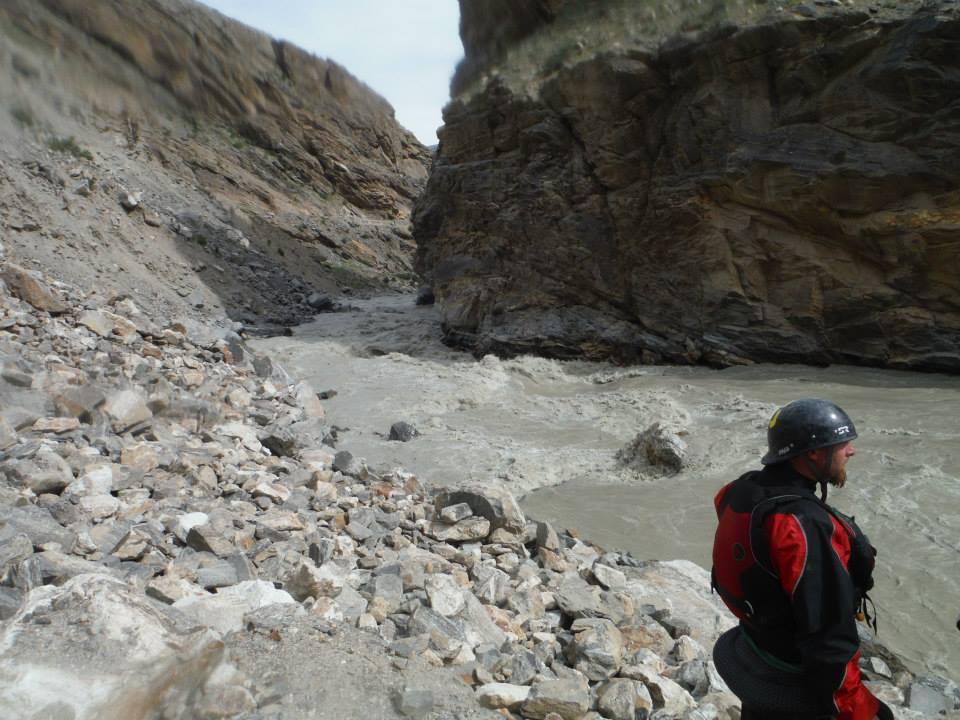 10am confluence with Stod and Doda and the Tsarap Chu become the mighty Zanskar, we hit the first major rapid Mothers Mercy "no scout down the middle" around 2pm and meet up with good friend Tsering Chotak (Wet n Wild) just downstream, we could be out of the gorge today but why not have a good meal and enjoy company and surroundings, we camp at Nyrak a beautiful beach in the middle of the Grand Canyon around 3pm.
Last day beautiful run through the more major rapids the Zanskar has to offer 18 down a site of many a raft flip and constriction where the mighty Zanskar is compressed and squeezed  being highlights, a brief snack at the beautiful waterfall camp and at the confluence before the rafting customers for lunch PERFECT.
2.5 days around 270km still felt like a holiday (photos from previous trip)
Thanks to:
Pyranha Karnali fast and stable
Daz @ Pureland Expeditions