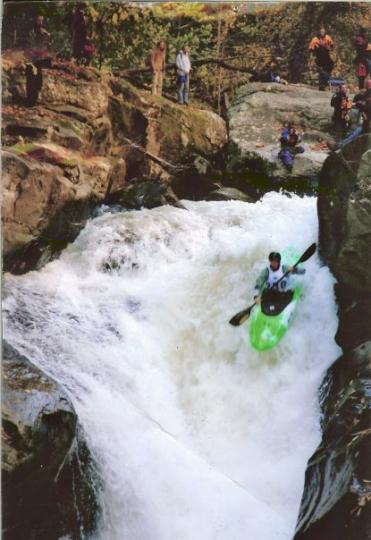 Graham racing the New Everest
Last weekend was the 12th annual Green River Narrows race. 124 racers made it out there Saturday at high noon to get fired up and race the Narrows home to the infamous Gorilla rapid(pictured above) in front of some 500 spectators. It was one of the best Green races to date with record times in almost every category.
Andrew Holcombe walked away with the glass this year with a new record time 4:27. Pat Keller was only a second behind him in the long boat but won the Iron man, combined  long boat + short boat , setting a record time in the short boat class with a 4:40!!!
There were a lot of fast people out there representing Pyranha. The Everest was a popular choice and looks to be a great boat for racing too! Shannon Carroll came out from California to race with some of the fastest girls around and ended up tieing for 1st place in the short boat class with Adriene Levknecht. Robin Betz was the fastest lady in the long boat with a new womens record 5:23.
I wish I had more pictures…these are some that I've stolen off the internet…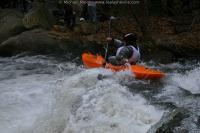 Off the middle at pencil sharpener on my way to a personal best time of 4:59 and tied for 4th in the short boat. thanks to www.realasheville.comfor the picture.


Fusilli at Zwicks. thanks to river0013 for this shot up on their webshots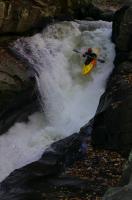 Jeremy Laucks spankin the monkey in his first Green Race. check out his story @ chasingrain.com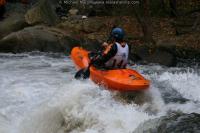 Chan Jones at Pencil Sharpener.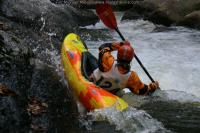 Nick Urquhart racing the Everest off the Flying Squirel.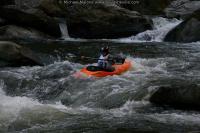 Race Results
Thanks to everybody who helps make this race happen year after year. check out LVM TV this week for a video of this years Green Race winners.
Here are some pictures from Shannon.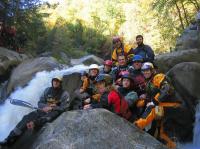 Team from left. Fusilli, me, nick urquhart, jay moffatt(front), billy jones, amos shuman, jeremy laucks, graham seiler, shannon carroll, chan jones, and drew walsh. Thanks to Kevin for herding cats and taking the picture.

Shannon below Gorilla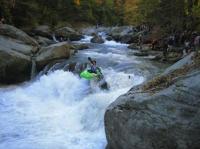 Graham in the Everest at Pencil sharpener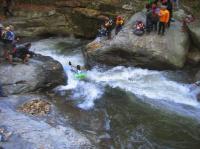 Graham in the notch