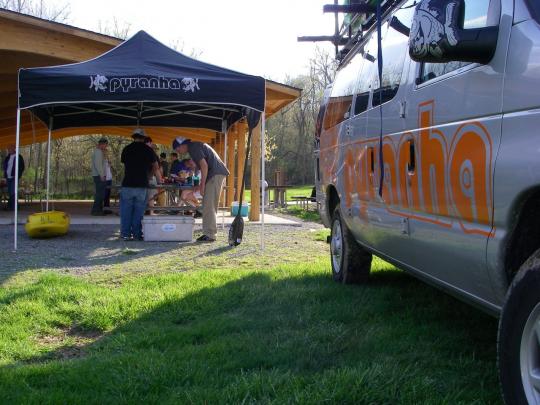 Pyranha tent set-up for a Demo with Whitewater Warehouse.
In the past 3 weeks I have been traveling around in the team van with Dave Fusilli and my brother Graham Seiler hitting up some on-water demo days.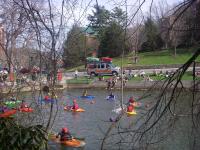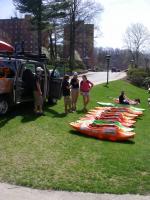 Boats on display on Appalachian State's Campus.
After a few days on the Green back in Asheville we loaded up the van and headed to Boone North Carolina for Appalachian State University's Paddle Fest. Great weather and a good turnout right in the middle of campus in the duck pond. Competitions Rodeo Racing and even Dodge ball, put together by Lauren Garber, who did a great job with the event.

Rodeo Champ

Lauren handing out raffle prizes. Thanks Lauren!
Our next stop was Ohio for a weekend with Bernie and Jeryl from White Water Warehouse.

Surfing the wave at the "Chutes"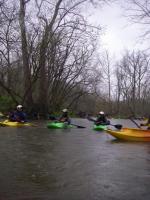 We had a great weekend, fairly nice weather and good fun out on the Rocky Fork. The wave in the "Chutes" on the Rocky Fork kept our Rev's entertained nicely.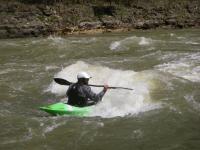 After that we came back to Asheville….more Green river…spent a few days zipping around in our ammo's.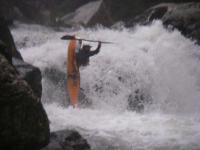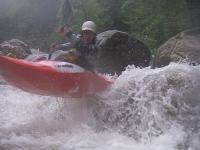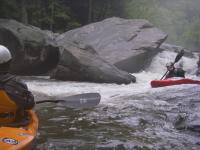 Then it was time for Green River Adventures opening weekend, which was this past weekend.

Sarah Bell put on a great show, with creeking clinics on the Upper Green and a keg party afterwards that went on until the wee hours sunday morning.

Dave Fusilli helping new to paddling buddy Lex with the line at "Bayless Boof" on the Upper Green.
It has been a blast traveling around meeting paddling and partying it up with Pyranha's awesome representatives. The vibes have all been super positive and everybody is really enjoying the new Pyranha line up for '08. The 3 of us agree we have the best quiver of boats you can get with the Burn, or the NEW Everest, the Ammo and Recoil, and the NEW Rev, and sometimes the Speeder for all your whitewater needs. Next stop is Cheat Fest this weekend where we will have the Speeders out for the Annual Cheat Race! After which we leave for our West coast "Van"-tastic voyage. Reno to Colorado and Beyond! Hope to see ya out there!