This weekend saw the second round of the Plastic Fantastic Alpkit Kayak Series held at the Tryweryn in North Wales. The event included a freestyle on the NRA wave followed by a Boto X down Bala Mill Falls as well as the usual party on the saturday night (including sumo!!).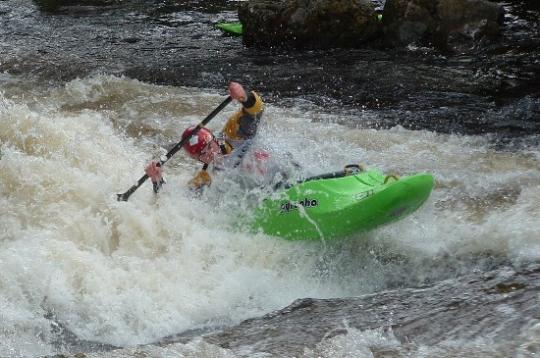 Me lining up a blunt on the NRA Wave in the Rev M: Photo by Jo Meares
The NRA wave is a nice little wave with decent shoulders on both sides and a deep pile in the centre. Although most moves will go blunts and spins were the main order for the day with some people also getting in some quick cartwheels. The wave can be very flushy as well so you have to be quick and precise .
Me Cartwheeling on the Wave: Photo by Jo Meares
In the expert men the level of paddling was as high as usual but I managed to battle through all those pesky kayakers in my C1 to make the semi-finals in 8th with a nice first ride including cartwheels both ways and some nice blunts. The Rev really does love to do snappy blunts!! New Team boy Dom Brayfield wasn't quite so lucky just missing out on the semi-finals.
Dom Brayfield in the Expert Mens Heats: Photo by Jamie Burbeck
In the semis I again managed to fight my way through and made the finals where I eventually got knocked out in 4th. Not bad for a C1 up against all those kayakers.
Day 2 saw the Boto X down at Bala Mill Falls. The course was about 500m long and finished with the double drop at Bala Mill which has a whole variety of lines and potential for carnage. For a change I decided that I'd paddle a kayak and took out my shiney new Burn M and managed to come 3rd in the plate category.
Me racing to 3rd in the Boto X Final: Photo by Dom Brayfield
We also put on a quick Speeder race before the finals which is always quite popular with everyone waiting to see the carnage. There were some very interesting lines going on and some near swims but everyone made it down in the end…
Speeder Race: Photo by Jamie Burbeck
All in all it was another great event put on by Alpkit so massive thanks to Jim and co. Next up in the series is the event at Nottingham in September so time to get training…