The 60th annual Fibark Festival was this past weekend in Salida Colorado. Tons of competitors and spectators showed up to participate and watch all the exciting events that took place throughout the 4 day festival.


The weekend kicked off with the 4th annual Pine Creek Boater-X. Team Demshitz Pyranha represented with 3 of Demshitz in the Final heat. Myself and Dave Fusilli, last years champion, won all of our heats prior to finals racing our Burns through the 1/4 mile rapid.

Dave in the lead during his Semi-final heat.
Our competition in the final Tommy Yon, Team Pyranha paddler and founder of River Bone productions also one of demshitz, managed to dominate demshitz me and Fusilli pulling out the win in the final heat as he plugged on by me getting my ass kicked in the hole and shortly afterwards swam, and Evan Ross coming in a photo finish 2nd place, followed by Dave in 3rd. This race is one of the best ones on the circuit, where small mistakes can lead to tragedy, watching pro paddlers get beat down and swim is something worth standing out in the SNOW to watch…thats right…it was snowing. check out a video Chris Wing put together with World Kayak

Tommy Yon ready to capitalize, as my world turned from bright to brown.


The Freestyle Competition took place the next day. Demshitz looped mcNasty'd and airwheeled our REV's putting on a good show, but falling short in points, missing finals among the stout competition with the cut from 35 to 10. We sure had a good time though!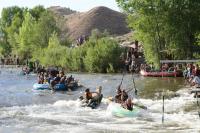 Team Demshitz racing hard to a 3rd place finish
Saturday held one of the more fun events in any river festival anywhere, THE HOOLIGAN RACE! Always an exciting event to watch, about a hundred crazy hooligans build make-shift rafts and float them through the competition hole in downtown Salida. Just a mad scene of carnage!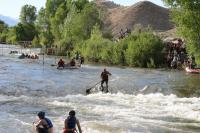 hobie boofing the paddle board!
Fibark is one of the oldest paddle sports festivals around; 60 years and still going strong! Thanks again to all the people that help run this event every year.