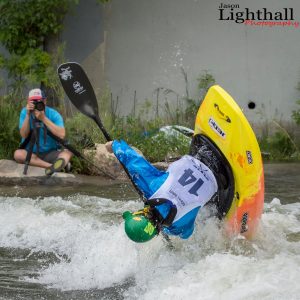 I have been competing in freestyle for 9 years. I still love doing it, and this year in particular, I still continue to improve. I no longer paddle year-round. I have a job teaching biology at Washington State University and I ski all winter. But I had a great season of competing because I still love freestyle, I have fun, and I love the Jed and have learned to take full advantage of what that boat has to offer. The season I competed in US Freestyle Nationals at the Reno River Festival and in the freestyle event at the GoPro Mountain Games in Vail, CO. The water level in Reno was on the low side of good and just about any trick was possible.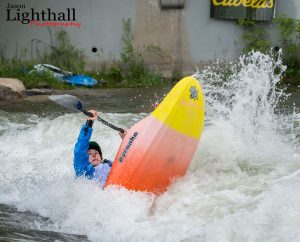 All of the women in the event paddled extremely well and the energy exerted by all of the competitors was compelling. I hit some new moves, split to split and orbits, had my highest scoring ride during prelims, and ended up third overall.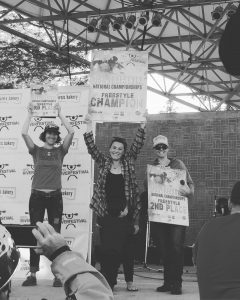 The hole in Vail was much more challenging than in Reno because the water was really high and the level fluctuates dramatically throughout the day. The hole is rowdy, flushy, really cold, and you get winded paddling at 8,000 feet. I actually enjoy the challenge and having the huge crowd cheering you on.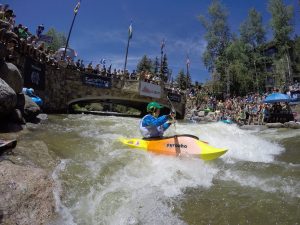 I felt pretty confident during finals, I didn't hit all of my moves, but I did score an orbit and enough points to take third place once again.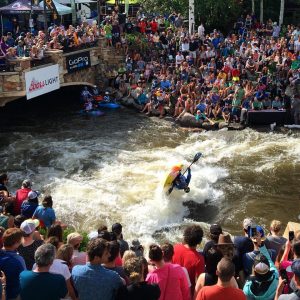 It was great to see all of my friends and paddle with some of the world's best female competitors. It is exciting to get pushed to paddle at a high level and to have a boat that not only does well with the loop tricks but also excels at the cartwheel and blunting type tricks.