The first weekend in November heralds the Tyne Tour in Hexham, North East England.
The event is a big gathering of folks to descend the North Tyne and other local rivers depending on rainfall. On Saturday evening, there is a big Ceilidh, this is similar to what I imagine line dancing to be but heaps better and without the hats.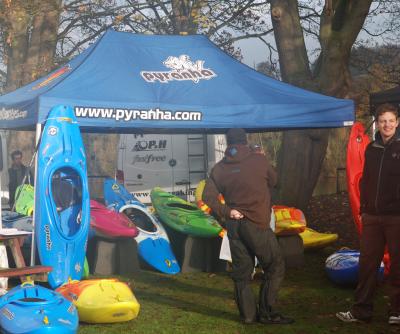 We took the Pyranha demo fleet up including a couple of new 2010 Burns. These got a lot of interest and a brilliant reception; keep your eyes peeled for this one!
The rest of the fleet, the Karnali's, Z:1's & Ammo's are still as popular as ever with people queuing at 7.30 am to get their hands on one!
Here is Glenn Tomlinson playing on the North Tyne weir, all similes in the new Burn! Cheers for the photo Glenn!
Dancing the night away! Many thanks to Paul Wilkinson for this photo. For more brilliant photos from Paul click here!
The next event is the Gene17 Adventure Paddler's weekend in December, the demo fleet will be out again and members of Team Pyranha GB will be there to badger about outfitting, boat design, technique or inspiration for your 2010 trip plans.