When I close my eyes and think back on the time I spent in The Box this summer, I can't help but smile. I can still feel the butterflies and fire rooted within as I commit to the first big rapid of the trip. I can hear the water pick up as it forces its way naturally through the boulders evaporating into the air as it crests over the surface. I can feel the warmth of the sunshine on my face as I take a 'Leap of Faith.' This is a trip I'll never forget.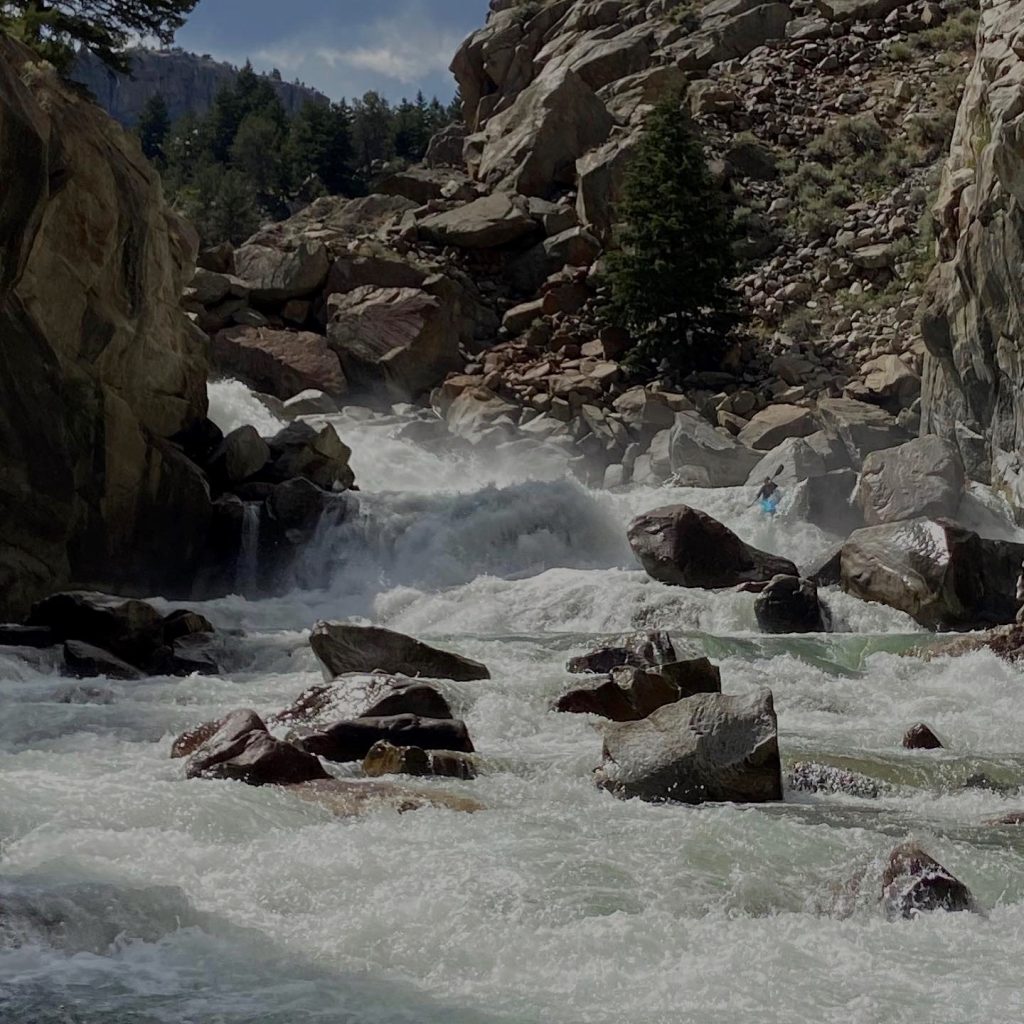 I spent the previous weekend paddling the Honeymoon and Day stretches of the Clark's Fork of the Yellowstone River and particularly liked its unforgiving, rugged, and voluminous character. Continuing downstream, the river cuts through the third deepest canyon in the lower forty-eight known as The Box. The committing and undercut nature of the river and its features adds a consequential quality to the run, you don't want to miss an eddy above one of the mandatory portages.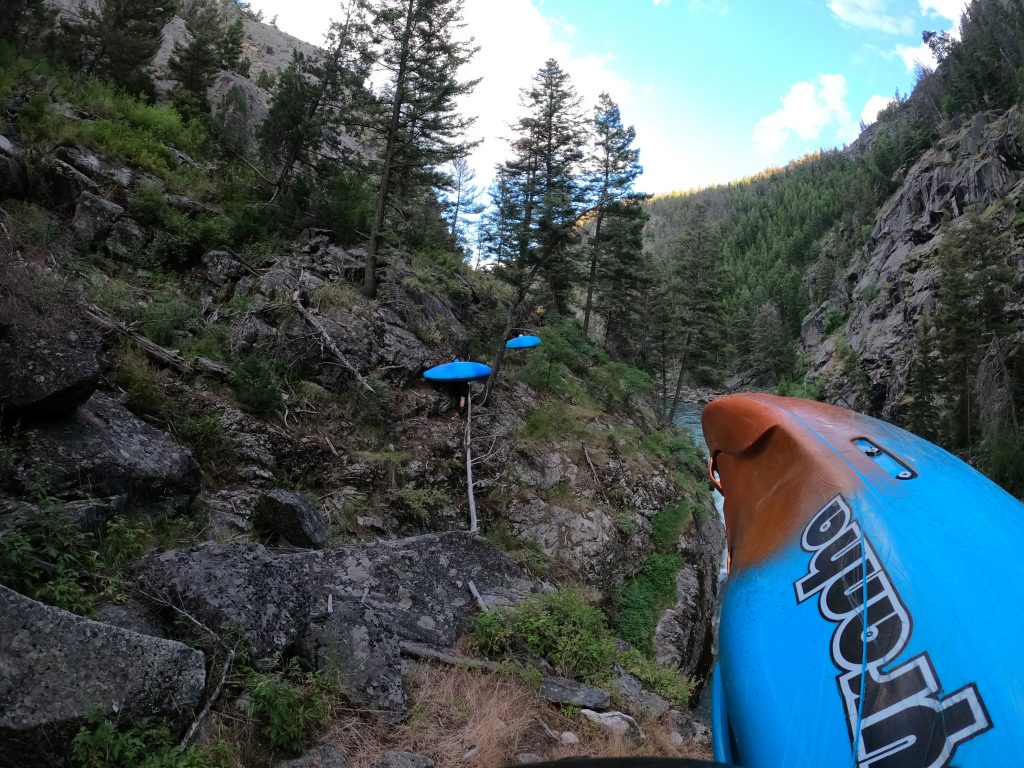 Our crew – Ford, Quinton, Ben, and I make our way into the first canyon, the first portage is coming up. It's a mile long, but the only portage without a required climb over fairly large boulders. Back on the river, we enjoy a few miles of calm river while Quinton catches trouts!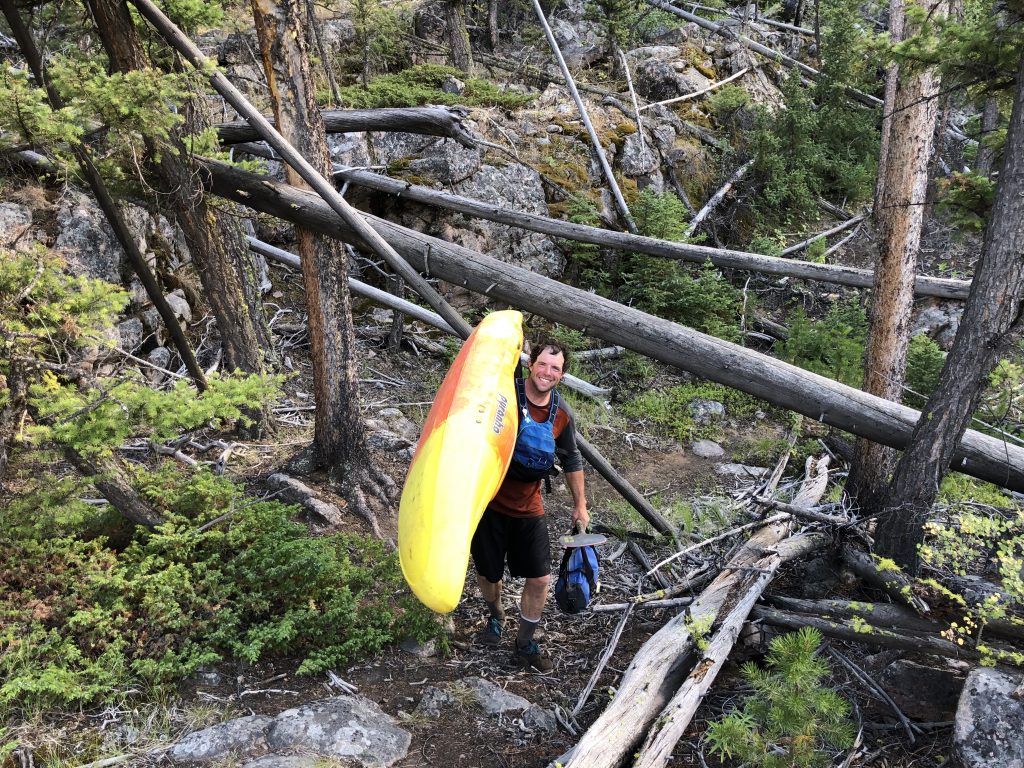 As we enter the second canyon, the walls grow, forming a formidable marble-like hallway. We make our way through a few miles of long boulder gardens and sweet boofs until we arrive at our second portage, 'Ankle Breaker.' This rapid was a sight to behold, a huge broken-up, steep boulder garden linked together by waterfalls plummeting into sieves. Hands down the toughest portage!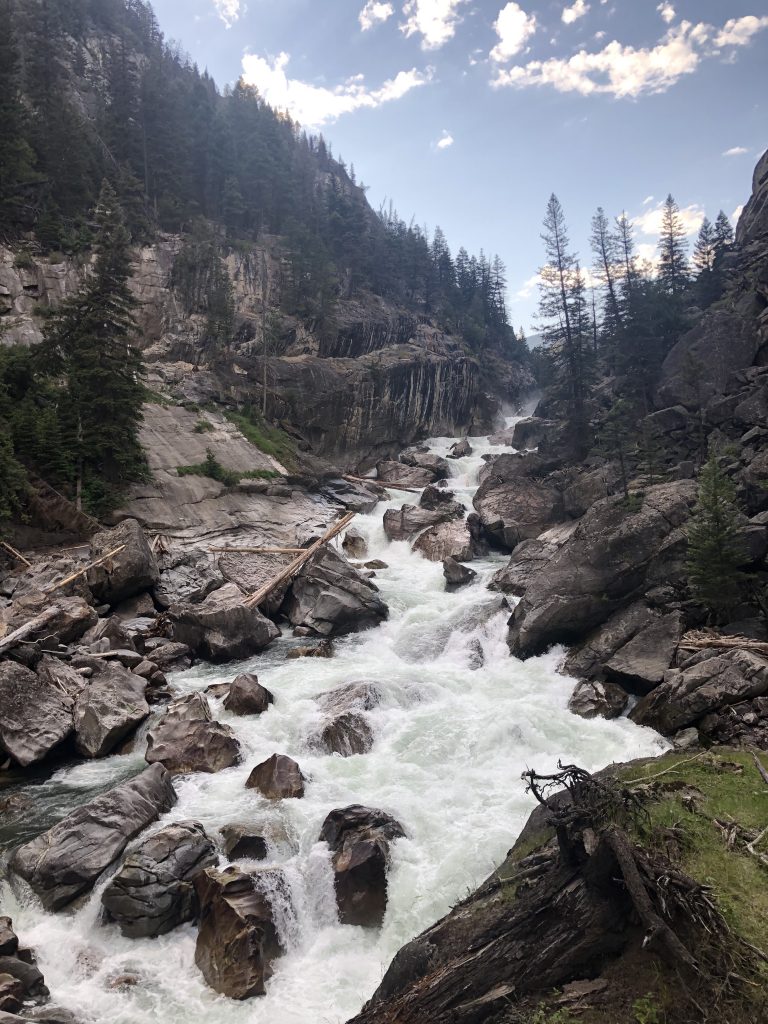 We run into friends, Frank and Travis at camp that night and decide to join forces! The next morning, we set off into the heart of the canyon. The first rapid we scout is 'Balls to the Wall'. The current builds as the river steepens and all the flow parallels a massive canyon wall. Ideally, you want to be close to the wall, but not too close, as you fly into a narrow slot at the bottom backed up by a huge hole sending you into a moving eddy flowing into the next rapid.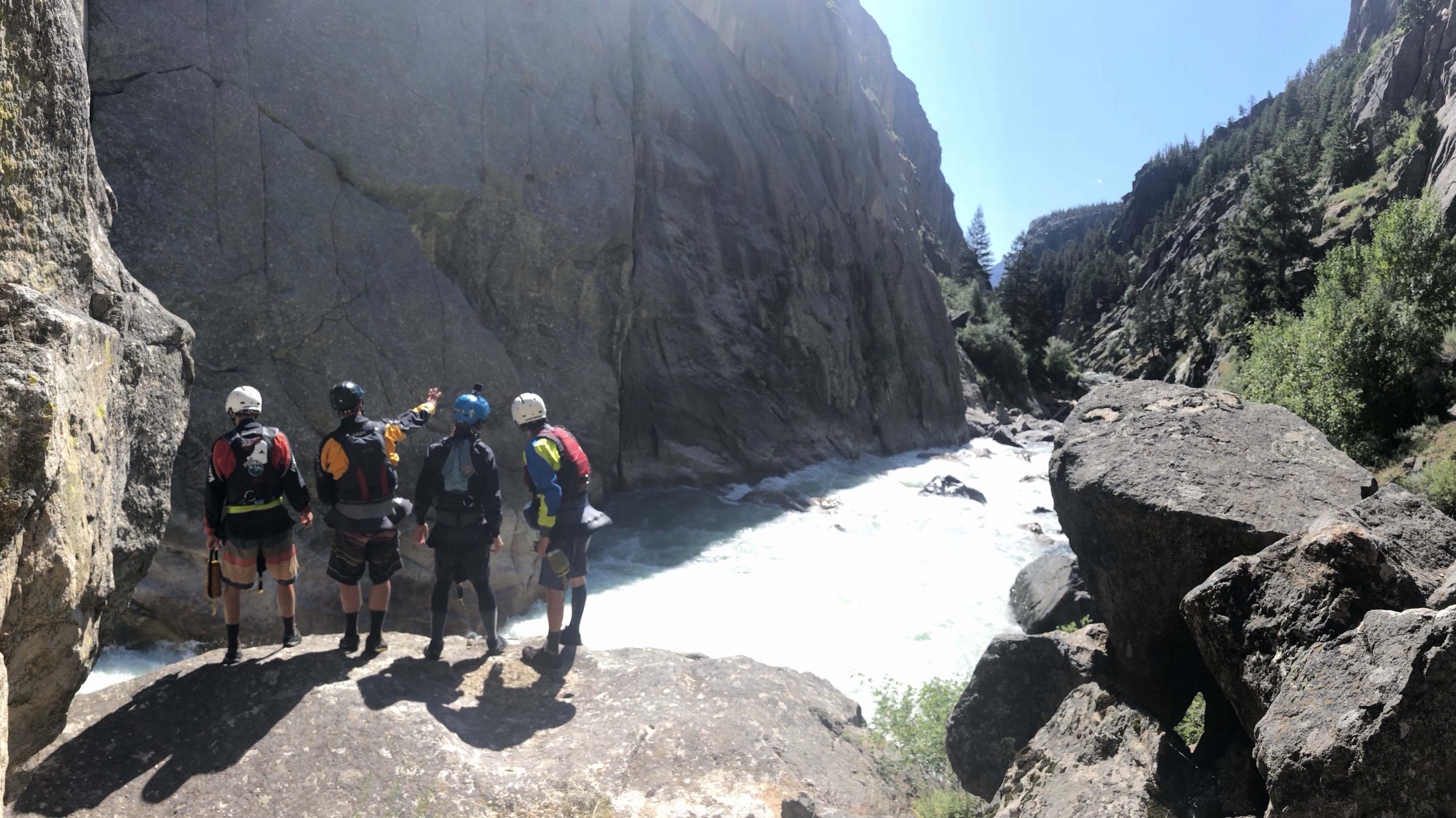 This is where it really turned on for me. Once I committed to this rapid, I was so fired up and ready to paddle – I hit myself in the face with my paddle, bruised and bloody nose for the win!
My plan going into the trip was to have as much fun as safely as possible with my friends, taking on one rapid at a time and not making my mind up based on what I heard, but how I felt when I looked at each of the significant rapids for the first time.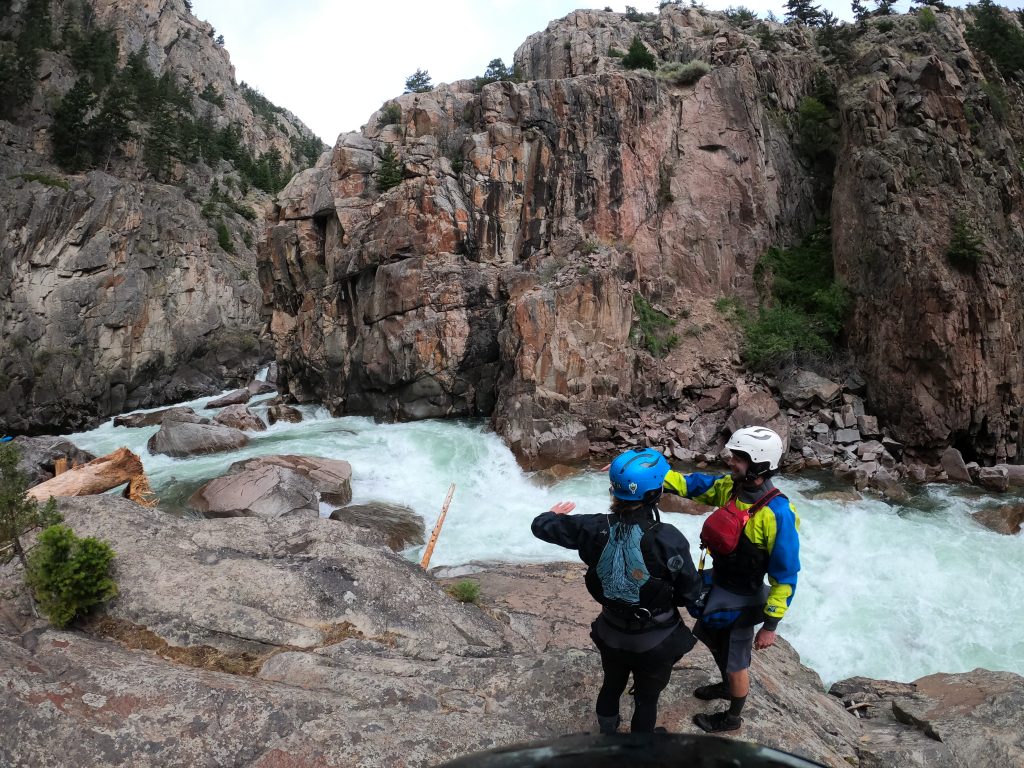 I was grateful we had some extra water on our descent, padding out many of the larger moves and filling in some of the sieves.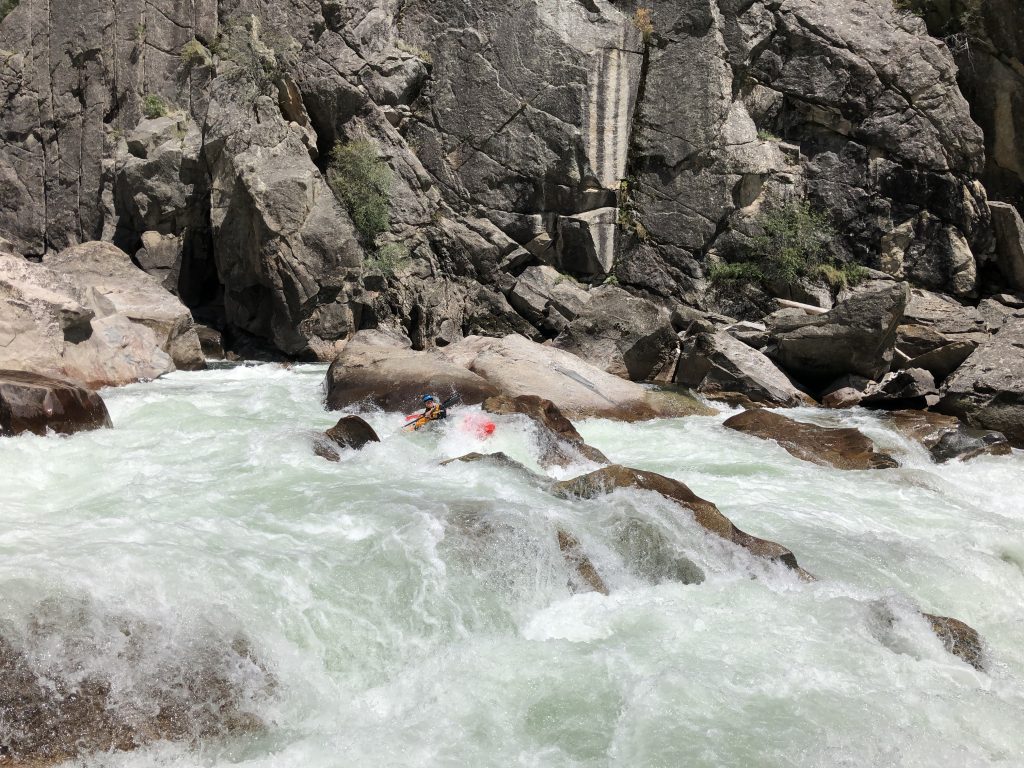 It's hard to choose a favorite, but for me, it was probably 'Dillworth.' The rapid begins with a lead in directing its flow into a house-sized pour-over, landing to the right of center is preferred to avoid a sieve, then continue boofing and charging your way downstream. Flying off that boof was a highlight of my trip for sure!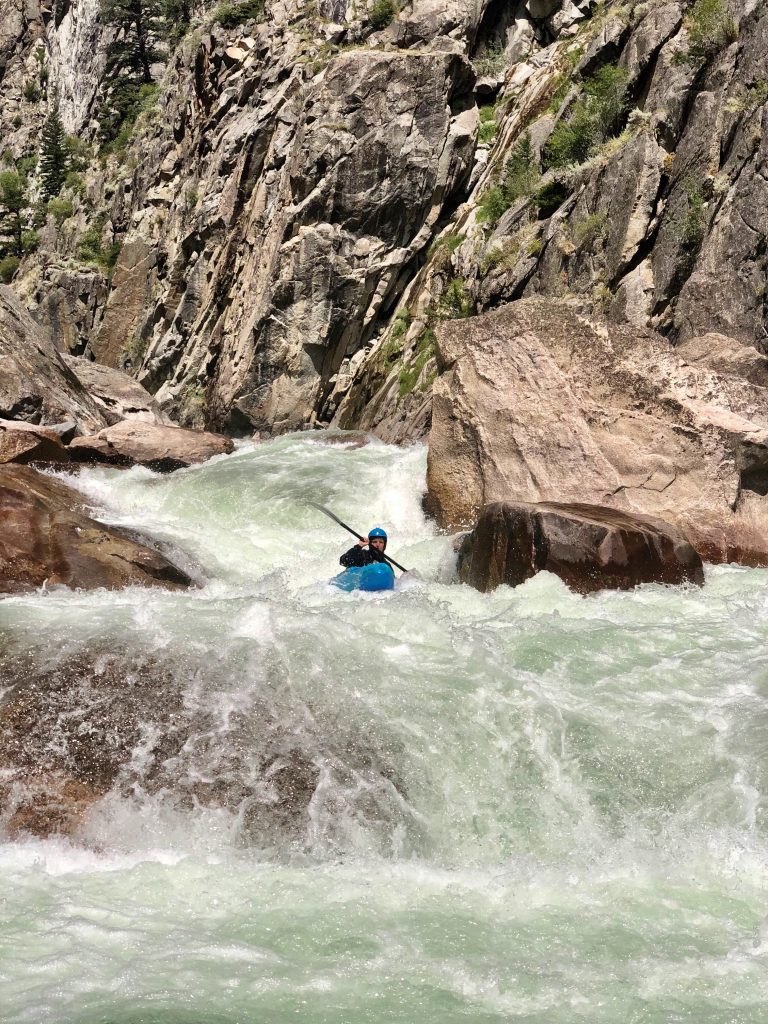 Like any grand adventure, our group had some unexpected things happen, several paddles were broken, lost, and dropped. When we arrived at the last portage, 'Last Sunshine,' we were one paddle short and had no breakdowns left. We are above one of the two mandatory rapids of the run. Quinton offered to ferry across the river, scale a cliff with his kayak, and then rappel back down to river level below the portage. Then he decided to hand paddle the rest of the way to the takeout. Thankful he was so willing to billy goat and absolutely crushed it!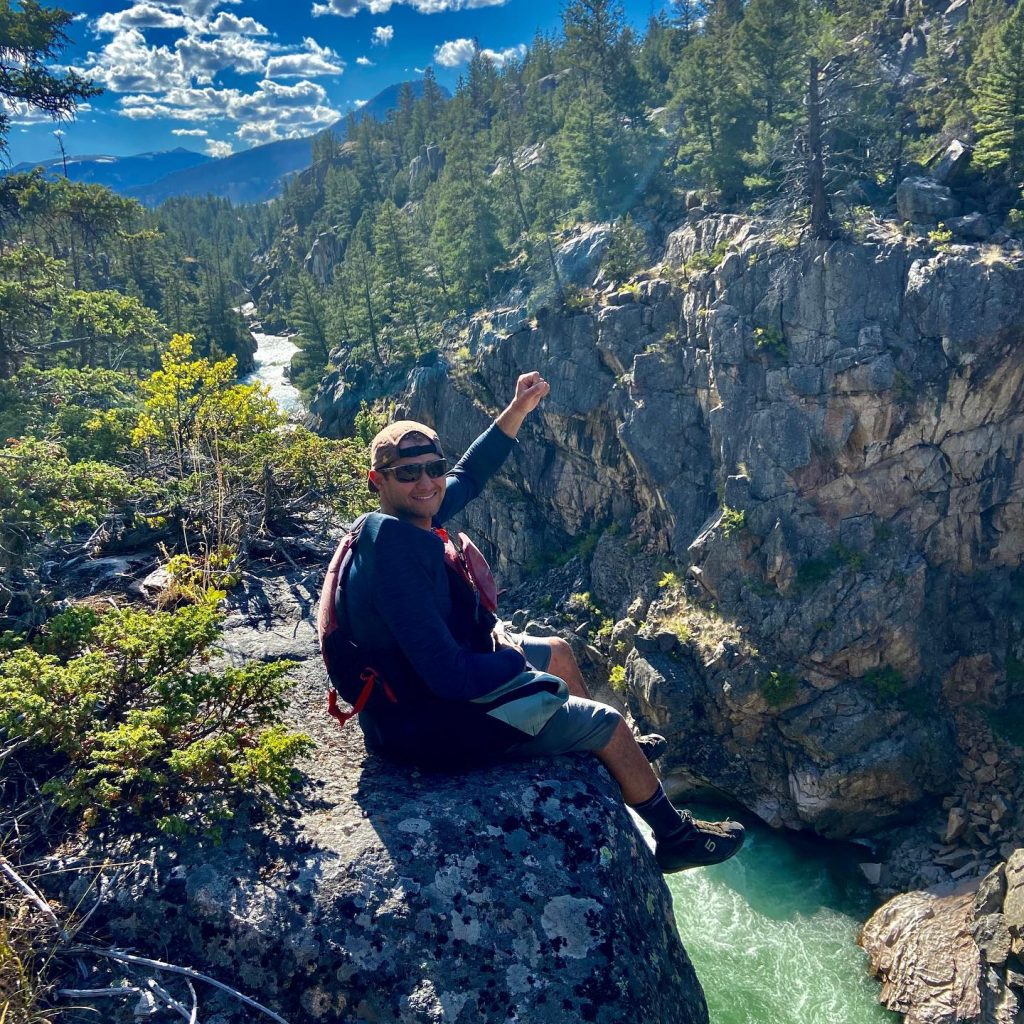 We rolled into the takeout STOKED! The canyon blew my mind by the hour, but what truly amazed me is how we all complimented each other so well out there and lifted one another up. I didn't know everyone in our group, but by the end of the trip, I felt I'd made some awesome new friends and look forward to paddling with these guys again. 
This run only goes for maybe two weeks at optimal flows in July. Next year, I'd like to do a two-day and one-day descent in the same week, hopefully, less sore coming out of the first trip!
We're all motivated and inspired by different things, but what makes it so special is that whatever the reason, on this weekend and in this moment, we're linked together and unified by this one thing – this remote place, a shared passion, and pushing ourselves in this way. That's a special bond.

Life gets messy. Things don't always work out the way we'd hoped, we experience fear and unknowns, but the river puts things in perspective. It shows me in a very clear and undiluted form who I am. I want to be vulnerable in life, I want to be in places and situations that scare me and push me closer to the things I love. When I'm on the river, I'm vulnerable. I'm surrounded by beauty, moment by moment the experience exposes my humanness and I feel alive. The time I spend on the river gives me time to learn about something that's much greater than me.
We all have different reasons for doing this. While paddling The Box may or may not be your journey, I think we can agree we can all benefit by stepping outside of what's familiar and comfortable just a bit. For me, a trip like this gives me a little peek of doing so. How you choose to give life to your dreams and spend your future, is entirely up to you.
#shegoes
Photo credit: Quinton Barnett, Ben Litz, and Travis Winn