Well last weekend saw the second GBR training weekend, two beautifull summer days combined with great organisation and coaching made for a great weekend on the water.
Saturday saw the team meeting up at the rugby club and being split up into work shops. The work shops on offer ranged from learning or perfecting a specific move with Sam Ward to planning a competition run with Ross Montanadon, "Sneaky Pete" and Dennis Newton. The workshops were fantastic and every paddler took away something to bear in mind from each workshop. In the evening Matt Chadder aranged games of dodge ball and basketball, with teams split up into north and south and juniors versus seniors, which proved to be highly entertaining.
Sunday was another day of paddling and taking part in workshops missed on saturday. Team training finished for the weekend at 3 oclock with a demonstration on how to improve core strengh.
A huge thank you must go to Matt Chadder and the Freestyle Comitee for arranging the weekend and also to the coaches who gave up their time to come and help.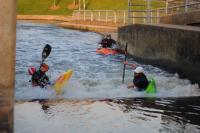 Synchronised Pheonix Monkeys
                                               Photo by Dale Mears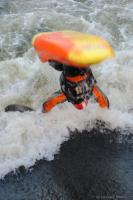 Photo by Dale Mears
Photo by Dale Mears