Its safe to say that the last week has been my best week of kayaking in the southeast to date.  My schedule was lucky enough to combine with one of the biggest rain events of the year, and a primed water table, making for a great week to go kayaking.
The week started out with Tyler Mayo, Matt redmond and myself going to Smokey mtn National park the day after the big rain. Finding West prong way to high, we continued to the other side of the park to a juicy Ramsay prong. This was classic smokies continous boulder gardens the whole way into the Greenbriar river, which we ran down to the bridge.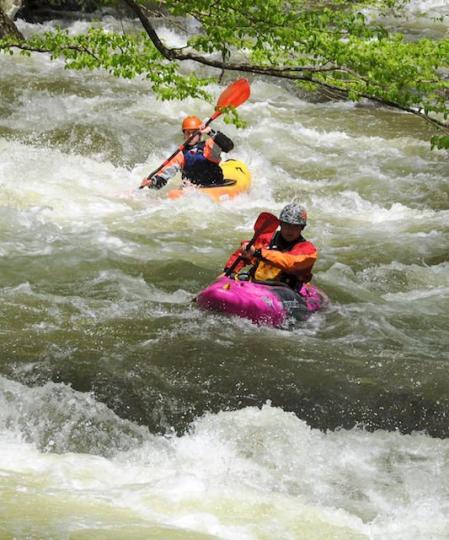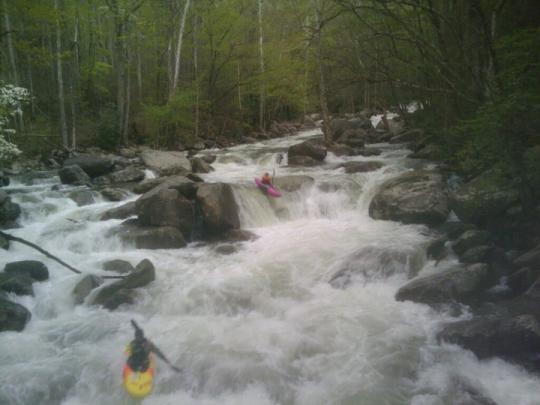 The next day, we got up and ran the nantahala cascades with my brother Ben (thanks to dad for shuttle!), and then met up with Colin Hunt and Lauren Garber for upper Big creek, more smokies goodness!  We then headed back to Boone for school monday.
On the way back to Boone, I got on the phone with Mark Taylor and saw that the Linville was looking like it would be good the next day. This is a run I have been trying to get on ever since I moved to Boone last year, so I was stoked to finally get the opportunity to run it.  It lived up to every expectation and more, as the pinnacle of wilderness class V kayaking in the southeast.  Thanks to Mike Patterson and Duane Gibson for showing me the lines, and check out Mikes post about the Linville gorge a few posts down!
After the Linville, I was planning on taking the day off from kayaking, as it has been a full on 3 days.  Somehow though, I was talked into dawn patroling the watauga before my classes tuesday.  So up at 6 am and were off.  Planning on takign a nap after class, I again was roped into playboating the watauga that evening as well. I must say it was worth it though, watauga is a classic.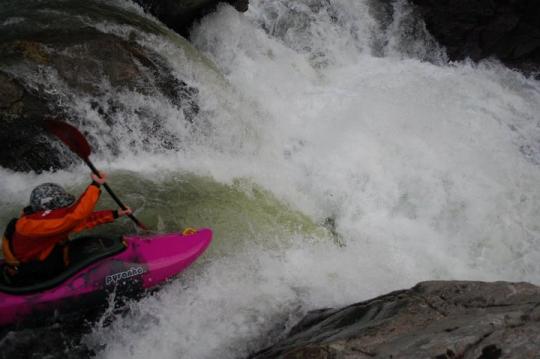 Wednesday involved running some class II for my kayaking PE class, but thursday brought on the goods again.  Talking with Colin Hunt and Jay Mahan, we decided that The Raven Fork would be a good option for thursday, So I rallied that way in the morning, and also getting Chan Jones in on the mission.  We arrived to find it on the low side of good and had a great day.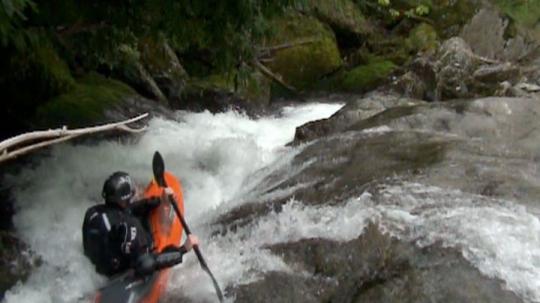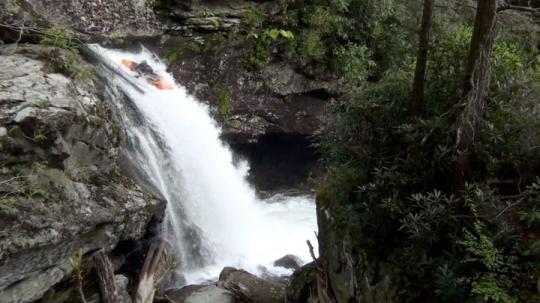 Jay and I were itching to do some more kayaking on friday, so we hit up the North Fork of the French Broad and got a few laps.  On the way back to Cullowhee, we drove past the turn for Courthouse falls, and I decided to go take a look since we had time to kill.  After hiking in and scouting it looked good, so I returned to the car for my boat and fired her up twice.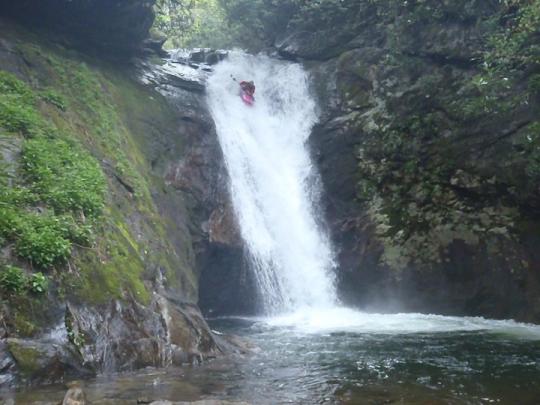 Jerry's Baddle on saturday brought an end to my epic week of southeastern boating.  I did not race, but paddled in to cheer everyone else on, and had a great day on some warm weather green river for the first time since the Green race in november.
A week of kayaking in the southeast like this is uncommon, it reminded me of being out west and there being options of what to paddle everyday. A cooperative schedule and a rain event in the spring makes the southeast as good as anywhere in the world!  Thanks to Colin Hunt, Shannon Christy, Tyler Mayo, Mackenzie Ridnour, Mark Taylor, Jay Mahan, Matt Redmond for the photos.
Cheers
-Â  Clay