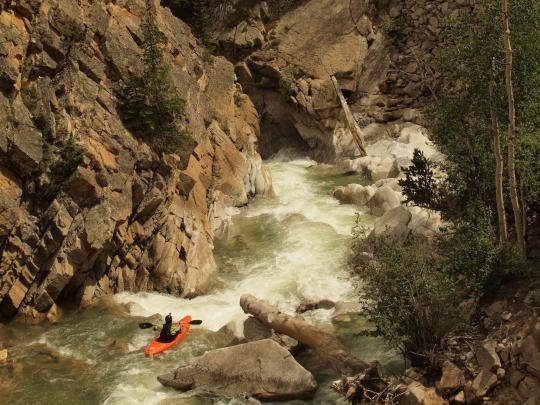 Before the van headed back east, we spent a week in Colorado trying out the NEW Shiva prototype on a variety of Colorado classics and showing it off at the 2nd Annual Baileyfest.
Here Dave enters the Cauldron on Lake Creek. (photo – Craig Kleckner)
An unplanned stop, Baileyfest was the van's last event in the West before returning to the east coast.  Usually low this time of year, it was great to paddle Bailey with the extra water released for the weekend's festivities.
Above Dave boofs the commonly portaged 1st of 4 Falls.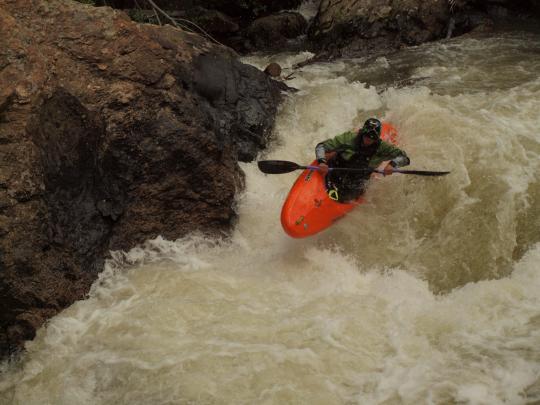 Above and Below – Dave testing the Shiva in Supermax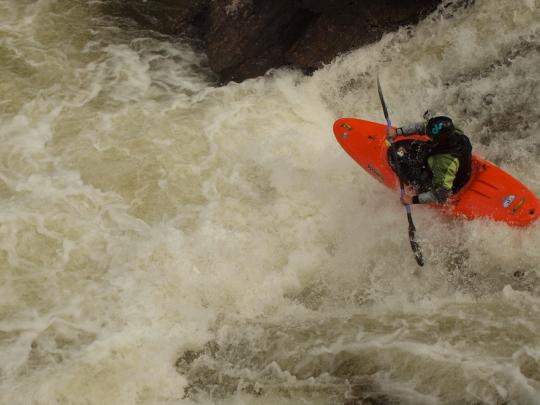 There was a great turnout for Baileyfest.  Many thanks to Ian and American Whitewater for organizing this event!  Friday and Saturday night we had a blast hanging out and watching kayak movies on the big screen at the festivities' riverside campground.  And, with food and beer at the take-out on Saturday, Baileyfest is not to be missed!  (Remember to buy your American Whitewater membership!)
Even though there was also a Sunday release on Bailey, we decided to hit up another Colorado classic before the long drive.   With the high water year, Gore Canyon was still at a fun higher level.  The first hour of flatwater can be a bit tedious, but we spotted pelicans and a bear!!
Above Dave and I take different lines down Gore Rapid.
Below running Tunnel Falls (Photos – Jed Selby)Â  While scouting this rapid we watched about two dozen fish jumping into the curtain and get trashed in the hole….also, cool..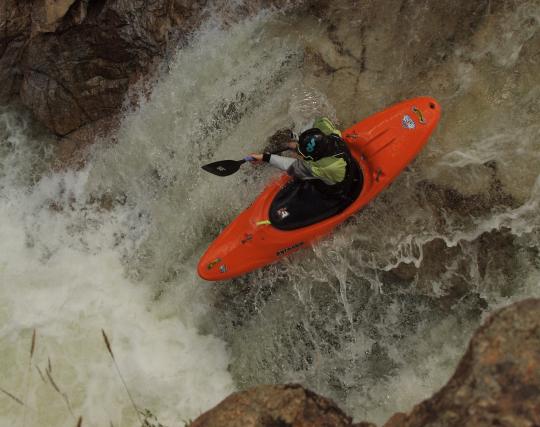 To really experience the Shiva on a wide range of rivers and creeks, we took it to Lake Creek to sample it on a low water (really low) steep creek.  Above Dave boofs the Brains.  Below he takes the left line on Paralyzer.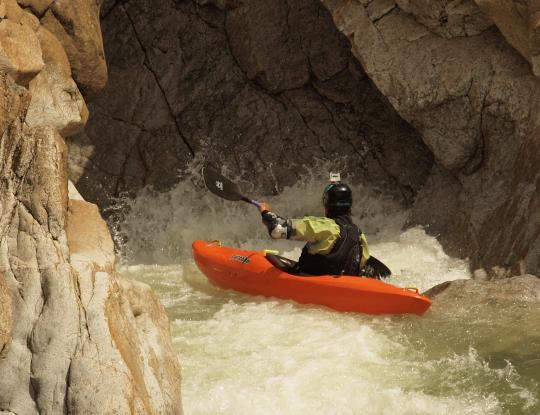 Dave enters the Cauldron (photo Craig Kleckner)
After a week of Colorado testing, Dave found the Shiva easy to roll and boof, very forgiving, fast, and comfortable.
The van is past Kansas by now.  I'm still sitting in Buena Vista, CO, putting off the long drive back east for another month.