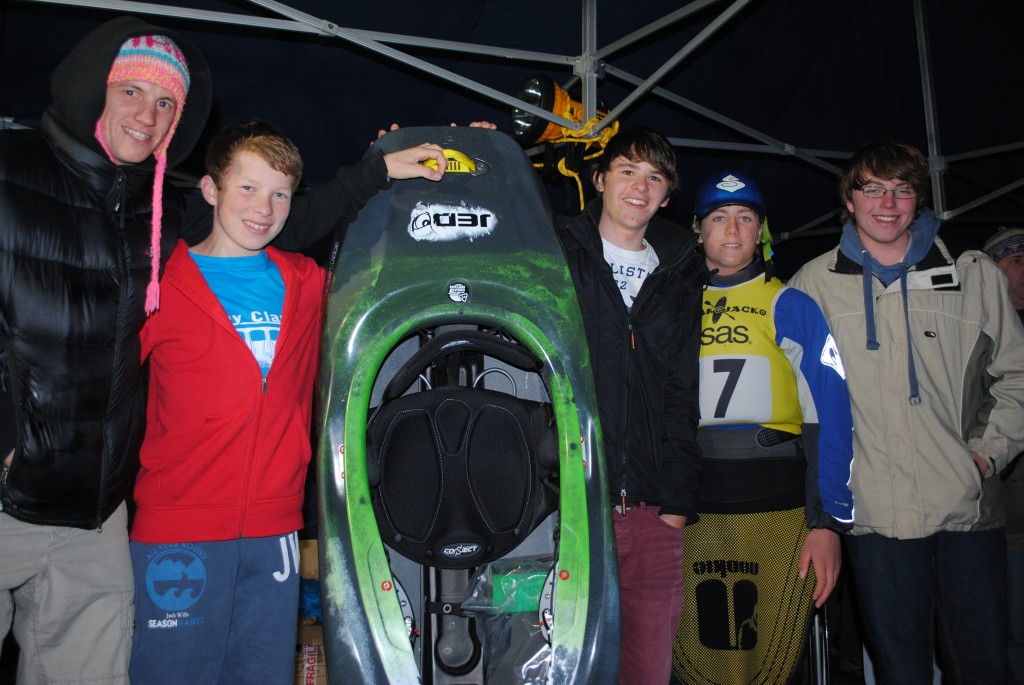 After many years of cancellations and disappointing waterlevels, this year's Hurley Rodeo was back with full force. The River gods smiled on us, and there were perfect waterlevels: Hurley Weir was on three gates. Kayakojacko put great deal of effort into organising the event, and there was a full program. An open event counting towards the British Freestyle League (3 x 45 second rides, best two score) took place on Saturday, and a mixed ability heat, jam session format (15 minutes of paddling with each participate paddling in order, all moves count) on the Sunday. Competitors from as far afield as Russia, Norway, Spain and the Czech Republic attended making the standard truly world-class.
As well as these main events, there was a boater-cross on Saturday. A massive ramp was erected to allow those without too much vertigo to get a flying start and then paddle the slalom course to touching the flag at the end. Team Pyranha paddler David Bain took home the trophy of course. There were also off the water lectures to entertain and educate such as the psychology of performance lecture from Mally, local academic on the subject. The EA also gave a presentation on the way that the river Thames is managed to give us Thames Valley boaters more of an insight to the waterlevels that are a constant source of fascination.
On Saturday evening there was a well-attended banquet with a prize giving for Saturday's competition as well as some "community" prizes for members of the Thames Valley local community. Of course the highlight of the event was the Pyranha JED which was on offer to one lucky entrant into the classic. All participant's in the competition for the JED voted for another unsponsored paddler they considered deserving of the boat. Nick Worsley won after canvassing almost everyone at the Rodeo.
Thanks goes to TV Freestylers and Kayakojacko for organising and to SAS for allowing us to use the land by the river for the event.