Pyranha's 40th anniversary year is drawing to a close. I've had a Pyranha boat in the quiver since at least 1995 and Wendy has loved her various Pyranhas since '98, so I dug through the archives to find a few oldy-but-goody images to share.
Great Falls of the Potomac: I love this pic. Original Micro 230. Harris and I at Great Falls: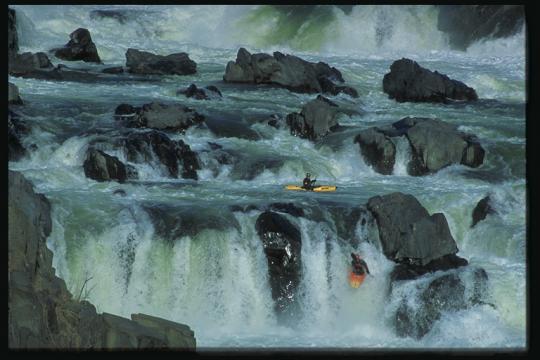 Upper Gauley, October 1995. My first day in my new Acrobat 270: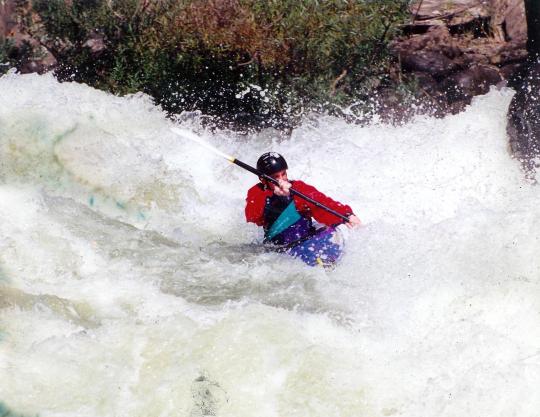 Upper Gauley. Surfing in a Pyranha "Blade" at Geek Wave. Back in the day this boat was a cartwheeling machine.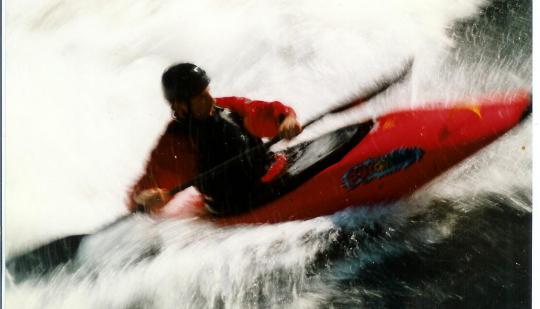 Maury River, VA. Locally renowned art photographer L. Collingwood gave me this one: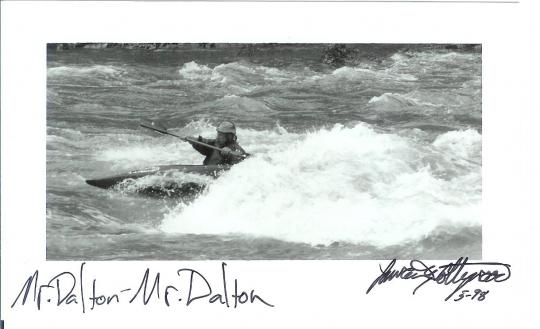 New River, WV. Wendy working her Attak through the "Splat Room." This boat is a cult classic. Kinda seems like a precursor to the Ammo design: 
South Fork Tye, VA. (1998?) A much-younger me in my first Micro 230. This boat opened up creeking for so many paddlers. What a breakthrough boat! This blog post could also be seen as a tribute to the Micro; when I look back at all the creek and rivers we explored in this boat I realize how revolutionary it was. This solid yellow one here was one of the original hull-style versions of the Micro 230: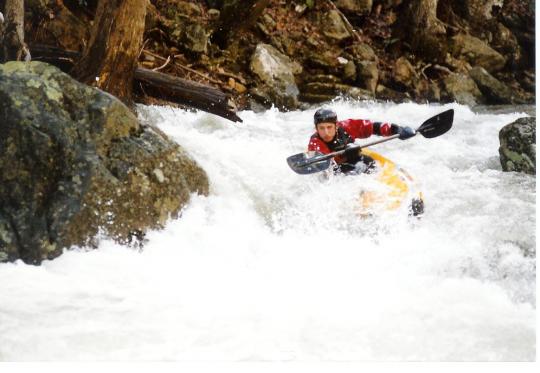 Vallecito Creek, CO. (June, 1998). My first time in Colorado and my first run on Vallecito. We had no guidebook and no clue. Kirk and I hiked in to the creek together but he (wisely) decided to not put-on; but I (foolishly) decided to drop in solo. All I knew was I had heard this was a run people whitewater kayaked. I ended up routing Entrance Falls blind and scared as hell. I had a good landing but realized I was in some serious aqua. Somewhere in there I came across Charlie Beavers and Brett Bowerman chillin' on a midstream rock and they made the rest of the run sound pretty calm [it's not] so I kept going. After a few more terrifying but thankfully-clean drops I caught up with "Bubba" Cotton and leached on to his group as fast as I could to finish the run.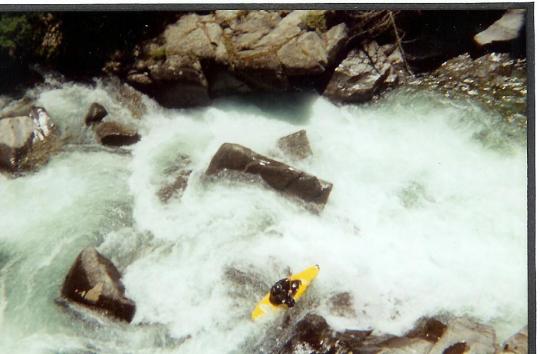 …and now, 13 years later, I think Vallectio is probably one of my favorite creeks in the U.S.
Below: Pyranha's Burn dropping into "No Way Out" on Vallecito: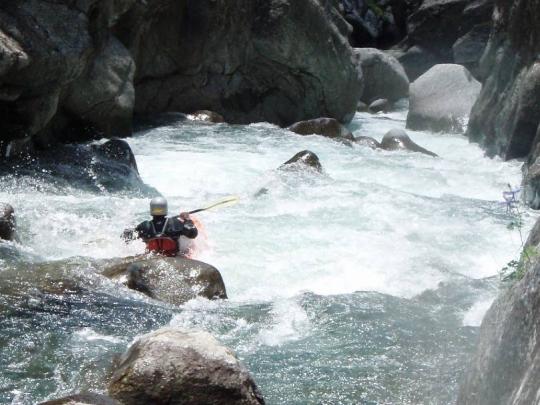 Below: Crystal Gorge, CO. (July, 2001). "Zute Chute"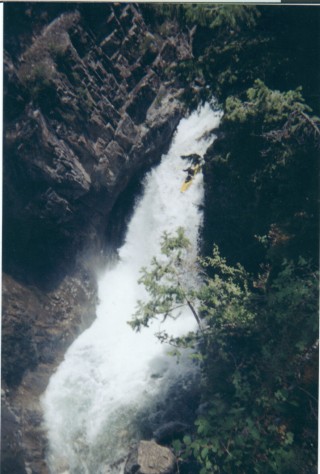 Lake Creek, CO. (July, 2001) "Paralyzer." Props to my then-girlfriend for holding a throwbag and a camera while I hucked myself from Brains down through Cauldrons.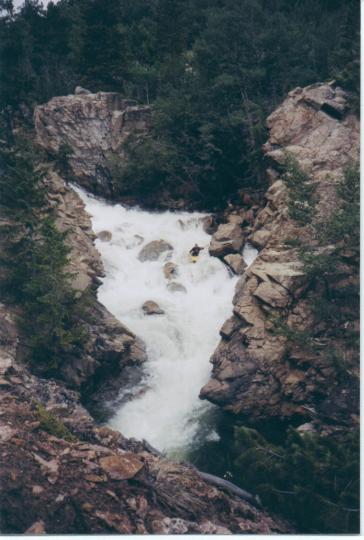 Big Sandy, WV. Two shots of "Big Splat" – the first is in the original Micro 230 and the second is in the yellow/black newer-style Micro with the revised hull design.
Gauley River, WV. I won't name this boater (let's call him "Tino") because he's a friend and a good dude, but this pic is just too good to not get some air time. Textbook carping! The boat is an Ina-Zone. I also had an Ina-Zone and it was the boat that I learned to do flatwater cartwheels in. Spent the whole summer double-pumping my way through the pools between drops on the New as a video-kayaker. Wish I still had one.   "Tino S." on the Gauley River: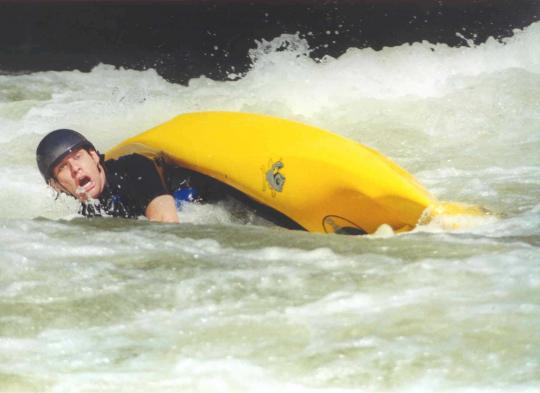 South Silver Creek, CA. We post-holed through hip-deep snow to get on the California gem: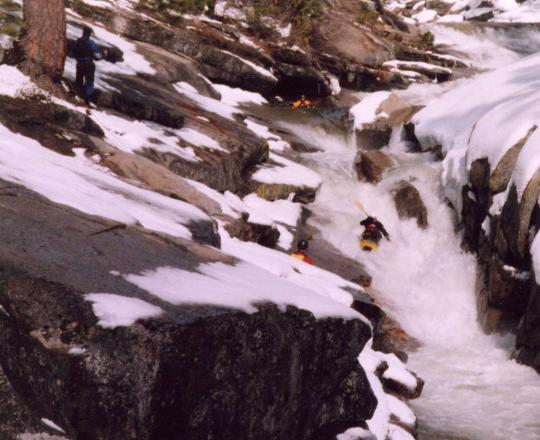 Henry's Fork, ID (2002). Lower Mesa Falls. My buddy Josh and I took turns hucking this double drop in my Micro 230: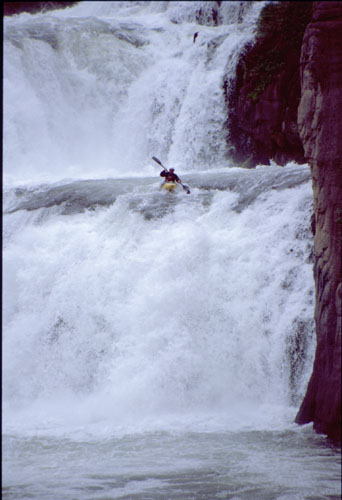 Big Timber Creek, MT (2002). One of the Top 5 Greats.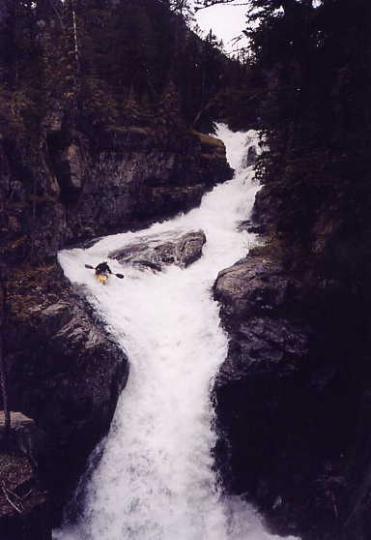 Big Timber Creek, MT (2002). The Micro hopping down "The Pinch," a massive slide: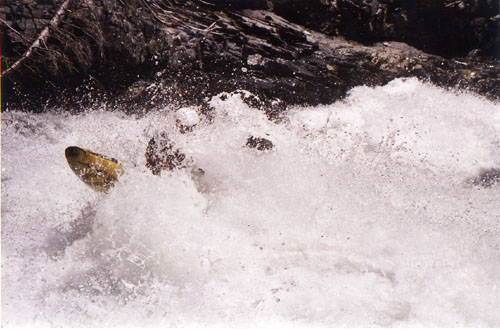 Randy Boush in his tough, well-used Micro on Bottom Creek, VA at a healthy flow. Like I said, this post is almost a tribute to the uber-classic Micro 230.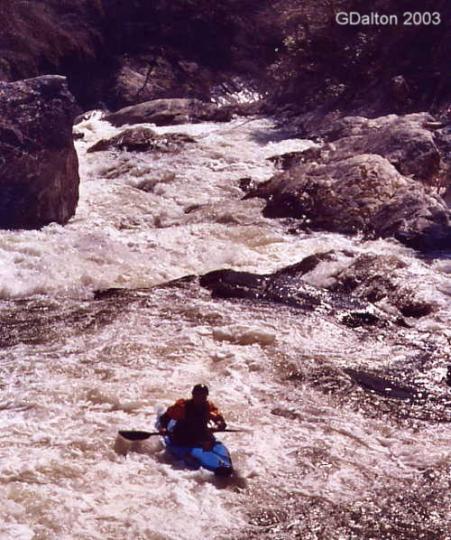 A retrospective of recent-past Pyranha boats wouldn't be complete without a couple shots of the venerable S:6 – one of the best Pyranha boats ever, IMHO. Here's the S:6 at the Durango Whitewater Park, CO.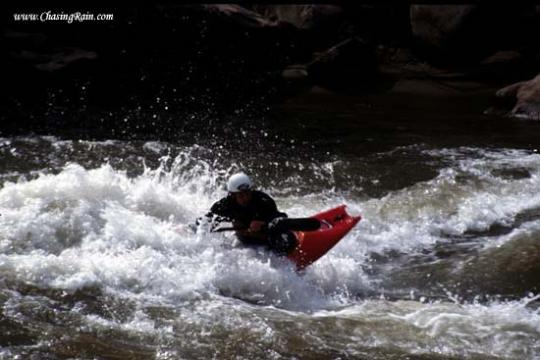 The S:6 was a superb playboat but it also ran rivers like a champ. Here it is producing a clapper at Valley Falls, WV:
The last shot is a bit of a memorial to our friend Don Smith. Here he is dropping Yule Creek, CO in his Micro 230. Yule Creek is balls to the wall creekboating.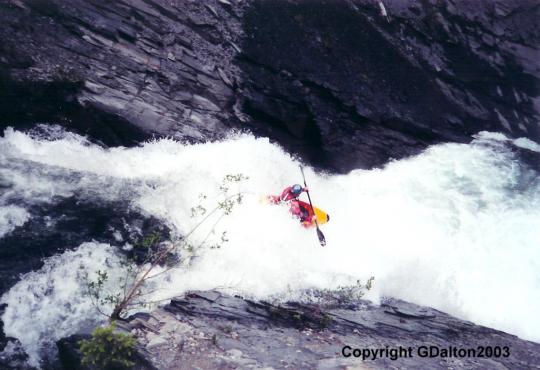 Pyranha's hull designs have been the best available for as long as i've been paddling. Looking forward to 40 more years of cutting edge kayaks.