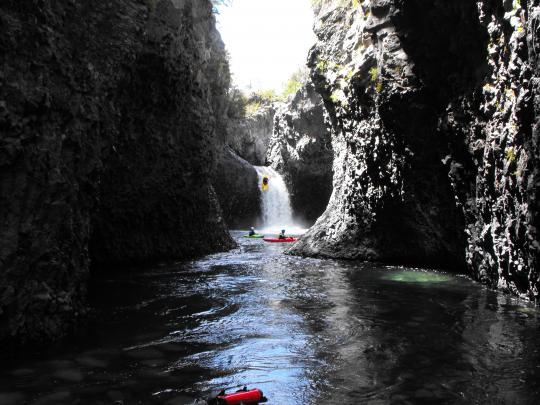 It's been raining hard for the last 12 hours.  It's coming in sideways and it's cold.  So, unlike the past 2 weeks of go go GO…we're sitting around drinking yerba matte, eating bananas, letting our bodies recuperate, and catching up with the world.   Here's a quick photo re-cap of our Chile experiences thus far.  Fred's busy making edits.  So, the goods are yet to come.
Demshitz love Chile.  It's a well known fact.  After 2 years of hanging out with Demshitz and hearing constant Chile praises, I never thought my experiences would actually surpass my expectations.  But, they have.
Here Dave and Fred sit, reluctantly ready to spend 10 hours in the Santiago bus station waiting for the last leg of our journey; the 10 hour bus ride to Pucon.
Somehow Ian managed to convince Fred and Dave to run the Turbio River less than an hour after picking us up from the red-eye bus trip.
Day 2 in Chile we headed down the Maichin with one of Rodrigo's kayak trips.  If you're coming to Pucon and need info, gear, guide, etc he's your man.  Check out Kayak Pucon.
With incredible gorges and big fun drops, the Maichin River was the perfect introduction to kayaking in Chile!
Fred's kayak with all his camping gear was lost.  Delta had no idea where it went.  So, after finding Fred some basic essentials we packed up the truck, picked up Jake Greenbaum, and headed up North to the Rio Claro.  Featuring the Siete Tazas, Veinte Dos Saltos, and Entres Saltos Sections, the Rio Claro boasts clean waterfalls and incredible gorges.  In places the river narrows up to barely wider than a kayak.  It's deep, dark, and incredible.
Here we are at the put-in to the Veinte Dos Section with our British buddies we met at the campground.
Paula Volkmer running the clean 20 some footer!
Scouting the stout Salta Leona. When someone finally runs it, I want to know what happens after you slam into the wall directly above the huge waterfall.
First booty beer of the trip.
Imagine having this waterfall in your backyard.
Rio Turbio outside of Pucon.
Dave running the Middle Palguin.  I guess he boofed it.  After Fred, Dave, and Jake fell off the Middle Palguin at a high side level we all went and ran the Upper, which is an awesome classic Pucon river.
Ok, time to eat some eggs, lentils, and go get wet even though it's still miserable looking outside.