Pyranha Team Tour – On a Mission – Croatia
After a long drive from Slovenia, via Trieste airport to pick up Ben, Louise and myself, the Team van finally arrived in the Zrmanja valley in Croatia.
After a warm welcome from the RaftTrek river guides at their rafting base, which included a glass of the fiery local moonshine brewed by the caretaker, we hit the sack, excited for what the next day would bring.
We awoke to glorious sunshine and after chatting to the head guide Philip, made a plan to accompany him on his river trip down the Zrmanja with some ducky clients, with the aim of filming the trip for a promotional video for the company.
The Zrmanja is the perfect river for this kind of trip and a fantastic start to our mission in Croatia; beautiful, clear water, flowing over easy pool drop rapids in a stunning gorge.
After some lunch in an amazing spot (more on that later) we were greeted by a sight reminiscent of Mexico – a clean twenty-five foot waterfall flowing over lush green vegetation.
The river continued to wow us as we carried on down to the take out; if it wasn't the scenery it was the wildlife that had us scrambling for our cameras.
The next morning we met up with Ivan Safradin, a multi-talented Croatian outdoor instructor who had driven two-hours to come and meet us. He persuaded us to come and paddle his local run, so we loaded up and set off to the Cetina river.
What we found was another grade 2/3 pool drop paradise; an amazing gorge, turquoise water, caves and waterfalls.
After paddling two sections and 19km of beautiful river we were ready for a feast and that is exactly what we got in the old town of Omis!
We said goodbye to Shafra at Omis and headed back North for another night under the stars at our camping spot next to the Zrmanja.
The next morning we met up with Matija and Marko. They told us about a river called the Una that was on the border with Bosnia which had some cool waterfalls. So we packed up the van and headed east. Along the way we got stopped by the police who took an interest in what we were planning to do and decided to escort us to the river!
The Una was everything we could have hoped for. It started with a clean fifty footer, followed by a series of beautiful boof ledges, before the river flowed into a stunning grade 3 gorge.
After an awesome run down the Una the Croatian boys were keen to take us to another river, 'only an hour away'….
Two and a half hours later we arrived at the Mrejnica! As with all of the other rivers we had paddled though, it  was well worth the drive.
Another grade 2/3 pool-drop paradise awaited us, with the obligatory twenty-ish footer half way down to keep you excited.
Best of all the river finished at the campsite, where beers and a BBQ rounded off our amazing Croatian adventure.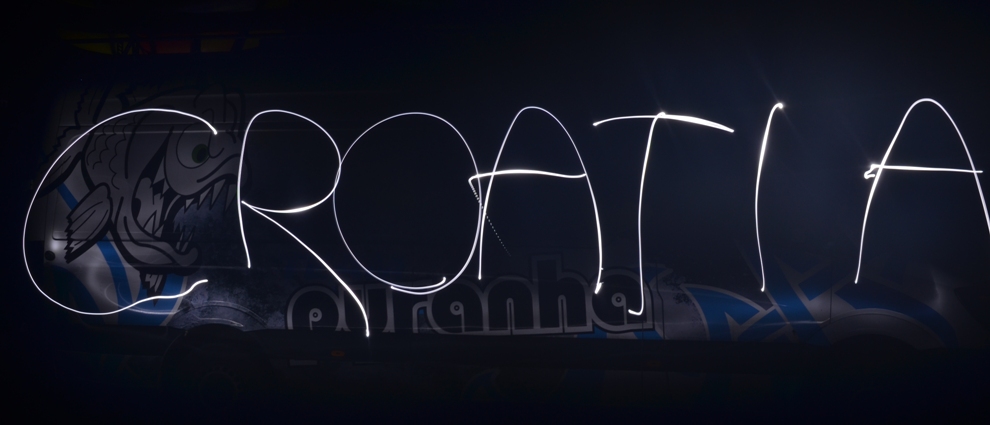 The next day the team dropped me off at Rijeka airport on their way back up to Italy for the next leg of the tour.
It had been great to be able to paddle with some up and coming Croatian paddlers, particularly Marko who had achieved his first boof and run his first waterfall on the Mrejnica with us!
We were all sad to leave and with so many rivers still to paddle, we will definitely be back.
As I sat in the airport contemplating my time in Croatia I got to thinking – with all the beautiful, clean, easy pool-drop rivers we had encountered over the last few days, is Croatia the new Slovenia?……
https://vimeo.com/99322831 – video link