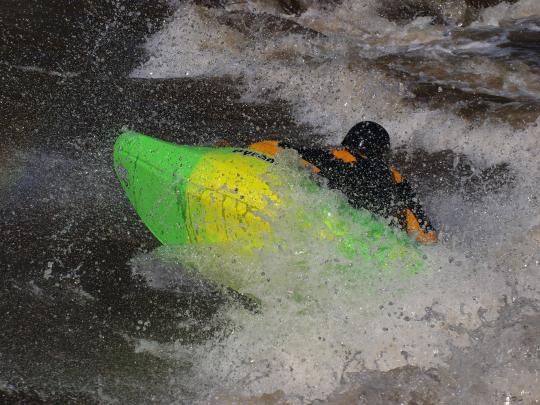 Demshitz spent the last week in Colorado basking in the warm sunshine and paddling some of the great playparks the state has to offer. Â Here's Pyranha's newest team member Craig Kleckner throwing down in the BV Pro Rodeo.
After driving from snowy California, Tuesday and Wednesday were spent in Golden, CO hanging out in swimsuits, playboating in the town park, and demoing the new Burn and Molan. Â Lots of people stopped by to try the new boats!
Wednesday night we watched the 1st of the Golden River Rodeo Series and hung out with our buddies from one of our favorite shops Golden River Sports.
Here's Troy initiating a tricky right spin during the Golden Rodeo. He ended up places 3rd overall in the Sport Class!
Thursday we rolled back to Buena Vista to surf the new play park features and set-up for another busy Colorado Kayak Supply Paddlefest weekend. Â With high temperatures hitting the state, the Arkansas river flows skyrocketed and the town's park-n-play ended up being a lot of fun. Â Especially sweet was the new 4th feature; a fast, dynamic wave-hole! Â The weekend was a tiring success.
Here are some photos of the Buena Vista Pro Rodeo.
Dave Fusilli playing around in one of Buena Vista's sweet play features.
Jeremy Laucks blunting during the competition
Hannah Kertesz throwing down in the Junior Women's Class.
Jared Seiler catching air
Dave doing some kind of back trick
Well, after a fun weekend, we're ready to hit the road again. Â Tomorrow morning we head to Crested Butte to do some creeking before heading back to Vail to prepare for the Teva Mt. Games.