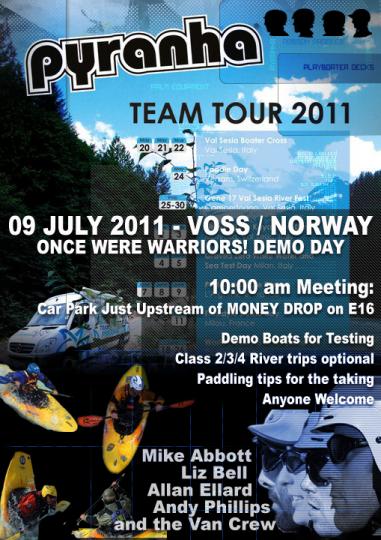 Pyranha Demo Day with The Pyranha Van crew and Allan Ellard, Mike Abbott, Lizzie Bell and Andy Phillips.
Come and try out the boats you wish you owned and then maybe buy one!
The Van and crew will be parked in the Car Park just up stream of the Money Drop Waterfall on the Strandaelva of the E16 highway.
Depending on who turns up we will head off to a river nearby for fun and frolics. This could mean hucking the Money Drop, running the Upper or lower Strandaelva, a trip to the Raundalselva, or maybe even the Branseth!
We will be on hand to give you tips and tricks on anything from outfitting ya boat to boofing the right direction.
SPREAD THE WORD AND SEE YOU THERE AT 10am 9th JULY!