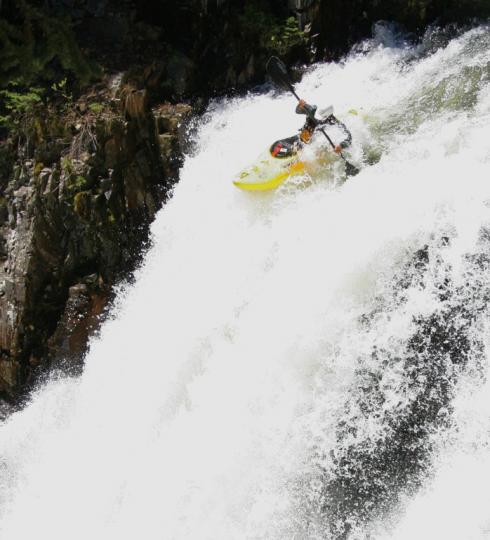 This past weekend, The "Oh Be Joyful" Race in Crested Butte Colorado held the LVM Giant Slalom Rocky Mountains qualifier for the World Championships later this summer in Asheville North Carolina on the Green River. The OhBe race is a great course for the giant slalom; tricky gates above and below the 20′ were serving up good entertainment.

Gettin' some Ankle Breaker with the good water levels.
It was a beautiful day for the race and the water level was pretty much perfect. We all did 3 runs and combined the times, 2 runs on the Giant Slalom and 1 down river sprint. We started the event with time trials on the down river sprint.

Myself at the start. photo: Chris Larson
I posted a good time coming in 2nd place with a 3:52, one second behind 1st place Andrew Holcombe and one second ahead of Josh Bechtel in 3rd. Graham Seiler and Dave Fusilli took 5th and 8th out of 19 racers. Next, we set up 5 gates starting two drops above the biggest drop 20′ Oh Be Joyful falls and ending shortly downstream. We did two runs and afterwards tallied up all the hit or missed gates and added the times and arrived at a winner.
There were some risky moves in this Giant Slalom course, and 10 seconds is added to your time if you hit a gate and 50 seconds for missing a gate! One of the hardest gates was below the falls where you were required to pass on the right and most of the water boils out from the base of the drop and pushes you left, if you got pushed left it was a tough ferry to get back right. A lot of racers missed this gate, including myself, sending me to 10th place overall. Dave and Graham managed to battle back with no missed gates and decent times putting them in 4th and 5th overall. Andrew Holcombe walked away with the overall win. We all had a great time and cant wait for more races like this in the future. Check out LVM TV for updates on Giant Slalom and other kayaking news.
Overall Results:
1. Andrew Holcombe
2. Clay Wright
3. Bryan Kirk
4. Dave Fusilli
5. Graham Seiler
6. Geoff Calhoun
7. Evan Ross
8. Josh Bechtel
9. Jake Greenbaum
10. Jared Seiler
11. Travis Winn
12. Jake Sackson
13. Johnny Meyers
14. Dave Levitt
15. Alex Hoetze
16. Conor Finney
17. Chad Pickens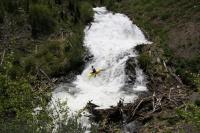 Fusilli in the new Avalanche. The gnarly wood pile at the bottom on this one changed up and is pretty fun but kinda sketchy.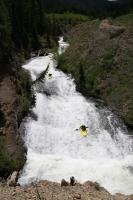 Dave and I on the slide coming into the last rapid.
Always a good time hanging out in the Oh Be Joyful campground. Wake up, cross the river, hike up, paddle down. Its a cool place. All photos by: Chris Larson