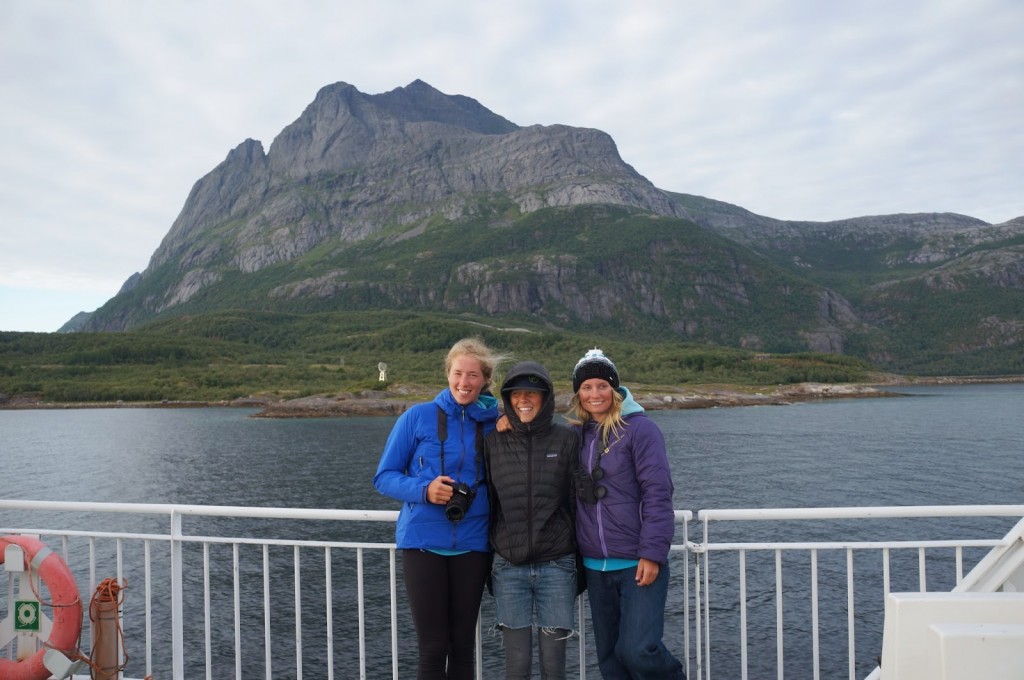 After reading the latest blog Pyranha blog regarding the insufficient number of female brand ambassadors, I again realized just how lucky I was to have spent the last month not only in Norway, but on a girl-dominated road trip.   Paddling classic day-stretches and two incredibly scenic multi-days, we spent most of our trip in Northern Norway (which, although 12 hours north of Voss, is in actuality only halfway up the country).   After 2.5 weeks of eternal sunshine, we headed back south hitting up rivers along the way to Voss where we spent our final days paddling the area's classics.  Maybe the two males in our six person crew didn't feel as fortunate about this gender ratio, but we appreciated their company!
It was a bit of an epic, but we (Katrina Van Wijk, Louise Jull, and myself) eventually arrived in Trofors, where after a morning spent passed out in the lawn next to the train station we were picked up by our friends and generous hosts for the next month; Mariann Saether and Ron Fisher.   We were introduced to our van companion; Diego the Argentinian, and promptly set out to paddle a quick section on the nearby Vefsna.
After five days spent camping on beautiful lakes, struggling with jet-lag, and paddling more slides than I've ever seen before on the Krutaga, Vefsna, and Susna Rivers, we migrated north via tunnels and ferries to Glomfjord.  After much debate concerning water levels, here we would start our three- day journey on the Glomaga River, which flows through Norway's 2nd and 4th largest glaciers, collectively known as the Svartisen.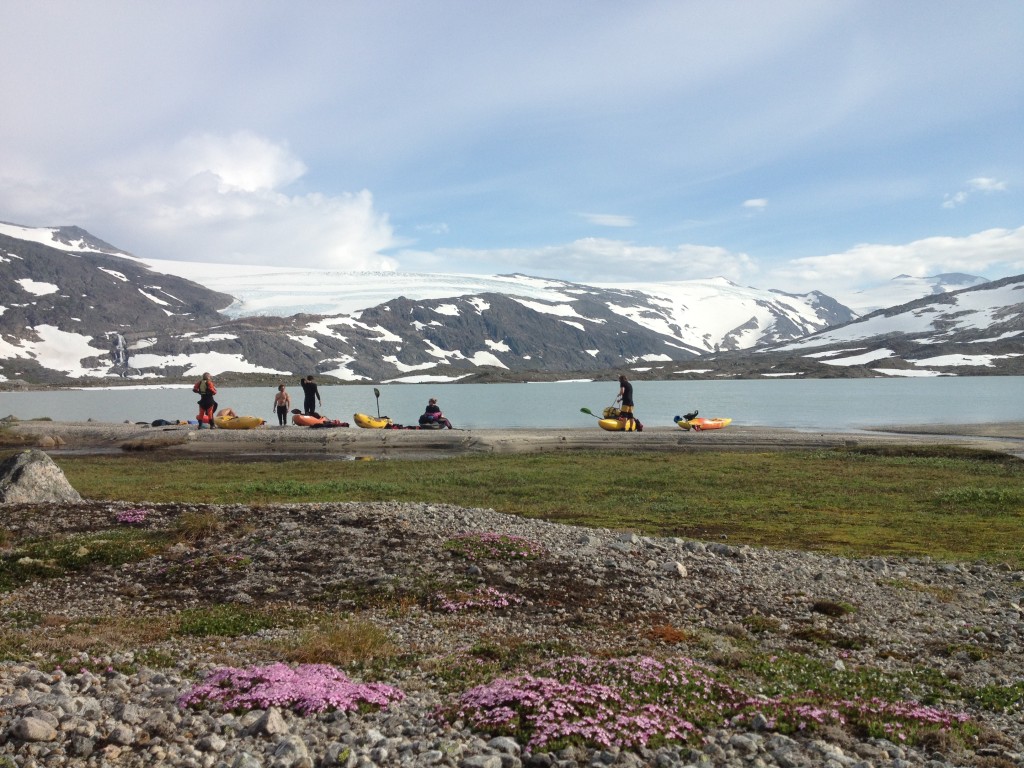 Surrounded by amazing scenery, we spent the first day paddling across lakes, hiking through tundra, and sliding and trudging through snow.
An hour into day 2, we found ourselves paddling whitewater.  The creek started off low volume and slide-filled and gradually increased in volume and gradient.  As expected, there were some ridiculous stouts to be portaged, but also a lot of quality whitewater to be paddled and scenery to enjoy.  As rivers do, the characteristic of the river Glomaga changed and by day 3 the quintessential Norwegian slides and drops had become sieve-filled gorges.  I think I portaged more than I paddled, but I would do it again in a heartbeat.
The newly dubbed ChickenExpress enjoyed some days of paddling with unloaded kayaks before gearing up for our next multi-day on the Lomsdalen River, which cuts through a national park that is only visited by 1-10 people yearly.  Knowing that we had an 11 hour approach (50% of which involved hiking), 24 hour daylight, and extremely hot daytime temperatures, we decided to start our journey at 6pm.  At one point, approximately 3 hours into our hike carrying fully loaded kayaks, I wondered why I enjoyed what I was currently doing.  It was 9pm and there I was; struggling to walk up a slippery creek bed with an awkward heavy load on my back.  Looming ahead was a beautiful, but daunting climb up a 1,000m rocky pass.  I knew we had beautiful whitewater to look forward to, but I wasn't concerned because for some reason I was enjoying every bit of the approach.
Although the grunt of the hike was done the previous evening, we still had half of the approach remaining, which involved paddling across a handful of lakes, navigating some serious fog, and a little bit of hiking.  Eventually the lake dropped off a serious horizon line; a large cascading waterfall that marked the beginning of our river.
For the next day and a half we paddled incredible whitewater with slides, waterfalls, gorges, boulder gardens, and a limited number of portages.  A touch more water would have been ideal, but the trip was incredible.  We were even lucky enough to find a generous couple living where the river flowed into the ocean who were happy to feed us snacks and shuttle us the 9km out the fjord to where our vans were parked.
Although we were fortunate to paddle numerous incredible classics around and in between Hattfjelldal and Voss, it's the lesser known multi-days that will stand out in my memory.
All good things must come to an end and the Chicken Express (aka Team Uffda) have parted ways.  The Norway trip I've been dreaming of for the last eight years outlived my expectations!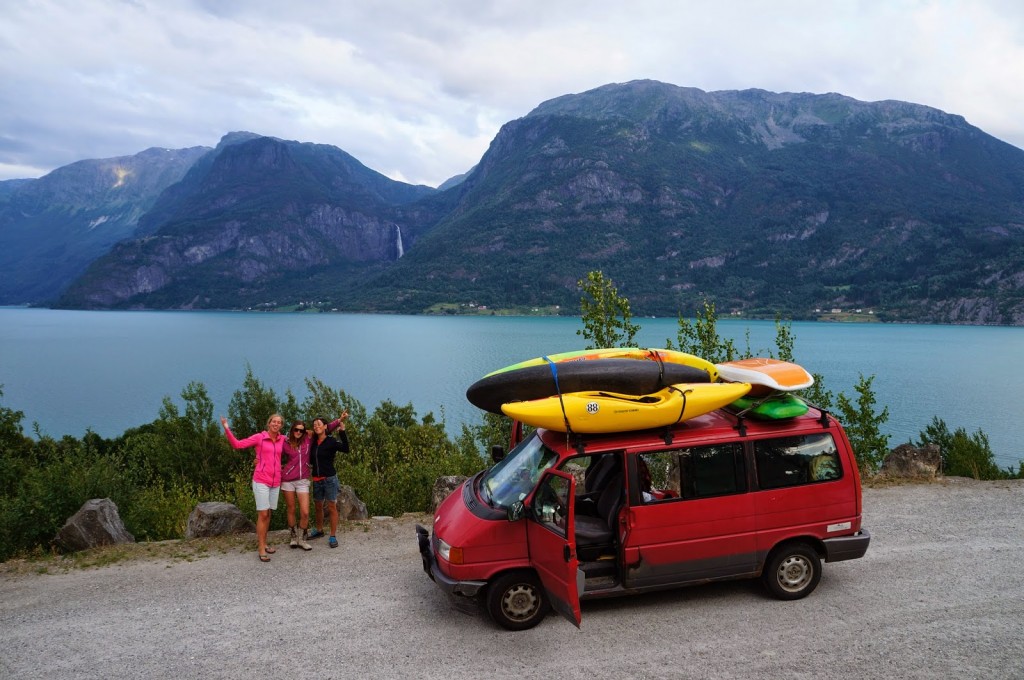 Enough writing, I gotta go  kayaking.