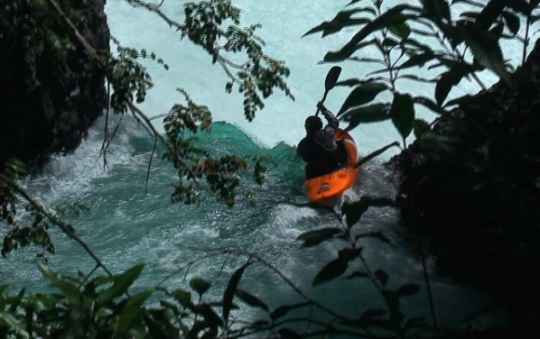 A tough boof on the Riñinahue.
Still down here in Chile making the most of low water. A group of us headed south from Pucon en route to the Futaleufu to hang out and kayak for the remainder of our stay here in Chile. On the way we ran the Salto del Nilahue and got a possible 1st descent of 2 drops on the Riñinahue near by.
 Max Blackburn on the Salto del Nilahue.


 Shot of me on Nilahue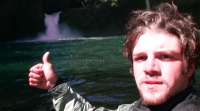 Still scared at the bottom of the last drop on the Riñinahue…
This run usually has too much water in it, and it was definitely on the high side of good the day Evan and I decided to run it. We checked it a few weeks before and it was definitely a no go. This past time I estimated the flow about a 1/3 less water, but the upper drops were still a bit sketchy. Big holes, big caves but the last drop is sweet! Evan and I decided to call the last one Alerdio because of its mini resemblence to the Alerces drop in Argentina mixed with the Salto de Indio on the Gol Gol in Chile, down the left and plug deep. We think the two drops we ran are first descents. correct me if anyone knows otherwise. The Riñinahue gorge is a really cool, really scarey gorge, but with nice rewards.
In other news: Recently, I had an unfortunate event happen to me durring my stay in Pucon. Someone broke into our truck and stole my computer and all of our video footage from the past 3 months in South America. Luckily, I still have a little bit of lower quality footage saved on a hard-drive, but a lot of pictures and most of the high quality video footage was taken. Needless to say we are all pretty bummed out. In the end, we will always have instilled in our minds the memories of this trip as being one of our bests, and will just have to come do it all over again to get full documentation. I made a couple videos on youtube with a lot of the footage that was stolen, if you havent seen it already check it out at    http://www.youtube.com/watch?v=9QYNr-H0KbE and the other one  http://www.youtube.com/watch?v=9hvKN2ff0EQ&feature=related 
Check out Evan Garcia's blog for a more indepth report on the day egcreekin.blogspot.com