While everyone is travelling around to warm climates and tropical destinations, I have been braving the winter up here in New York's Adirondack moiuntains. We started off with a ton of snow in December and the early part of January. Last week's warm temps and rain opened up some January paddling for those that were tough enough to handle the cold.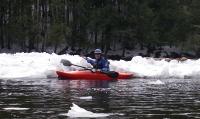 The early snow this year allowed for some excellent backcountry skiing. I know you're all probably thinking backcountry skiing in the adirondacks?? But yes, we do have some when there is enough snow, and it's really fun. I hooked up with local rippers Matt McNamera and Wes Lampman for a few days of fun.
When the warmer temperatures and rain melted all of the snow I got a chance to sneak in a coupe of laps on a local run just to make sure I remebered how to kayak. There was ice everywhere, and knee deep snow to walk through to get to the put-in.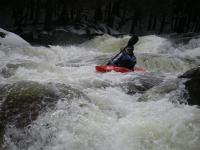 My buddy Justin and I finished two quick laps before turning into popsicles. Smiles were all around at the take-out. Justin and made sure our shuttle bunny stayed warm and happy all day.
Cold and snow seems to be setting in once again. I'm sure glad I got after it when I did. Even if I did freeze my butt off.