Virginia was blessed with a wonderfully wet spring  this year but now we're solidly in the late-summer dolrums. Hot, humid days like these make us think of liquid refreshment in many forms; whether from the river or from a frosty pilsner glass. Luckily this area is seeing a veritable deluge of new brewpubs sprouting up like mushrooms after a rain. Little old Nelson County, for instance, now has a total of three microbreweries within about a 12-mile radius, all conveniently located near quality destination creeking. Not bad for a place that only has one stoplight in the whole county. Here are my recommendations of beer-and-creek pairings for this multi-course creeking feast. Bon apetit!
First Course:
The first selection harkens back to last year but the taste is still fresh no doubt.
"Blue Hole"  on the South Fork Moormans River is probably the most popular swimming hole/hiking destination near Charlottesville. As someone who spent many a day here as a kid it was nice to come back about 15 years later and score the first descent of this stout drop: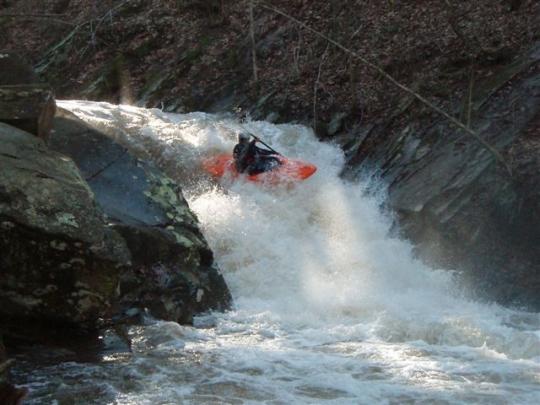 The hole at the bottom of this drop looked pretty burly but a small seam near mid-right allowed me through. The rest of the run was decent IV+ to the lake. The South Fork Moormans turned out to be an ideal antidote to what would otherwise have been a blown-out day of driving around trying to find something low enough to paddle. (The area's schools had all closed due to the flooding!). Don't expect this one to run much. Harris and I also scored a run on the neighboring super-steep "Middle Moormans," also known as Pond Ridge Branch.
Pair it with: Starr-Hill "Northern Lights" I.P.A The Starr-Hill brewery is located in Crozet, VA just minutes from the Moormans River. The fact that this IPA is now available in cans makes it a shoe-in for pairing with an Albemarle County first-descent, or any descent in the area for that matter.
Second Course:
The Main course! Belly up to the table for a big buffet of boofing. A heaping plate of hucking! Nelson County is completely laced with awesome micro-creeks. When this place goes off you could score four or five different creeks in a single day, if you have the stamina. It's like the Crested Butte of the East but with warmer water. Running four of these creeks in a day constitutes a true "Full Nelson."
Below: This is what the start of a great day looks like. The Tye Forks takeout, Nelson County, VA. We've been lucky enough to have quite a few "worship services" here lately.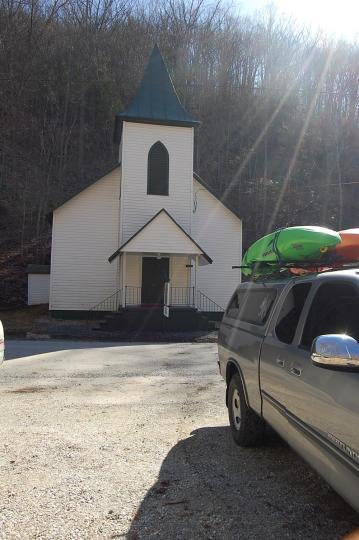 Here Trafford lights up one of the smaller drops on the North Fork Tye. This little drop happens to be one of the best boofs on a creek full of big boofin':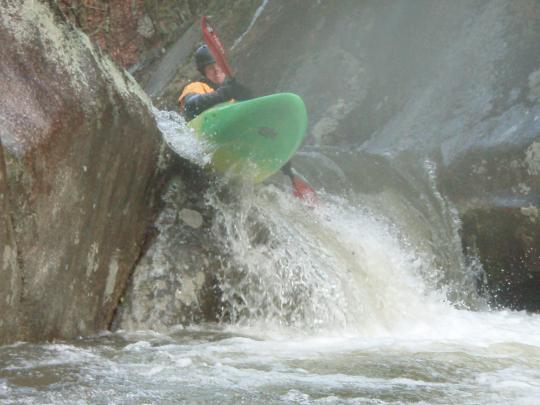 Below is "Marbles,"on the North Fork Tye.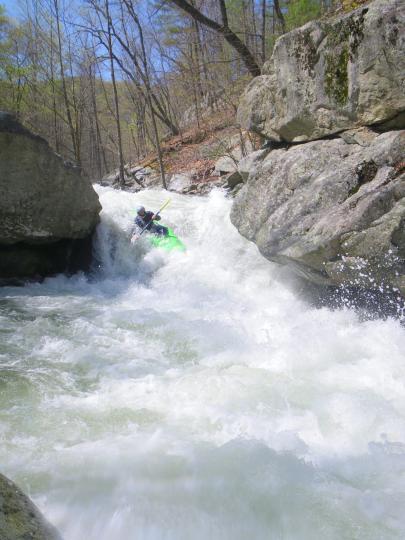 The North Fork's southern sister is – you guessed it – the South Fork Tye. They even share the same take-out at the church. Like the NFT, the SFT is three miles of almost non-stop super technical granite boulder gardens. "Fodderstep" is the biggest drop on the South Fork Tye. The picture below captures only the top half of this bigger-than-you-think waterfall/slide.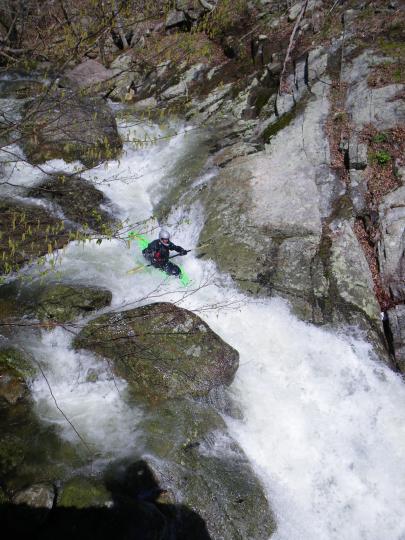 After a couple of laps on the Tye Forx you might still have enough energy to make the 10-minute jaunt over to the South Fork Piney. This one starts off with a stacked series of four chutes and slides known as the Cascades: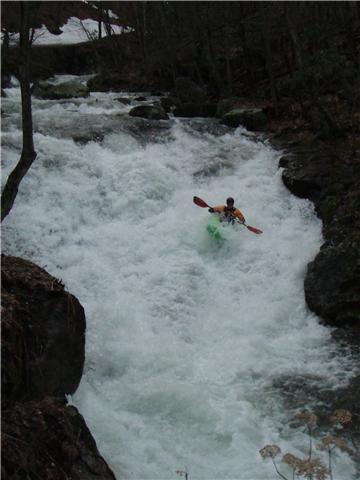 Bouncing down one of the Cascades at the start of the South Fork Piney.
The South Fork of the Piney is one of my favorite runs in this area. One cool thing about it is that one of the South Piney's major tributaries is an outstanding class V creek run in its own right. Shoe Creek only runs following a major rain event (look for the Piney to be stomping or even too high), but when it does go it is well worth the effort of hiking your boat up a few miles into the National Forest's Priest Wilderness Area for this pure and seldom-seen Nelson County gem. Here's Trafford textbooking the biggest drop on Shoe Creek: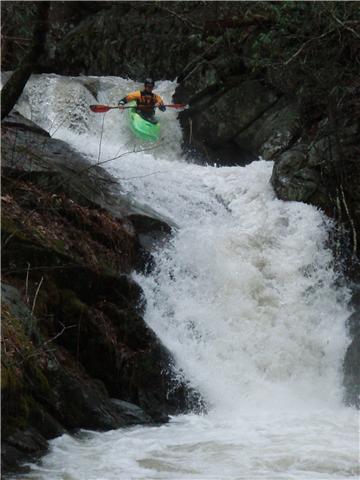 Pairing: The wilds of Shoe Creek and the Priest Wilderness go well with a handcrafted ale from Wild Wolf Brewing Co. This is their temporary home in Nellysford, but this November they'll be moving to a much cooler, historic old schoolhouse just down the road. Very close proximity to Paul's Creek, the South Rockfish, and all the other Nelson runs make this a good stop for wandering area creekers.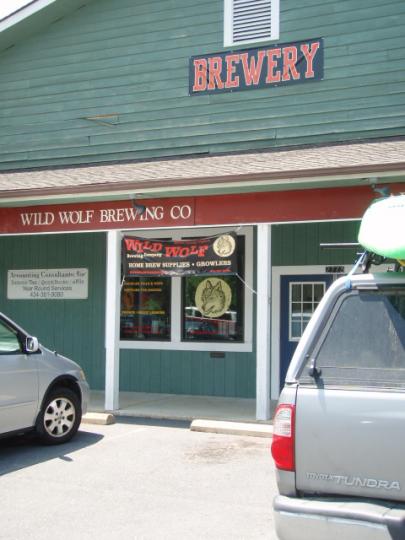 But don't stop now. Most mere mortals find themselves ready for a cold brew and some dry clothes at this point, but the spry and spirited huckster heads west with the setting sun, over the ridge to nearby Statons Creek for another half-mile of steepin' before calling it a day.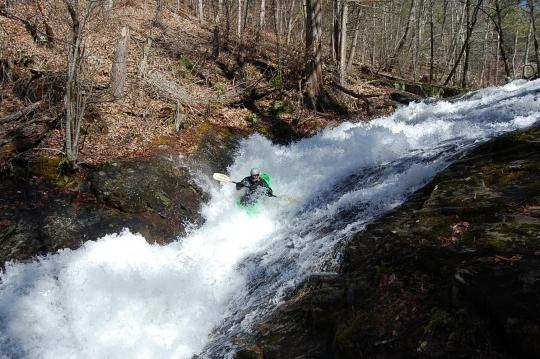 Above and below: Two views of "Chunderslide" just a few paddlestrokes into Statons Creek.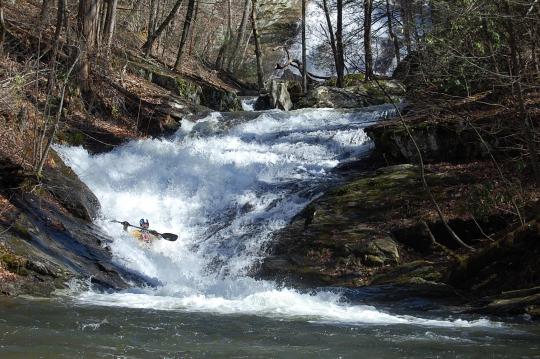 Below:  If you really activate your rocker you can sky off a shelf at the bottom of this drop about half-way down Statons Creek: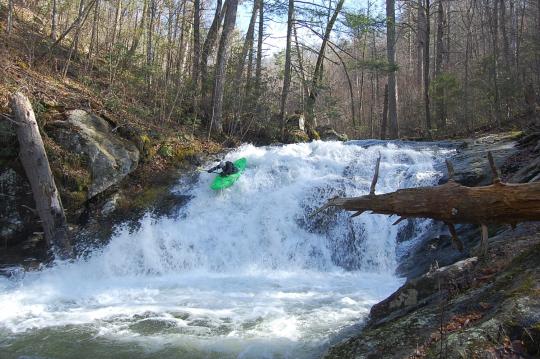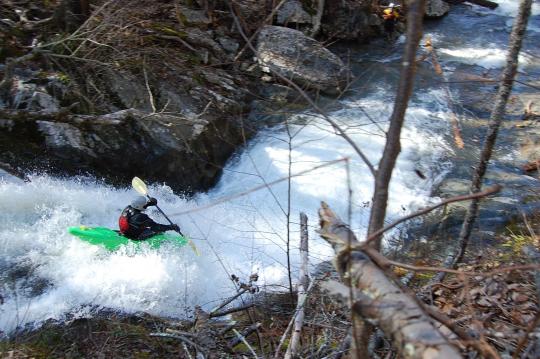 Above: Gordon drops into "Johnny Wises's Hole," Statons Creek, VA.
Below: Another view of "Johnny Wise's Hole."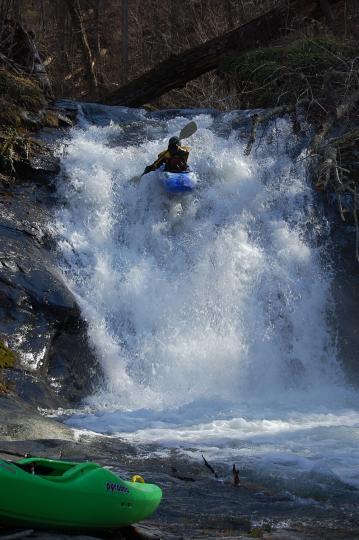 Recommended Beverage: A day like this is best topped-off by Blue Mountain Brewery's "Full Nelson" Virginia Pale Ale. Nothing tops off a day of clapper boofs like a  can of "Real Virginia Beer" in your cold, wet hands. Like our first selection, this super-hoppy barley pop is also available in cooler-friendly cans.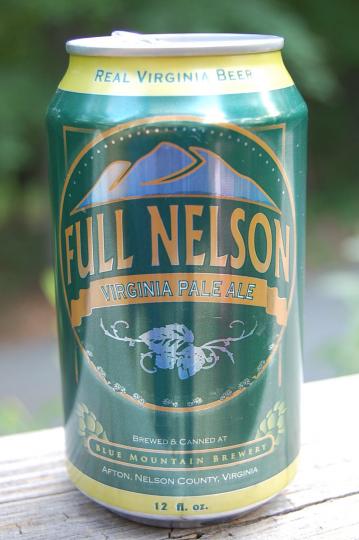 Third Course:
After that smorgasborg of soul food I'll leave you with the tastiest treat of all – a "First-D" Dessert. The Buffalo River proper has been on the radar for a while and a few of the crew have run the North Fork Buffalo, a class III-IV semi-roadside run that rarely has enough agua to float a boat. But I'd been waiting for the right conditions to score a run on the forks above that III-IV section. This spring finally brought those conditions and I convinced Trafford and Trevar to rally south for this promising exploratory mission. It's a tough call to give up a guaranteed day of fun on known creeks and instead head into the hinterlands for some unknown run that may involve hours of hiking, scouting and wood-dodging. You might lose out and have to endure a portage-fest while your buds have the time of their lives two drainages west. Props to Trevar and Trafford for cowboying up. We scored two class IV-V- first-descents on the East and West Prongs of the North Fork Buffalo, followed by a run-out on the class III-IV North Fork proper, and all agreed it was worth it.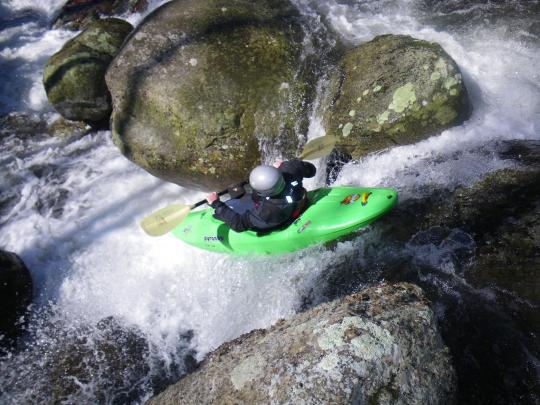 Above and below: The East Prong North Fork Buffalo. The water was a little lower than optimal but we found enough action to make the hike-in worthwhile this time. Cool, clean mountain water and hard, rounded granite boulders.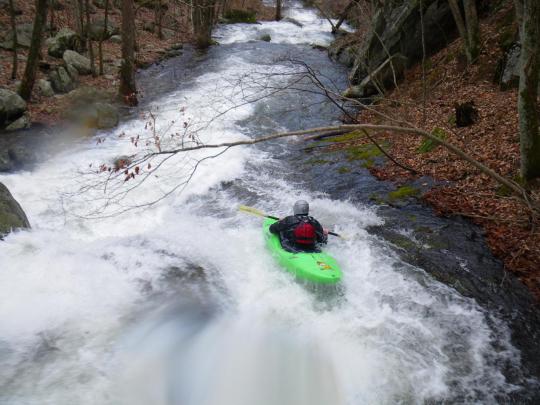 Recommended: Anything from Devil's Backbone Brewery. Not available in cans or bottles (yet) - but that's OK. After an epic exploratory like the Prongs of the North Buff you and your crew can easily take care of a full growler of the Backbone's tasty jug juice. Try the "Ale of Fergus" or the "8-point" I.P.A.  The "DBBC" is located in the heart of Nelson County creeking territory and has killer views, outside seating, and a kayaker-friendly atmosphere.
Below: I'd been waiting to nab this "first-D" for years and finally got it this past spring. More on this creek later.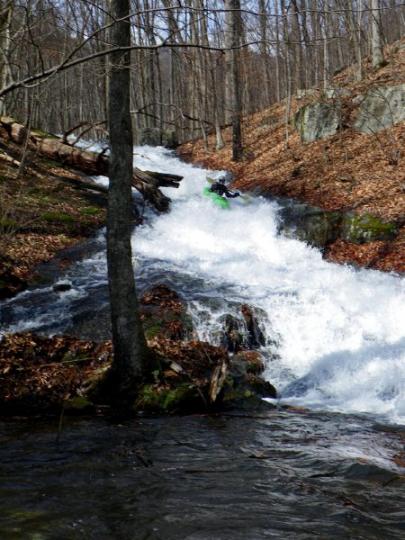 Think Rain!