Why the Hype?
No doubt you've noticed that many paddlers are heading to Ecuador this winter. Despite things not quite being back to 'normal' (what even is normal anymore?!) and there being a few more hoops to jump through, travel is now back on the table for many paddlers.
For those that have already escaped to the equator, you'll be well aware of a few new logistical considerations. However, if you're currently sat in your lounge in a fleecy onesie and down jacket, trying to muster up the motivation to get on your frozen local river, then read on.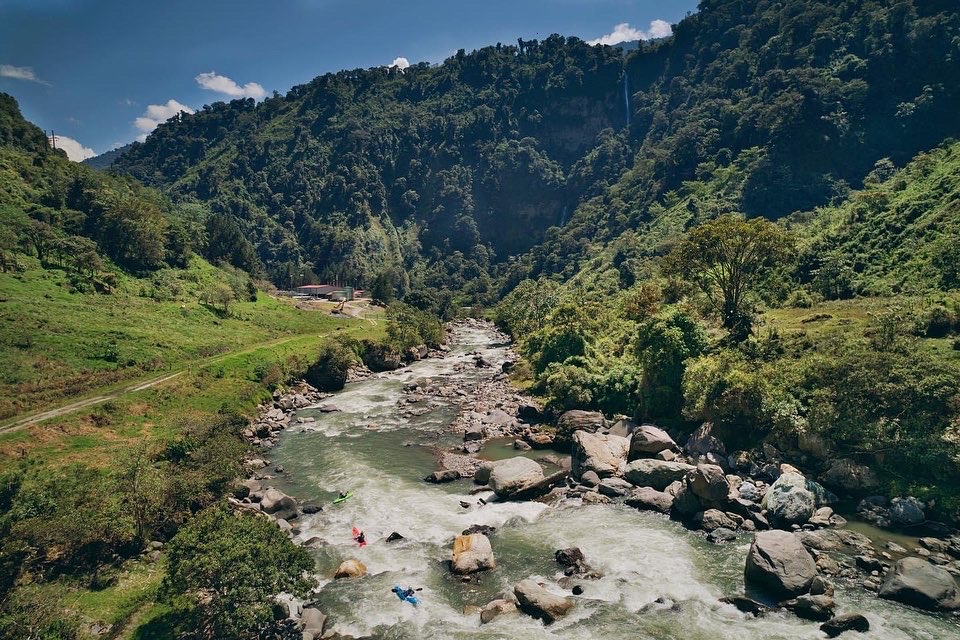 How difficult is getting to Ecuador right now? Not that difficult.
Is it worth the extra hassle? Yes.
Change can be pretty daunting, especially when it involves being far from home, but as long as you know the facts and do a little planning in advance, then it's todo bien! Check out the blurb at the end for current guidelines. It's worth noting that guidelines do change and this blog was written by a dirtbag kayaker, not a governmental official or Covid-19 expert. So get yourself familiar with official governmental travel advice websites (links also below).
Ok, now to the good stuff! So what's all the fuss about Ecuador? Is it really that great for paddling, or are we all just being soft and don't want cold hands on the river? Well, yes ditching the pogies/skull cap/fleecy onesie/ice cream headache is nice, but it really is a whitewater wonderland here. I'll keep it simple, but here's a few of our favourites (come to Ecuador and you'll quickly see why!)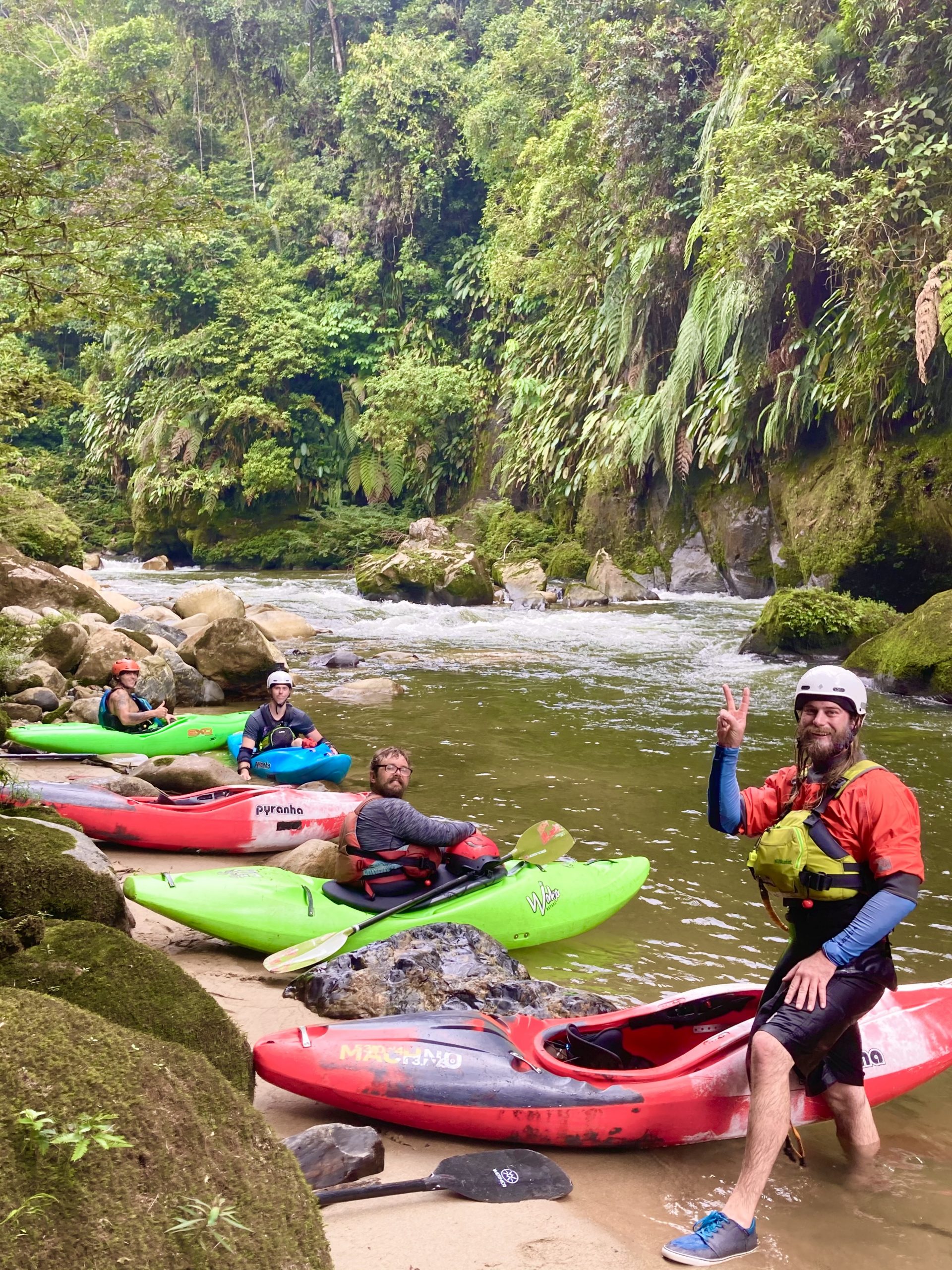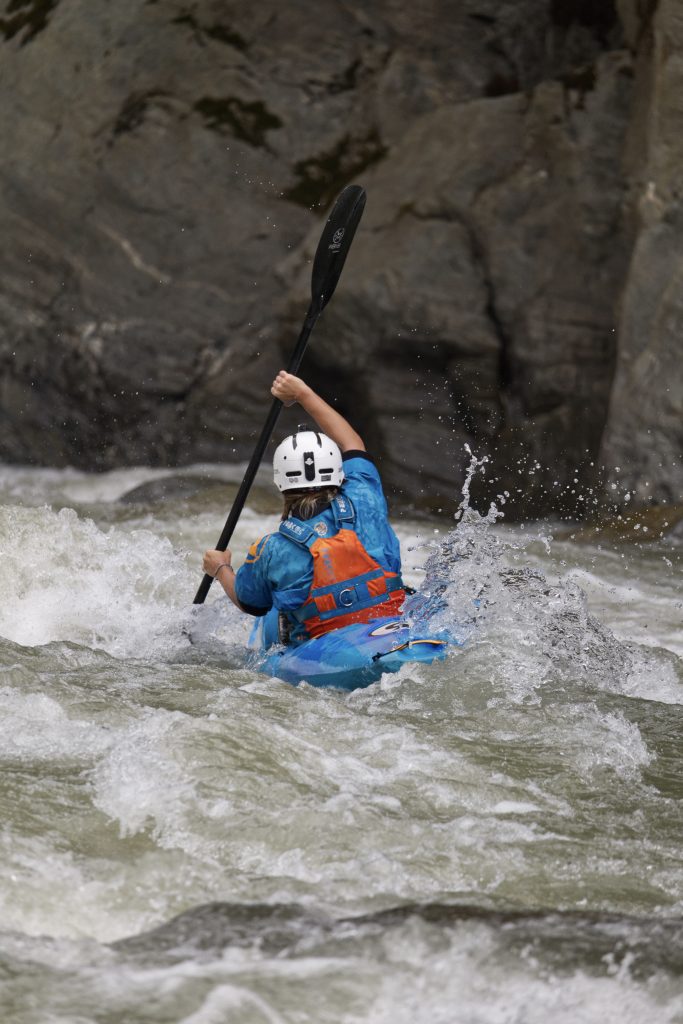 Typically, many paddlers begin their trip in the town of Baeza, situated approximately 2 hours from Quito airport. During the months of November to March, this relatively sleepy town is transformed into a buzzing paddling hub, full of colourful kayaks and boardshorts.
Throughout the day, you'll see trucks loaded with boats heading up and down the valley, to the Río Quijos. With multiple sections to choose from, there's options for most water levels and abilities. If you're into steep creeking then you'll love the Casa de Queso (Cheesehouse) section, or if big water canyons are more your thing then head further downstream for the Chaco Canyon! The Quijos has it all! If you're looking to branch out a little though, you don't have to travel far for other runs in the area, such as the Río Oyacachi (high volume steep, technical creeking), Borja (big water fun) and the Río Cosanga (several super varied sections).
📷: Casey Bryant Jones
🛶: Sal Montgomery
Next up on most paddlers' agendas is to head over to the town of Tena. Drive roughly 2.5 hours and you're suddenly in a completely different climate. Tena is hot, sunny and home to the awesome Río Misahuallí. After a bit of rain, laps on the upper section are hard to beat, especially as you can get freshly baked empanadas at the El Oso Perezoso Kayak Hostel takeout! (It's also possible to rent boats/ gear here too). If levels are low and you're feeling like more of an adventure, check out the lower Misahuallí. This canyon is pretty spectacular, with bright green parrots and chunky, big volume rapids. Just be sure to get beta on the portage…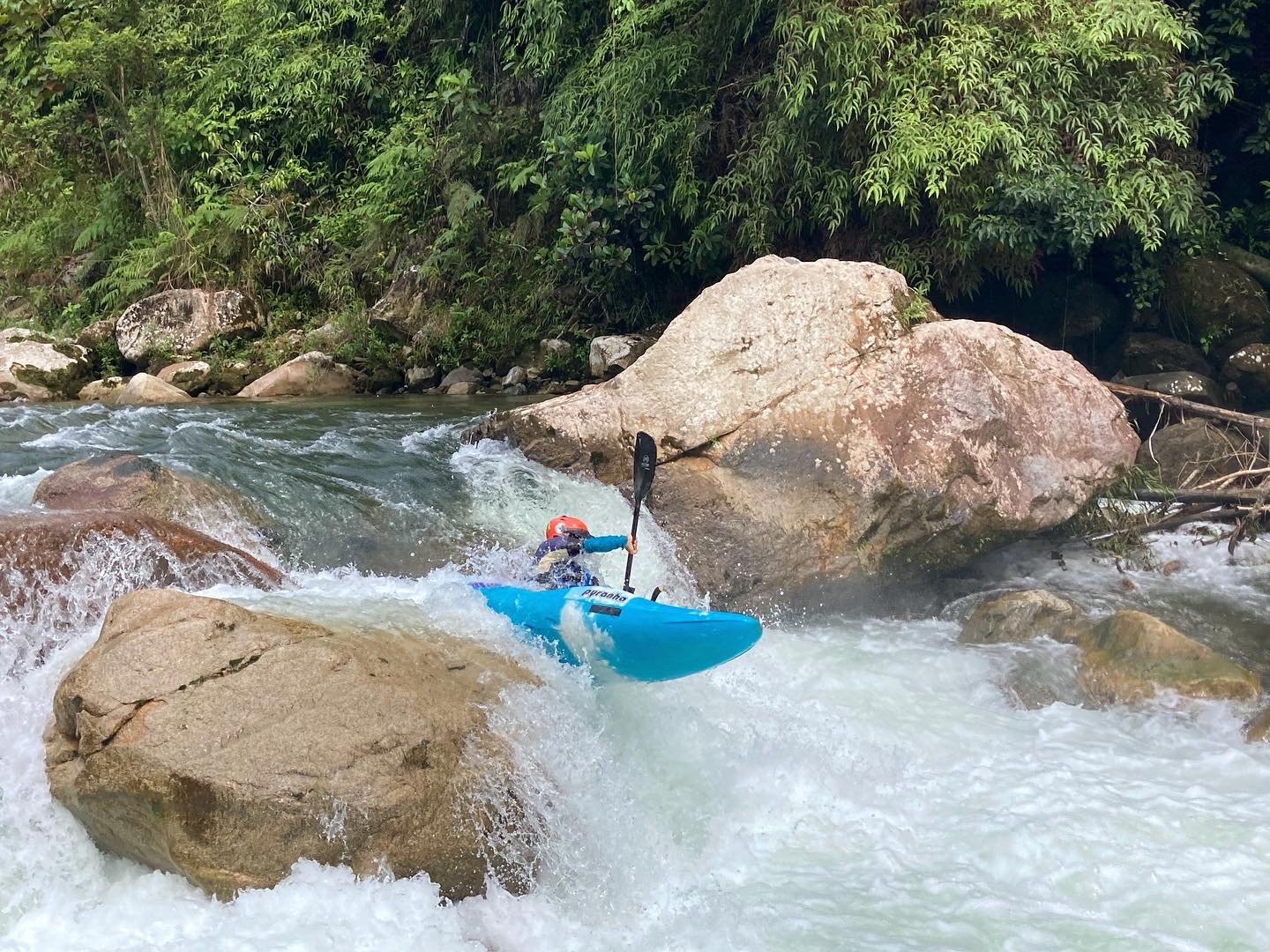 And then we've got an absolute beaut of a river- the Río Piatua. With clear water, sunshine and all the boofs, it's easy to see why this is a highlight run for many paddlers.
Welcome to the Jungle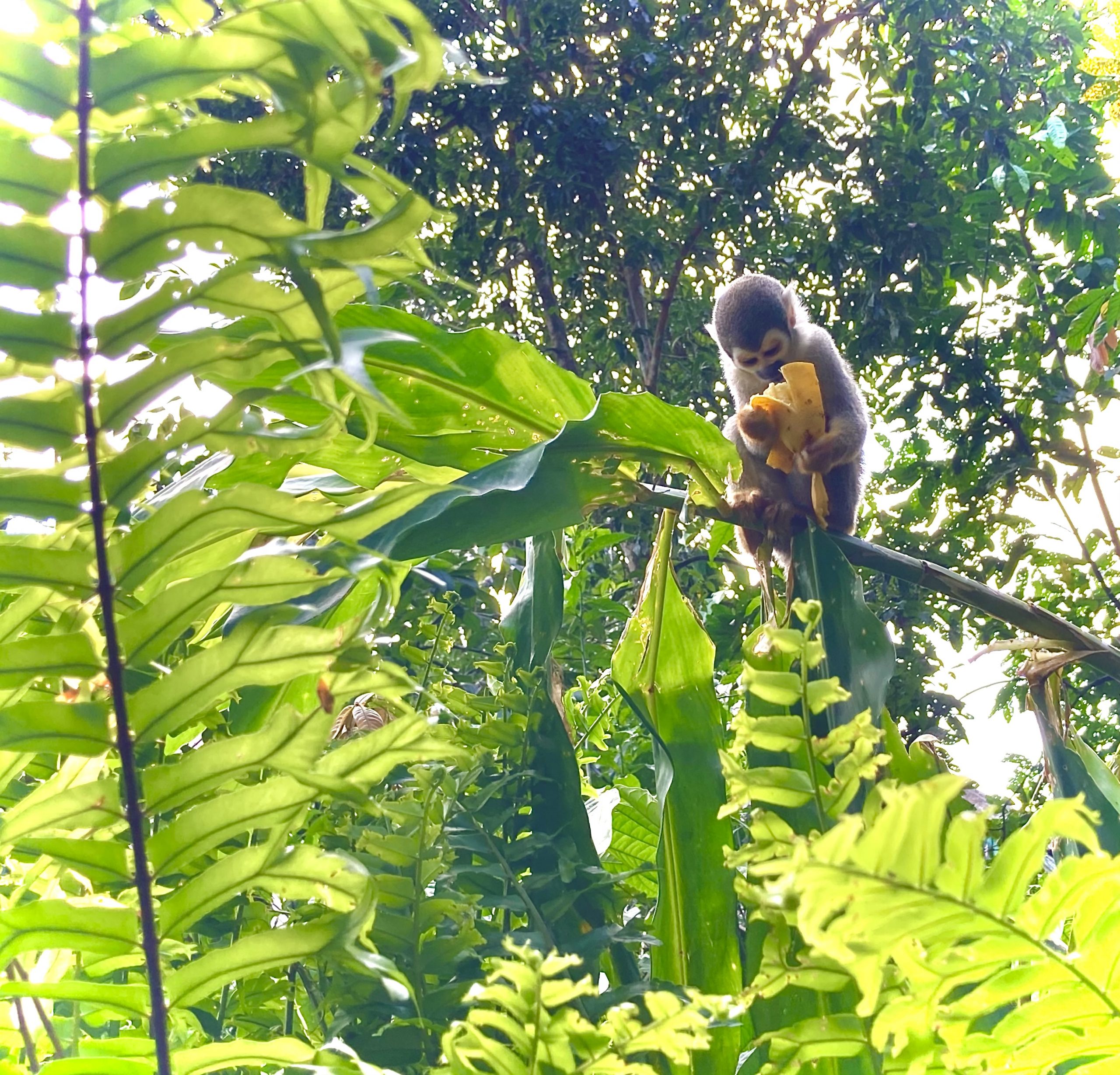 If you're going to go to Ecuador then no doubt you'll want to experience some proper jungle paddling. The Jondachiis probably one of Ecuador's most well-known jungle rivers and is definitely a must-do. From start to finish, the river works its way through endless, dense jungle. Whilst boofing your way downstream, keep an eye out for native birds, big, colourful butterflies and the occasional river otter sunbathing on a boulder! (Last year, my pals and I saw a jaguar whilst paddling this river). The three main sections of the Jondachi (upper, middle and lower), each offer a different level of difficulty, as well as miles and miles of fun!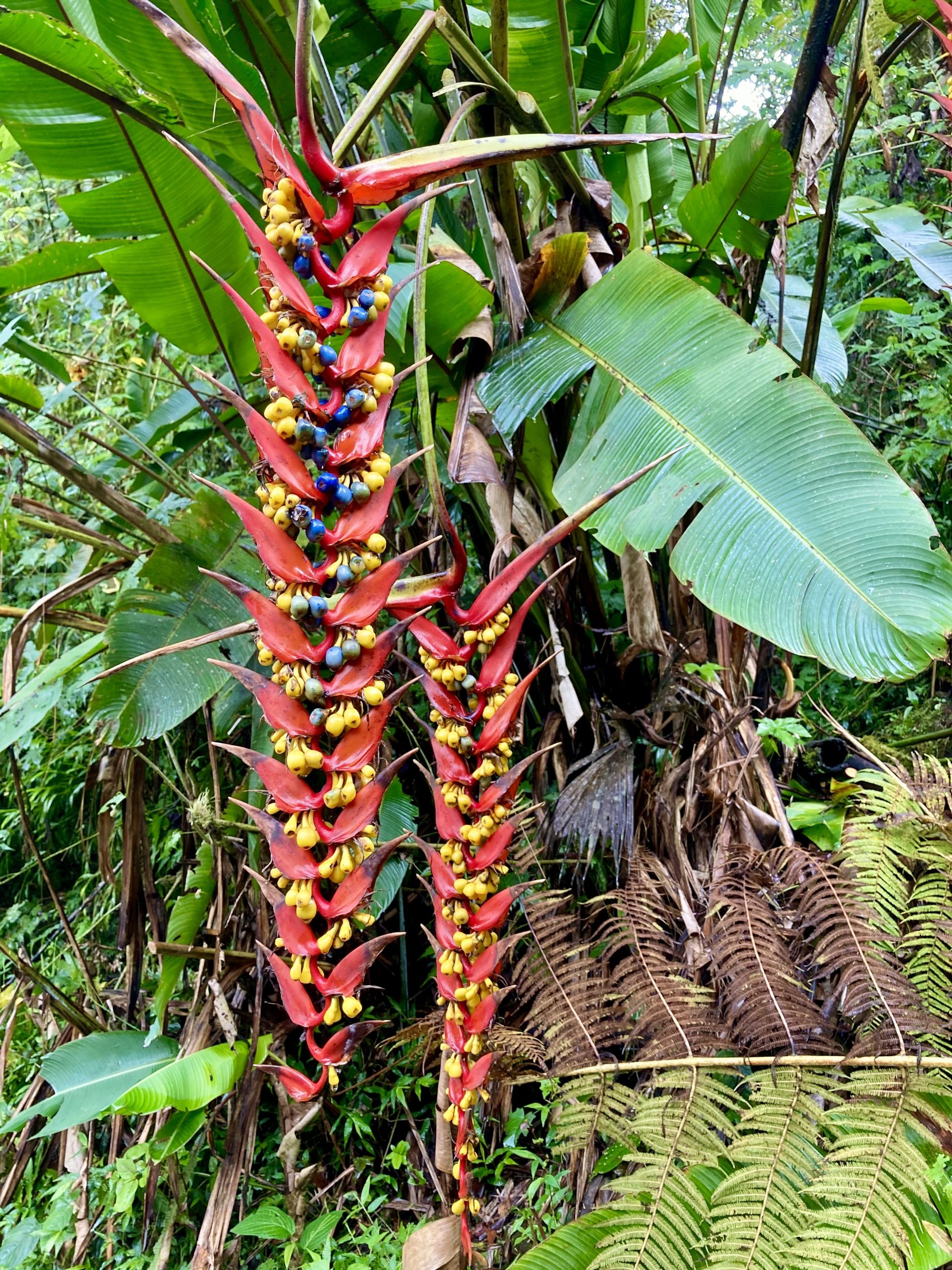 If you're after a real jungle adventure, then pack your hammock and machete and head to the Río Hollín. It is possible to paddle the 46km in a (long) single day, but it's a pretty cool overnighter if you've got the time.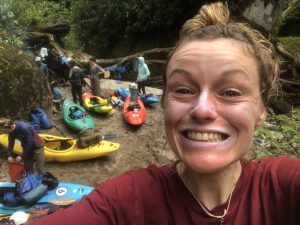 Highlights include a 30ft waterfall and a slide in to a drop rapid right at the beginning (easy to put in below these, depending on how fired up you're feeling), a cool rapid inside a cave, and a big volume, fun paddle out from below the Jondachi/ Hollín confluence.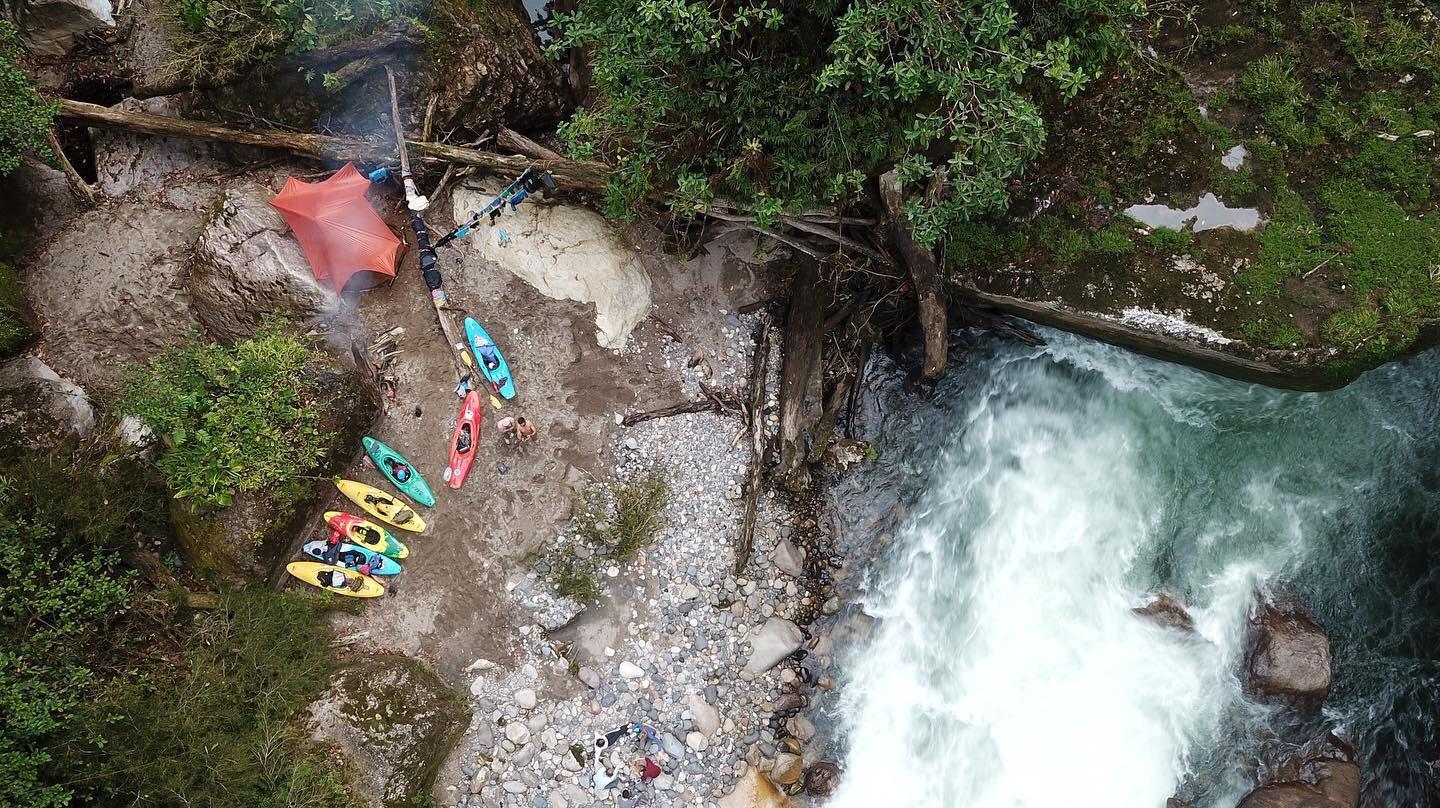 Topo-tastic
You've done laps on laps of the Quijos, you've paddled with monkeys in the jungle and now it's time for Baños. Home of the Río Topo. Full-on, five-star boating for class five boaters. This super fast and super steep run will definitely get your heart rate up (and not just because of the altitude!). The fun doesn't stop at the takeout though, as Baños is known to be a pretty wild party-town!
Whether the Topo is on your radar or not, this party town is also packed full of great hikes, huge waterfalls and natural hot springs. Make sure you finish your day with a riverside BBQ at Abby's Hideaway- the perfect way to relax after the Topo or a night of dancing!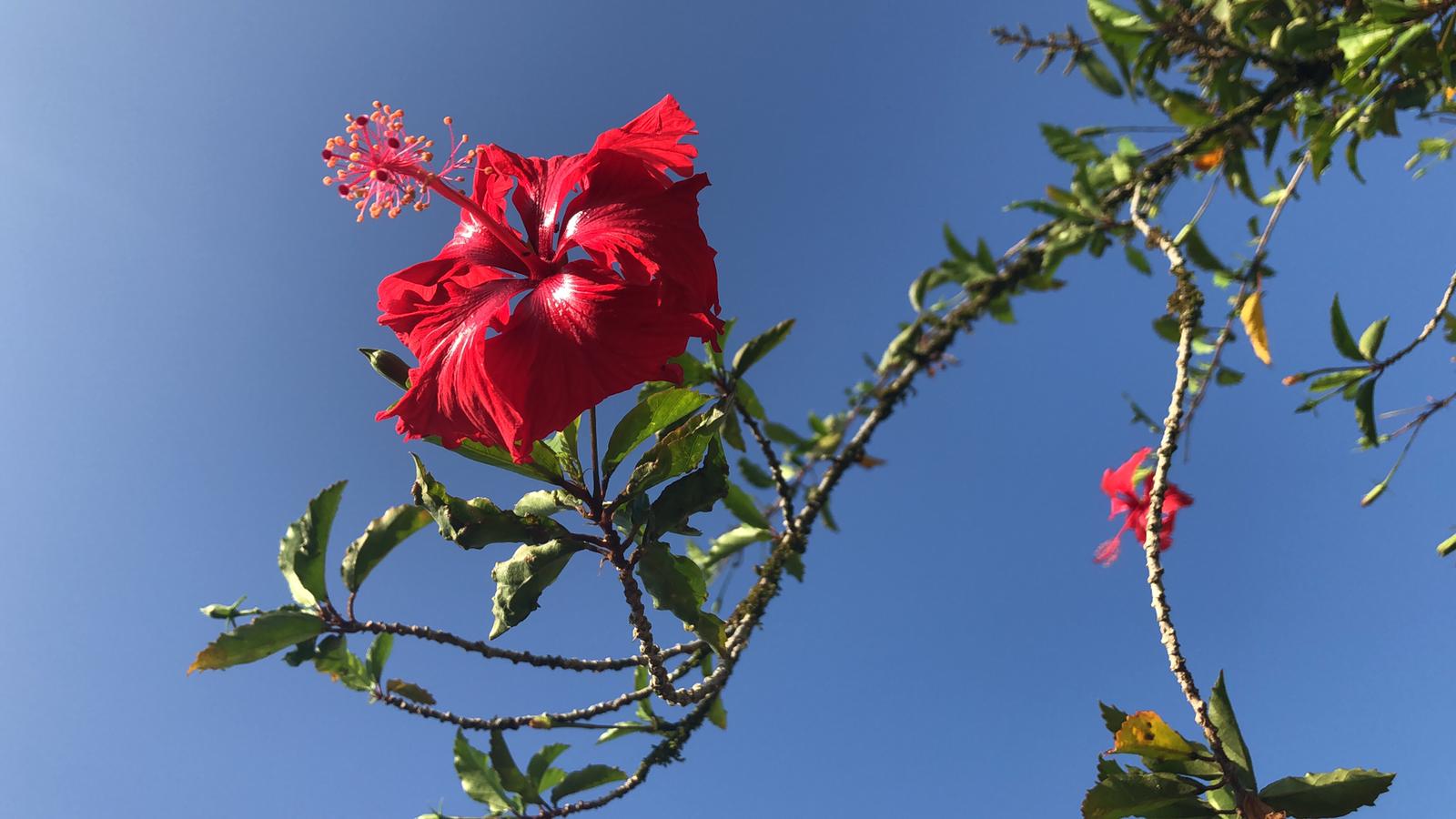 Paddling Community
The paddling scene here in Ecuador is constantly growing. With more international kayakers coming to check out what all the fuss is about and returning paddlers coming for another season of quality whitewater and sunshine, the paddling hubs are buzzing more than ever. It's not just an increase in foreigner paddlers on the rivers though. More local paddlers are taking to the water, as well as opening up new sections and carrying out big missions. Super exciting times here!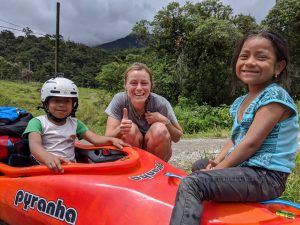 A big driver of this has been the Ecuador Kayak Club. Solely volunteer-led and reliant on donated, or repaired pre-loved gear, this awesome group of people have introduced a huge number of local people to the water. The initial 14 members has now skyrocketed to over 120!
Keen to encourage local paddlers to progress, the club put together the Ecuadorian Race Series. Not only do these events count towards team selection for national paddlers, they're also open to international paddlers -helping to share the psych and integrate paddling communities, as well as being a lot of fun!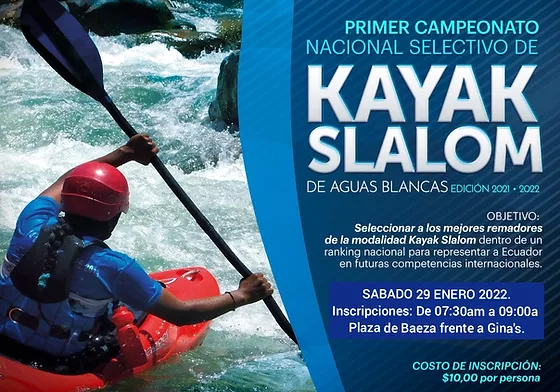 Take it easy…
Don't get caught out – talk to locals and paddlers that have been in-country for a while. The paddling here is epic, but things can go wrong quickly if you don't understand the nature of the rivers and each area's weather systems or catchment areas. Do your research and you'll have a blast in this incredible jungle whitewater mecca! 
The Facts (sorry, boring but important)
Requirements:
Negative Covid test (taken within 72 hours of arrival in to Ecuador)
Covid vaccination (received more than 2 weeks prior to arrival in Ecuador)
*Obviously these can change, so check here for the latest guidelines-
https://www.gov.uk/foreign-travel-advice/ecuador/coronavirus
Make sure you check the requirements for any connecting countries. For instance, many UK flights to Ecuador transit in the US, so be sure to check local requirements when booking your ticket.
Once In-Country:
Testing: as long as you're near a good-sized town, it's super easy to get tests in Ecuador. All the main kayaking hub towns have good testing facilities, including several that will perform the tests at your accommodation. There's also testing facilities at Quito airport (check out their website for details).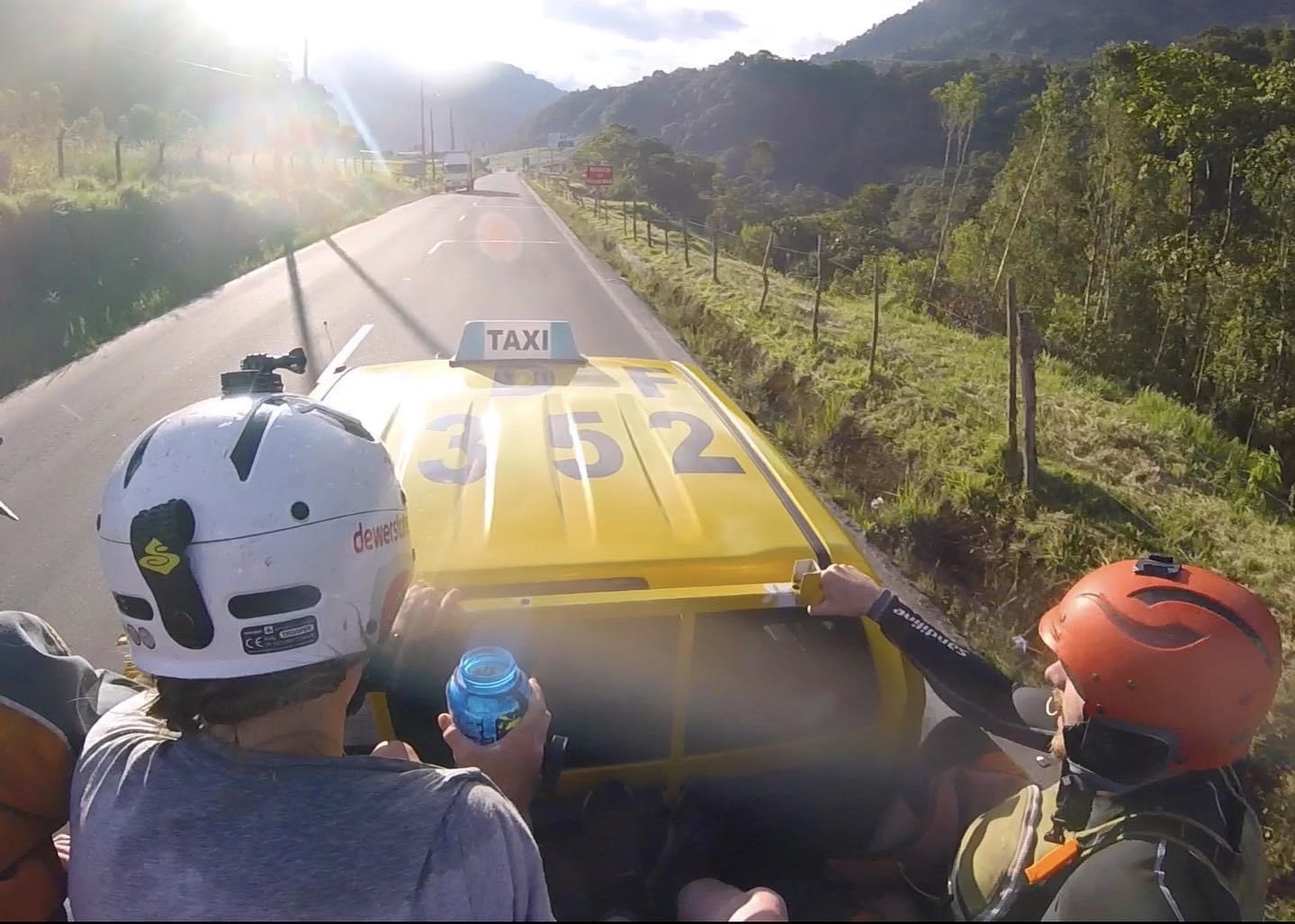 Transport: private taxis are cheap and easy, so it's pretty easy keeping yourselves to yourselves and avoiding public transport if you wish. Masks are mandatory for all taxis and buses. It's also worth having a small bottle of hand sanitiser with you.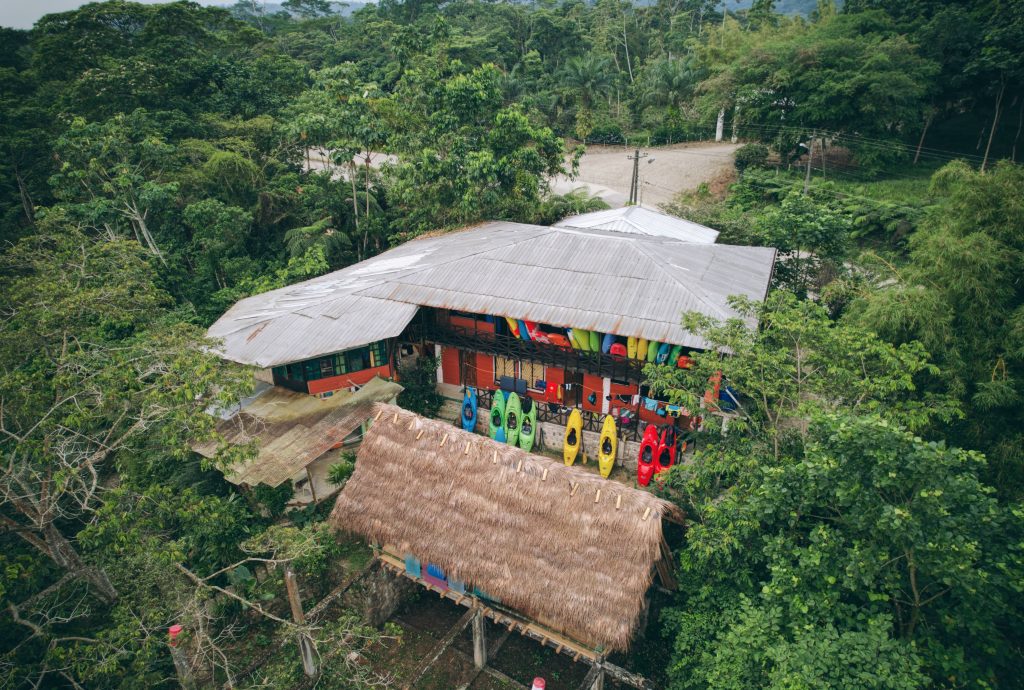 Accommodation: us kayakers like to keep things simple, so we mostly stay at the same places. This year, many hostels are limiting numbers (for obvious reasons), giving us a nudge to try out different places. Here's a few links to the usual favourites though:
El Oso Perezoso Kayak Hostel
📷: Casey Bryant Jones
Guiding, Boat Rental, Tours
There's a tonne of tour companies operating in Ecuador. Whether you're keen for a fully inclusive package, a couple of days of guiding or simply just boat/gear rental, there's plenty of options to choose from.
Here's a few recommended operators:
Ecuadorian Rivers Need You!
The rivers of Ecuador have been supplying us with epic times, endless boofs and sweet lines, but now it's our turn to give something back. Unfortunately, they're at risk. Without these awesome, free-flowing steep creeks, epic canyons and ballsy-big volume rivers, not only do we lose a hell of a lot of incredible whitewater, many local communities will lose their water sources, livelihoods and even homes; not to mention all the devastating, irreversible damage to invaluable wildlife and natural ecosystems.
Ecuadorian Rivers Institute is a voluntary organisation working to raise awareness and protection of the few remaining free-flowing rivers in Ecuador. Check them out (link below), sign their petition and donate to their cause if you can.
'By increasing global awareness of watershed issues in Ecuador, we hope to minimise the exploitation of the environment and the people who depend upon it'

https://ecuadorianrivers.org/
Thanks for reading, see you on the water!
Sal =)