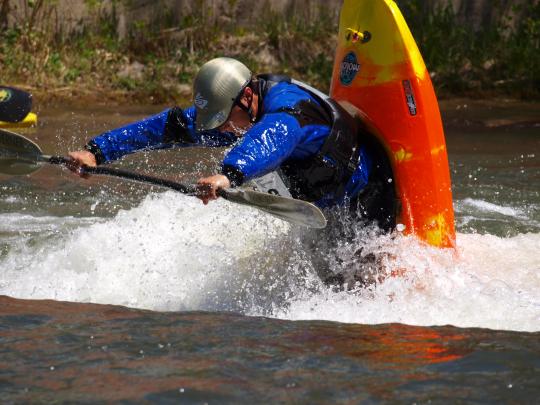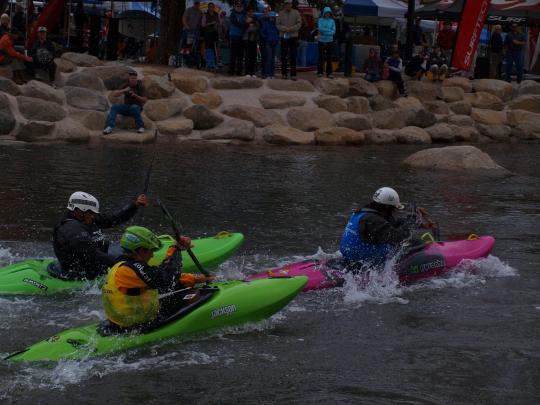 This past weekend Demshitz hung out in the biggest little city at the Reno River Festival. Â Fun times were had racing in the Open and Collegiate Nationals Boater Cross, freestyling in the Open and Invitational Rodeo (video of Dave's competition ride here), Â gambling, and eating at Taco del Gnar.
Check out the report and photos.
Leaving West Virginia last Sunday, we packed up the van and sprinted out to Reno, NV Â where we finally arrived Wednesday morning tired and eager to paddle again. Â We spent the next couple of days catching up on sleep and trying to brush up on our moves in the shallow and tricky Reno hole. Â Friday Demshitz represented in the Open Freestyle Competition. Â Everyone showed off the new Molan and sought after a top-3 spot to enable them to advance into Saturday's Invitational Freestyle Competition. Â During the Open, Dave finished 3rd and I finished 2nd and we both ended up with 8th during the Invitationals the following day.
Jeremy Laucks showing us all how to Felix. Â I'm cartwheeling (I think I actually didn't hit the bottom of the river that time)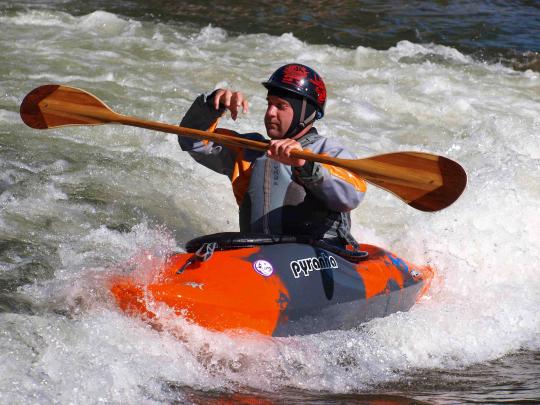 Jeremy's newly invented trick – the Brown Spin
Jared Seiler doing dem' tricks
Graham Seiler showing off his massive McNasty skills, which helped him place 6th during the Open!
Tyler Muntz demonstrating how to avoid the rocks and loop big
Sunday Demshitz competed in the Open Boatercross and Collegiate National Alt. Games Boatercross down at the Reno River Park.
Jared Seiler charging out ahead in prelims.
Dave scrambling and Graham spearing their way down the course
Graham moving into the lead during prelims
I'm battling it out with the other chicks in prelims. Â Jeremy battles it out with the boys.
Everyone did well in prelims and advanced to Semifinals.
Here Dave and Jared paddle out ahead in semi's. Â (Unfortunately Dave false started)
Pyranha was featured in CBS Sports for sponsoring the Alt Games Collegiate Nationals. Â There was lots of media coverage, so the word is out that the new 2010 Pyranha line-up of boats is killing it!
Jonny Meyers sneaking through the pack in the Alt Games. Â Tyler Muntz leaving the competition behind during prelims.
Jonny and Tyler leading during finals! Â Jonny Meyers wins! Â Especially impressive considering it was his first time in the Burn and his first time racing since breaking his back and wrists this past winter!
Tyler placed 2nd in Collegiate Nationals! Â Way to go Demshitz!
I placed 3rd overall and Jared ended up an impressive 2nd!
Now we're sitting in the hotel room trying to decide what to do next. Â It's time to go creeking in California, but the water's raging and it looks like it's going to snow tomorrow. Â So, we'll see what happens!