Dear Diary,
A couple of months ago I went to Nepal to paddle the Humla Karnali and wow, what a river it is! I have to say though, I don't think I've ever had so many curveballs thrown at me on a trip, mostly in the shape of giant boulders. Have you ever had to leave your campsite at 6 pm after almost being killed by a falling boulder? One which came from a digger so high above you, you can't even see it? And then paddle two class 5 rapids as it is getting dark? I can assure you that it is not an ideal situation.
From landslides and road building to forest fires, sickness, and high water, it seemed as though the river was determined that we failed. Our 7-day aim easily turned into 11, and that was without tagging the rafting section onto the end. It was both mentally and physically draining, and the trip was filled with highs and lows. But we persevered. And I honestly could not have asked for a better group of people surrounding me. The team consisted of Nick Bennett, Dan Rea-Dickins, James Smith, Heidi Walsh and Will Chick. The multitude of expedition experiences in this group, especially in Asia, is unrivalled and really helped when the shit hit the fan. There was also a distinct lack of ego – no one kayaked like they had something to prove, there was no judgement about portaging, and at least 1 person would scout any rapid we weren't completely sure of. Especially with the high water level, this helped us get down the river in the safest way possible. I had kind of invited myself along on the trip and was a bit worried about holding the group up or not being good enough. But once we were there we just worked as a team. When one person was sick or over it all, the rest of us would pick up the slack. Without such a good team I think we would have all fallen apart.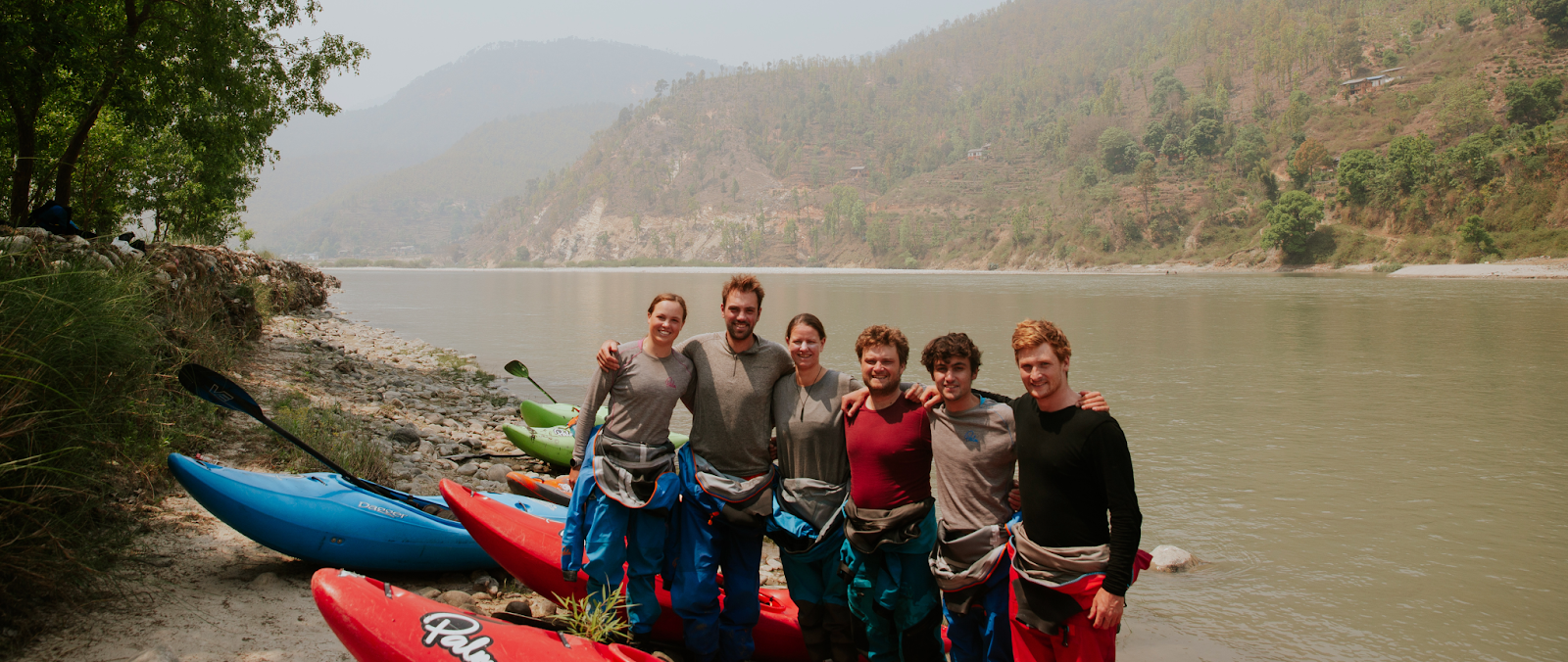 Obviously, it wasn't all bad – the Humla Karnali is a tick-list river for expedition kayakers for a reason. 11 days is by far the longest multiday trip I've done. It was amazing to be out in the wilderness with no phone service, no time pressures and nothing to worry about except the river (and falling boulders) for that many days. Also, some of the kayaking was absolutely world-class (more on this in part 2), all in a beautiful backdrop of Nepalese mountains, forests and plains.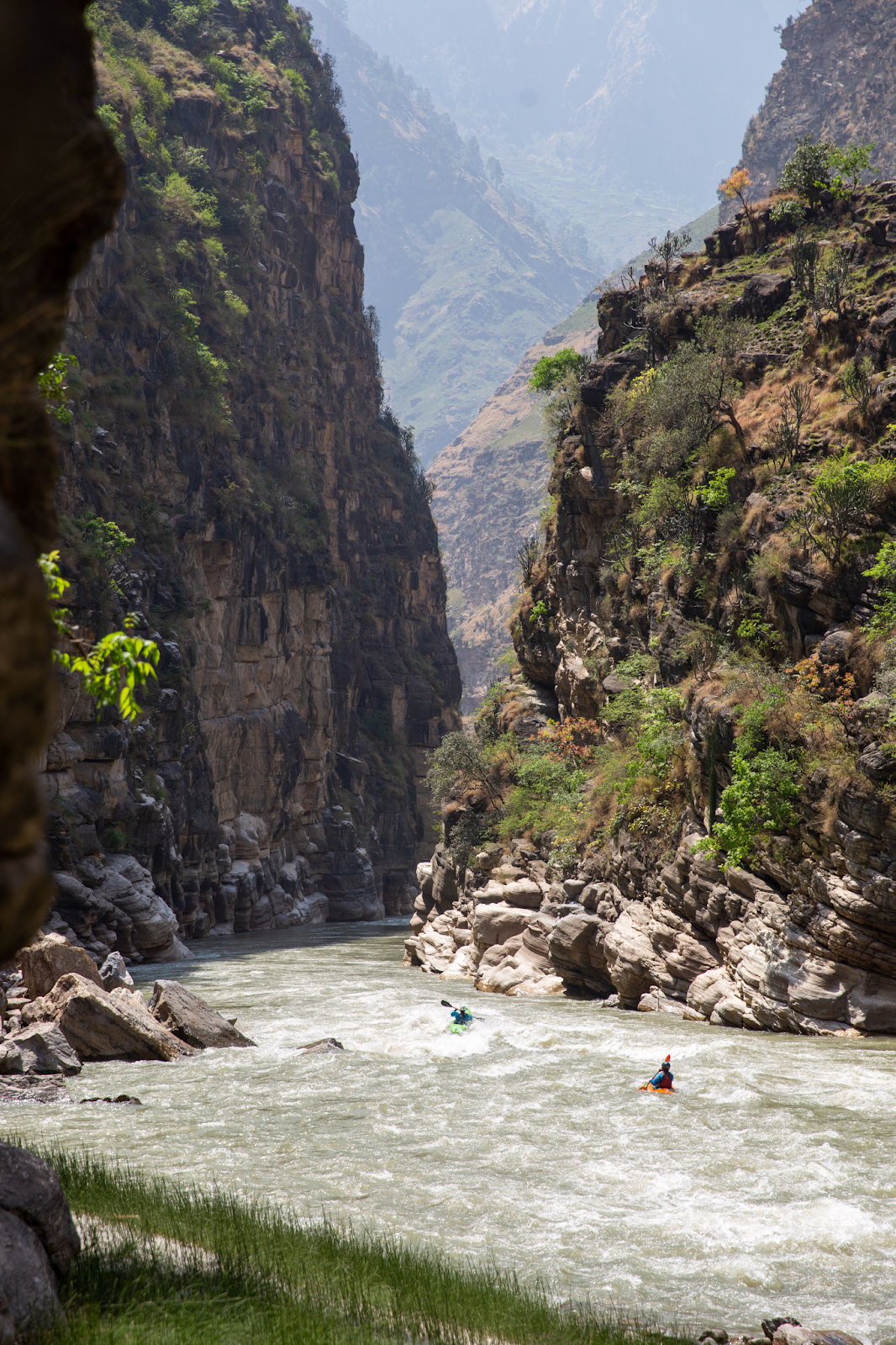 But the curveballs started before I even got there. During the past 2 years of travelling, working, and kayaking I managed to avoid getting Covid. Then I came down with it only 2 days after getting back to the UK since the mask mandate was dropped. I was meant to be going early to Nepal so that I could recover from the flight and warm up, but instead, I joined team-"off-the-couch" flying to Kathmandu and heading straight to the river. As well as that, I definitely was not asymptomatic, and even when my symptoms had cleared, I still felt severely fatigued. I was worried that I was naive to paddle the Humla Karnali whilst recovering from the virus. Voicing my concerns to the rest of the group, I was met with overwhelming support. "Ultimately, we can help each out with the portages," said Dan, "if it takes longer, no stress". In the end, Will's Nepal belly was way worse than my lingering Covid symptoms, and we took the portages super slowly with repeated trips to get all of our gear through.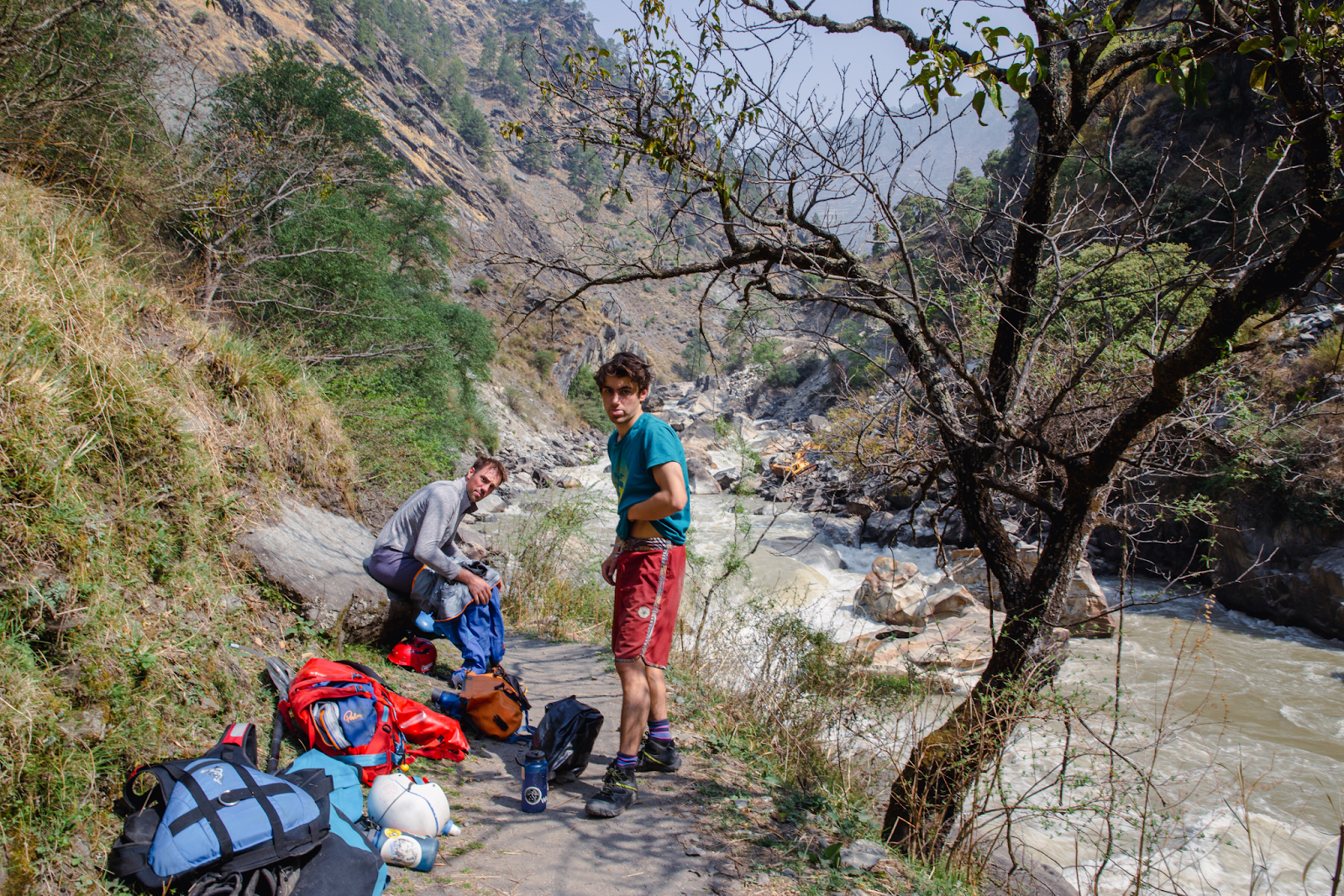 Getting to the Humla Karnali requires chartering a flight from Nepalgunj, near the Indian border, to the mountain town of Simikot, which is 3000 meters above sea level. The short flight was incredibly scenic, despite the cloudy weather, and every now and again we caught glimpses of the river far below us. There are no roads to Simikot (yet), so our kayaks spent the journey surrounded by a whole host of supplies heading to the local community, including one rather adorable kids' bike, ready to make someone's day!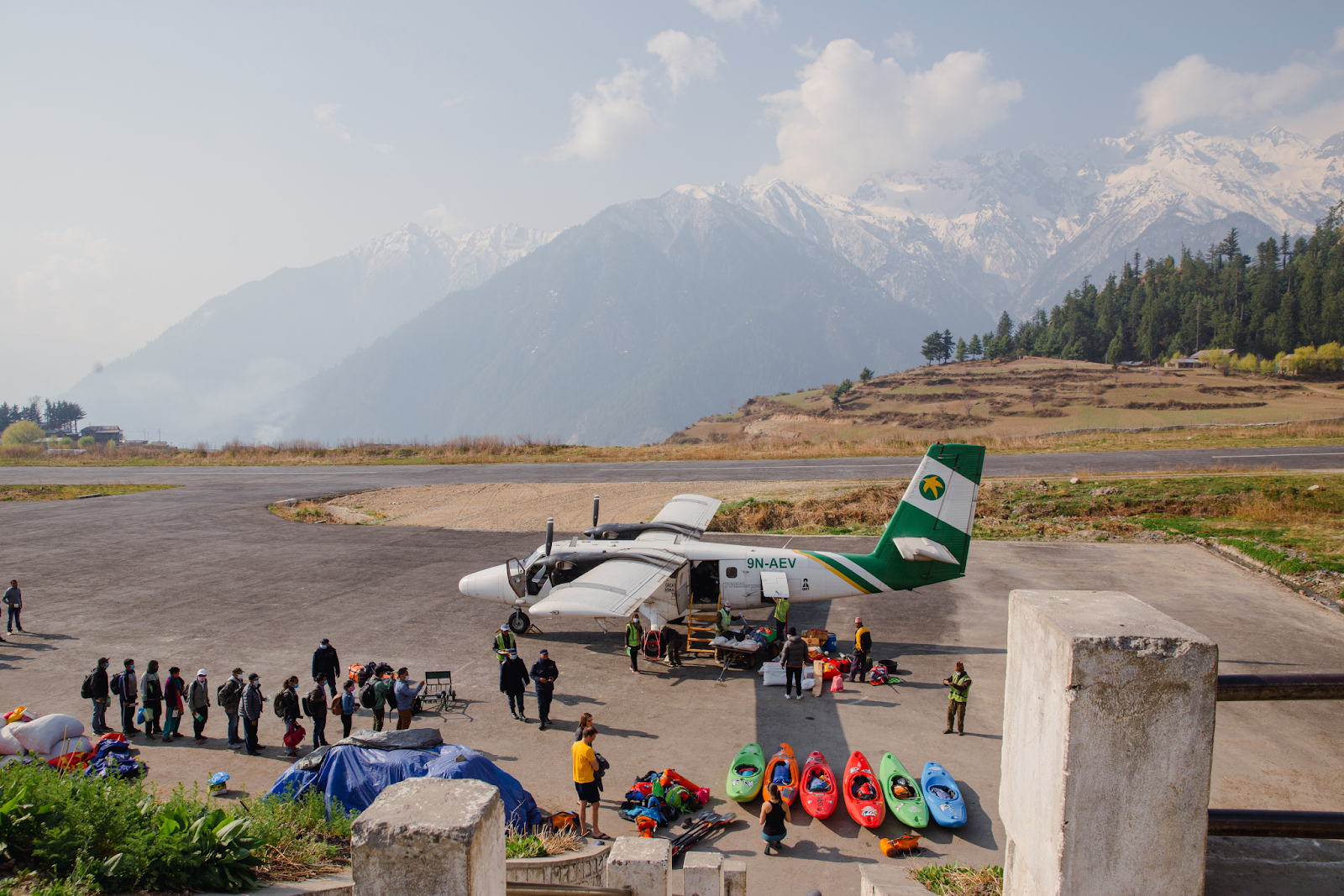 After landing in Simikot, we managed to find a couple of Jeeps to drive down the steep, windy gravel road to the banks of the river. As we descended towards the river and saw the grey-brown silty colour of the water, I desperately tried to convince myself that it was because we were getting the river on the rise. Maybe the beautiful crystal blue river that we had all seen photos of was on the drop in November? Actually, it turned out, the river was just really high. But we paid $4500 to charter a plane to get there, and I don't even know if we could have turned around at that point. So we committed.
Was that the right decision? It was possibly a bit naive, but we made it down mostly unscathed and although the trip was challenging, it was also amazing. We maybe should have talked about it as a group before we got on (I think everyone was a bit too nervous to voice their concerns about the water level, so we didn't actually talk about it until the first camp spot), but I don't regret the decision at all.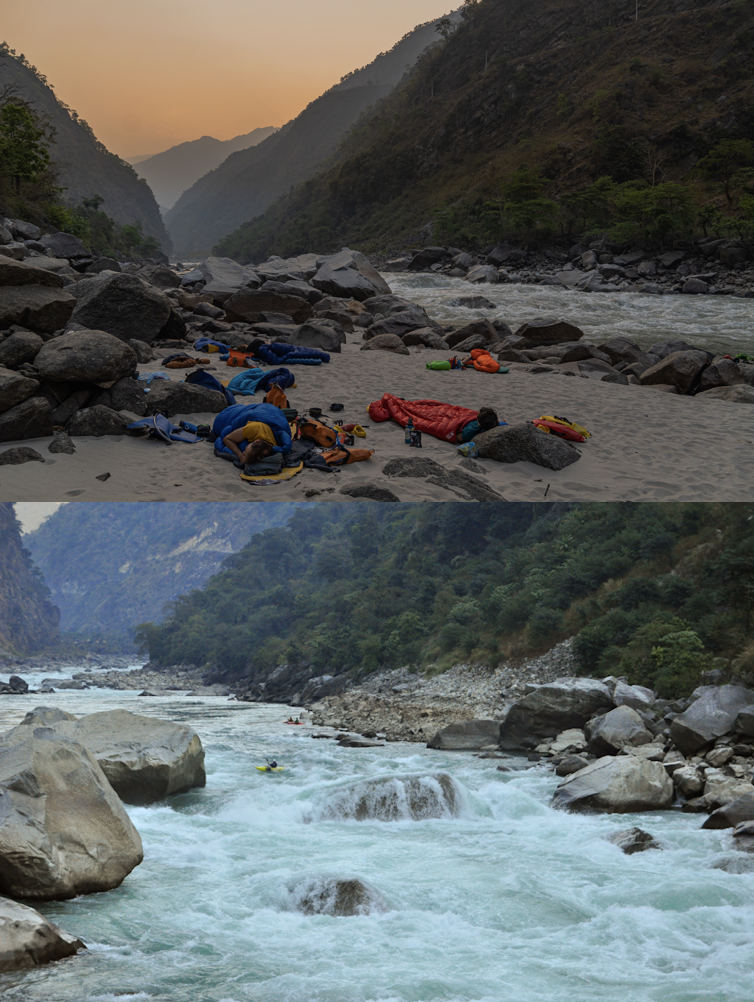 We had been assured that the river would be "low" and that the weather would be "cold" in April. But neither of these things was true. (I mean, I guess it didn't help that we put on after a good snow year in the biggest heatwave of 50 years). I was so happy I brought my -9℃ sleeping bag to sleep on top of during the night (not!), especially on a trip with more portaging than paddling in the first 3 days. At around 2 am on some nights it just about got cold enough to pull my sleeping bag over me, but the down jacket, onesie and change of thicker thermals stayed at the bottom of my dry bag the whole time. Everyone loves hindsight, don't they?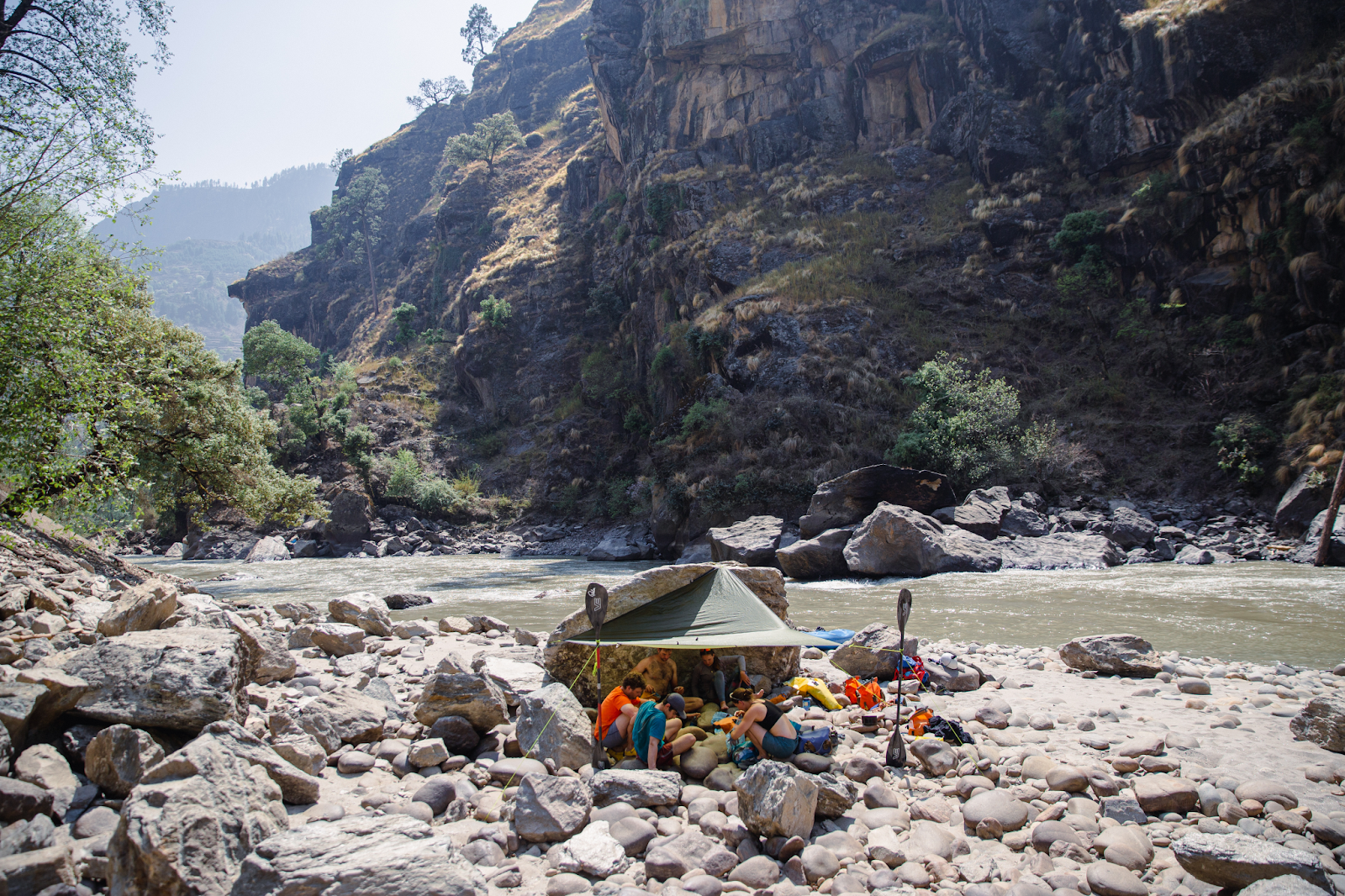 So now we are on a remote, Himalayan river, in the middle of a heatwave, in high water. What could possibly go wrong? Oh yeah, they were building a road alongside the river. So if the rapids weren't intimidating enough, we had to also be wary of falling rocks. This was especially inconvenient when they were throwing rocks into the river just where we needed to get out for the 4th portage. A few 5 am starts to sneak around the roadworks did the job, and we made it down the river mostly unscathed. Bruised, battered, and ready to sleep for a week, getting back to Kathmandu was a bit of a relief for all of us.