Last week end saw the 2nd annual Dart Fest.
If you've not been to a Pyranha Fest before its an excellent opportunity to grab some coaching, catch up with the Team, check out and paddle all the latest Pyranha boats, but most importantly it's a great weekends paddling with a party thrown in all courtesy of Pyranha!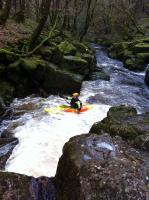 Erme Slot Rapid
This year was no exception, Friday night is normally slow burning as paddlers arrive through the night from all over the UK, but it is a great opportunity to catch up with everyone before the familiar hectic weekend onslaught.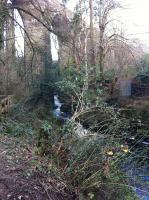 The impressive Bridge marks the start of the Erme Gorge
Saturday morning bought the fruit of night of rain bringing the Drat up to the classic Slab level. There is nothing like a run down the Upper Dart in the glorious morning sunshine at this level. Next up, a short drive over to the Erme for some tight twisty fun on the gorge, then back to the Upper Dart for a Sunset run – Classic Dartmoor paddling at its very best.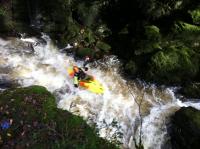 Erme Gorge – Tight and techy
Saturday Night bought on the party kicked off with Max Bilbo showing his excellent MOP2 film, where the guys at Extreme events got the party really going. I hear the music went on way past closing time with an after party in a van – Nice!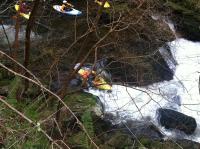 East Lyn Gorge – A real gem
Sunday gave lower levels in the river and a few sore heads, so it's time for the other South West gem – the East Lyn. 2 hour drive form Dartmoor to Exmoor and a true classic river running from near the top of Exmoor to the sea. There's now a ' Green Go / Red No' gauge and webcam so you can see if its running before committing to the drive over. It was borderline in the go region when we rocked up – ITS REALLY NOT WORTH THE PADDLE IN RED! Who ever has put the gauge in Thank You! it's spot on…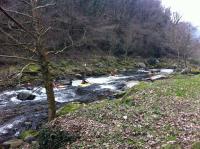 East Lyn – the run to the sea still holds a few surprises.
So in short if you've not been to a Pyranha Fest before, Give it a go, I think you'll like it!