Hello people,
This is my opening post on the Pyranha team blog, the first of many I hope!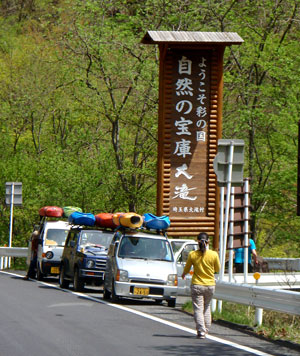 I guess itÂ's worth starting out by saying a little bit about my background and how I keep myself busy…
I spend my life travelling and exploring with my kayak, and over the last few years I have been devoting a lot of time towards establishing my own coaching company (Love it Live it) as a means to sustain a lifestyle of adventuring around the world.
I recently went on a creeking expedition to Japan. The aim of the trip? To scope out a new and exciting destination for Love it Live it and to experience kayaking in a different and crazy country. I knew very little about the country and especially about the kayaking, but with steep mountains, snow and rainfall I figured there must be white water!
From my experience, trips like this are filled with quirky adventure and interesting experiences but considerably less regular good quality kayaking than a normal trip. Japan was no exception.
A quick snapshot of things that you might encounter in Japan…
The truly bizare…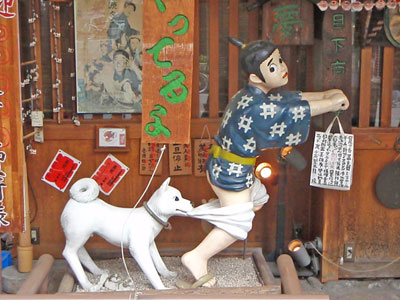 the incredible contrasts of old and new…
… and the stunning scenery…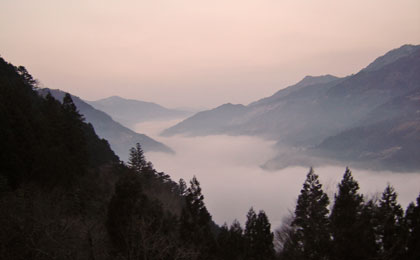 There are all manner of missions, mishaps and dodgy concrete boating that I could rant about, but if you work hard enough, eventually you will get what you are after. The first time in the trip when we struck gold was the Yamonashi Canyon.
Two of our group had canyoned the Yamonashi River several years earlier, but as far as we know it had only been done once before in kayaks. Their tales of smooth granite slides, big drops and crystal clear water were more than enough to inspire us to make it happen.
It took three and a half hours of driving, and as we drove up the valley to find the Yamonashi canyon the scenery got progressively more impressive.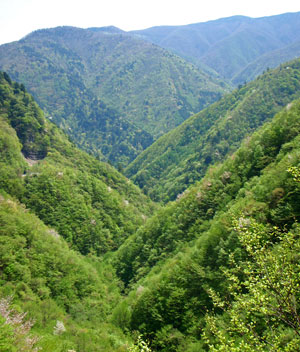 We then had to hike a further two hours with our kayaks up the steep gorge of the Yamonashi River.
We were mildly disturbed by this sign half way along the walk…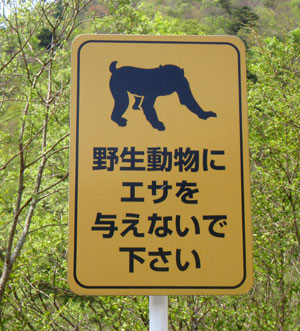 It made us wonder what the scary looking animal with no head is and what they are saying to warn us about it!
All this effort and we had no real idea what we would find… would the water levels be wrong? Would the river still be as it was a few years ago?
We finally arrived at a truly stunning canyon, with turquoise water, smooth rock and a lot of gradient! We wolfed down our lunch (take away sushi!), got all the gear sorted and we were offÂ… it was exciting to have found what I came to Japan to look for.
The highlight of the run was this double drop…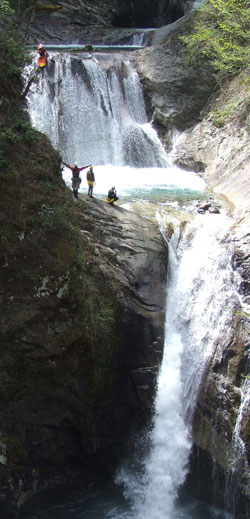 We ran the top one and after some debating, we decided that the big one was no goÂ… there was a super tight 8 metre slot into a funny looking kicker that opened out into a 12 metre fall. The only person to do this before landed on his head, not good from 20 metres up!
Half of the crew who didnÂ't fancy kayaking the river had brought full canyoning gear and this is where they came into their own. This is a BIG drop with an awkward slot at the top and they did it on their backside! Sweet!
Kanami dropping into the slot at the top of the big one…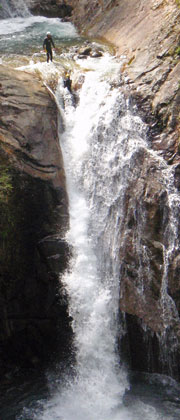 After a little bit of debating the bizarreness of willingly choosing to 'swim' a waterfall that we weren't prepared to kayak, we thought sod it, and slid into it too! It was amazing fun and far better than any of the elaborate abseil or climbing options that we were considering too get down this drop.
The big downer of the day was Cusho landing one of the drops on a high brace and dislocating his shoulder. The following rescue from the steep sided gorge was difficult and concerning, a sharp reminder of the added consequence of being well into the wilderness.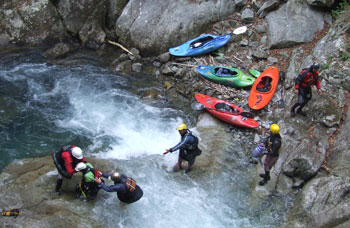 Fortunately, with a combined work experience of about 60 years of rafting and kayak guiding, the group worked together well and competently to resolve the situation. We helped him put his own shoulder back in and get Cusho safely up the near vertical gorge to the path where a couple of people went with him to the hospital. Sean then live baited CushoÂ's boat and paddles from behind the waterfall.
With the situation under control and with a depleted number we carried on down tonnes more super smooth drops and slides…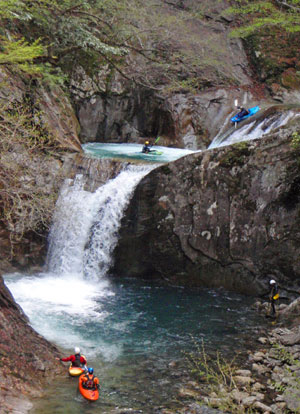 We then hit a tight section of the gorge; a portage where we had to make a 7 metre jump with our boats to get around an ugly looking slot drop and then this sweet slider to finish a truly amazing river!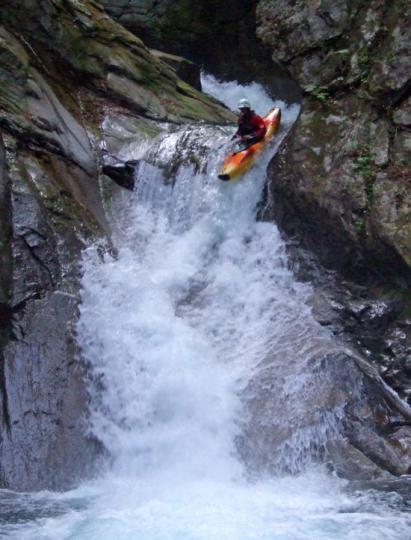 A few hours hike back, and a brutal drive homeÂ… we ended the day fully exhausted but satisfied and happy that we had all shared something special that day.
The nature of these trips is that you donÂ't always get what you want, you have no real idea about most of the rivers you paddle and you have no guide book. You go through disappointments and difficulties, challenging logistics and language barriers, but sooner or later you get rewarded with a special day, made all the better by all the things you had to do to get there.
I was grateful to share this experience with these awesome people!
Thanks to Sean Kinsella and Kanami Anderson for the awesome photos!
Happy Paddling, Sam