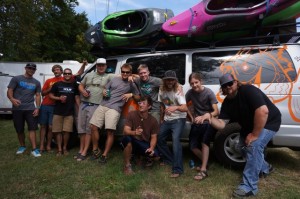 Big D, Duane Gibson, Chris Staford, Dave Fusilli, Ty Caldwell, Clay Lucas, Paul Butler, Brad Caldwell, Craig Kleckner and "MP" Mike Patterson
So I have been back in my kayak for about a month and a half truly enjoying the Fall.  Being in my kayak in anyway is a great thing, but I have been coming back in a really good way.  Since I have been back I have paddled the Gauley, Green, Moose, surfed Garberator on the Ottawa, payed at Big Rock, Big East fork Pigeon, Raced the Russel Fork, Raced the Green and paddled the much anticipated Toxaway!  It has been a great fall and I'm super stoked to be hangin out in Asheville for the winter season with a self support Grand Canyon Trip coming up on January 8th.  More on that later, but I must say I will be paddling the Grand with my Sister and Brother which to me will be as good as anything I have done!  The Fusilli family goes big on and off the water!  I have a ton of photos I want to share so enjoy. Oh and I will put a video of the Toxaway I just finished at the bottom.
First stop on our demshitz tour was the big East Fork of Pigeon.
This is a slide on the big East Fork of the Pigeon.  I found that I was very lucky to get this one.  The put in for this river is on the Blue Ridge Parkway.  So, very high elevation for NC making it a hard one to catch the water for.   Such a sick place add to that the leaves poppin off!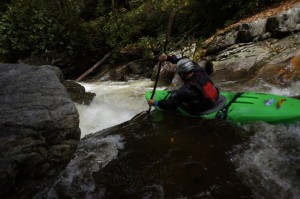 Mike Patterson strokin
This was a pretty typical rapid on the East Fork Pigeon.  Tight lines and smooth rock.
The very next day on our tour was a pit stop to stretch demshitz legs on the Toxaway!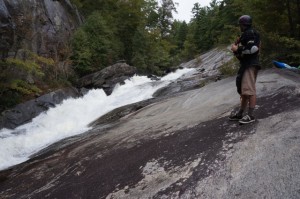 Matt Anger contemplating energizer on the Toxaway.
This one has been on my radar for many many years.  I called Matt right after getting off the East Fork Pigeon trying to line up a partner for the next day.  Toxaway is the shit!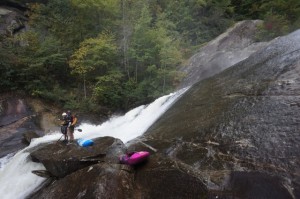 Matt Anger, Clay Lucas and Gareth Tate scouting Land Bridge.
So when I saw this rapid for the first time the first thing i thought was .. who the hell decided this was a good place to put in?  Lol,….. what a crazy rapid, but at the same time very friendly to demshitz.  You should just watch all the action from that day  right here……> https://vimeo.com/52562455
Next stop…. Moose Fest in Old Forge, NY
A few days after the Toxaway mission the good people at Pyranha sent me up to the Moose Fest.  Always a demshitz favorite!  Pyranha had a great crew up at the Moose Fest.  Our southeast crew rolled in and myself and Craig helped Mountain Man Outdoors host a "play your edit" night at the local pub in Old Forge NY.  We ended up having a great showing and sweet party, but look out for those IPA"s.  They can get ya if your not careful.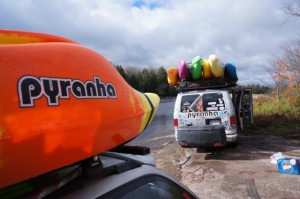 Putin for the Moose.
You will never guess what happened next?…….. Yea…. yea!!!!!  demshitz got word that Garberator may be in.  With our brand new Carbon Kevlar Jed's on the roof and Craig and myself just itching to get those babies on the water we picked up Nicole Mansfield and Erin Clancey and went for it.  That Monday after Moose Fest we walked out to the Ottawa river to find Garb at a perfect level!!  This has got to be my favorite wave!  And Mr. Carbon Jed…….. forget about it!!!!!!!!  It's like kayaking with a personal assistant!.
Here is some footage from Mr. Carbon Jed on the Ottawa…….>Â  https://vimeo.com/52946185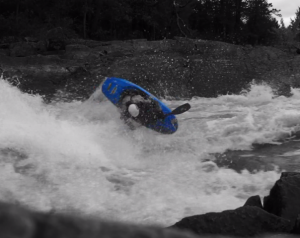 Myself finding the sweet spot!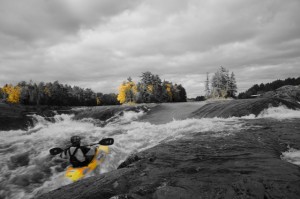 Craig Kleckner dropping in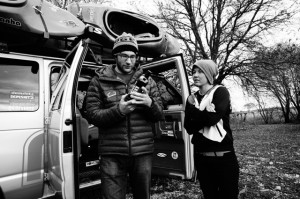 Craig Kleckner and Nicole Mansfield,  Hey it's cold up there in Canada.  Nothing a little Knob Creek bourbon can't fix.
After four days on the Ottawa it was time to head back to the dirty south to try to get a few runs in before the Green Race.  On my way south I stopped by Mike Patterson's house to get a little Big Rock action in.  Big Rock is a sweet, small, but fast and deep playhole on the Nolichucky river in TN,  just ten minuets from Mike's crib.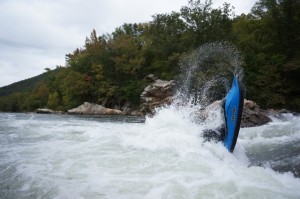 Mike Patterson showing me how to loop Mr. Carbon Jed at his home spot, Big Rock.
Finally, here we are the Green race.  This race really does amaze me.  The amount of people that do it, the amount of people that watch it, the amount of carnage that goes on, the intensity leading up to the race, and the amount of time and dedication that people put into trying to win this stout.  It is one of a kind and I hope it goes on this way forever.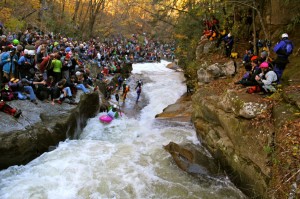 Photo by: Shannon Christy
Myself dropping Gorilla.  I ended up in 40th which I didn't think was to terrible considering I was in a Burn.  The Burn is a amazing boat, but compared to a 11 or 12 foot kayak a bit slow.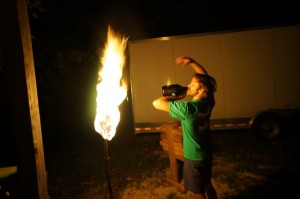 Somewhere in these travels Craig and I found time to make a sick torch!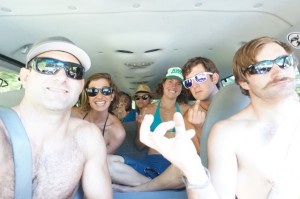 Just another group shot from inside of Orange Bitch (the Pyranha van)
Thanks for reading, now go paddle your ass off.