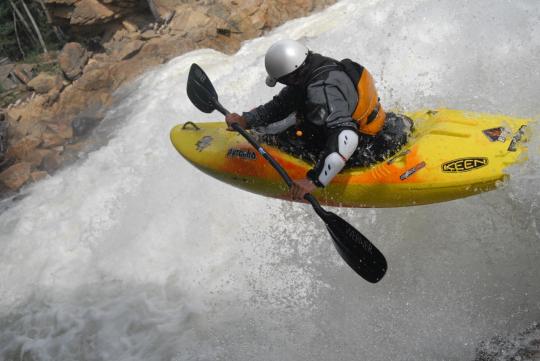 Left side of "Paralyzer" Lake Creek photo: Schwiggles.com
After an epic high water summer in Colorado, the water is finally running low. But, there has still been plenty to do…
I was based out of Buena Vista Colorado for most of August. Doing some work for Jed Selby at the South Main Development Project, and taking off to run Lake Creek in the evenings.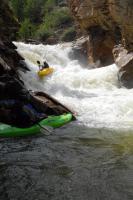 Brains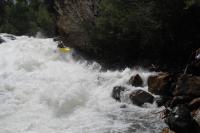 Paralyzer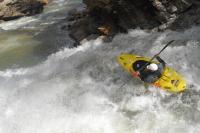 Kiss Me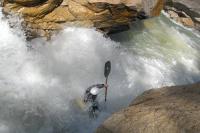 Cauldron
I managed to rally missions with some dudes working at the local rafting company, Buffalo Joe's. Demshitz, Alex Junker, Chris "shwiggles" Schwer, Barnes, "Chilly" Palmer, Timmy and "Fat" Bob Songster to name a few have been firing it up after pushing rubber all day.

Team Buff Joe's

Fat Bob going for his 1st loop!

Showing off in the REV in Salida. photos: Schwiggles.com
Colorado is a well rounded kayaking mecca. World class play-boating and sweet class five runs all within short driving distance of each other.
With the rafting season winding down, our crew was able to make some trips a few times to M-Wave, and one day on the super fun 11 mile canyon on the South Platte.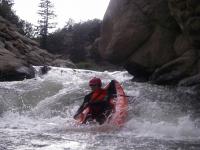 Team Buff Joe's Rookie Timmy styling some 11 mile canyon goods in the duckie- he'll be ready next time to take the kayak for sure.

Stoked!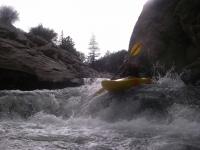 Chilly slaying the boof

Fat Bob laying a Fatty Boof on 11 mile canyon.

Alex Junker peering into the Black Canyon.
My last week in Colorado we decided to head over to Montrose for a trip down the infamous Black Canyon of the Gunnison! Our epic mission, usually completed in 2 days, came about mainly influenced by local stud Johnny Meyers who convinced us of doing the canyon in 1 LONG day.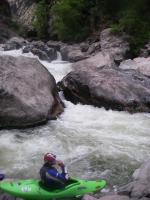 Junker portaging around Triple Falls.
The Black Canyon is a "sketchy" place to say the least. Many siphons and undercuts litter the run and often force you to portage. The first few miles of the run contain most of the good rapids including a perfect 18 foot waterfall.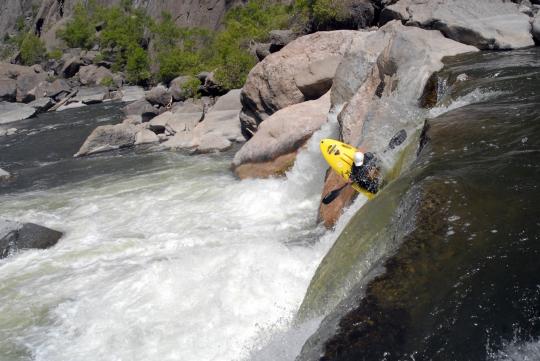 photo: Schwiggles.com
The freewheel was too tempting, especially because the drop is difficult to go back for seconds(requiring roping your boats), so for only one run on this beauty better make it a good one!
After the falls, eat some lunch and get ready for the grunt work of the Canyon. The Portage.

What a place! Notice the giant "mosquito" looking rock formation(top-left-center). Thats the landmark you portage to-make a note of that if you decided to venture in without a guide.(which is not recommended). Also, the "Painted Wall" to the right, delivers some classic climbing lines.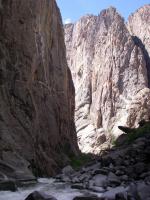 Our Guide Johnny losing us on the portage.
12 hours on the river and we were finally drinking cold beer at the take out. It was a fun trip, not too rushed and nice not having loaded boats, but certainly still tired from carrying our "light" boats for a few HOURS portaging the inner gorge, where the river tends to disappear under giant boulders!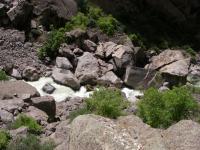 Disappearing river.
Not to mention the thick poison ivy and loose scree that we trekked our boats over for nearly a mile.


While portaging we passed the memorial site where legendary paddler Chuck Kern passed away over 10 years ago. This is a very committing gorge that deserves the most respect and is typically portaged, especially after claiming the life of one of the greatest kayakers that has ever lived. His memorial is up on the river left bank.
Looking back on the summer now, what a year it has been for me! In the last month and a half I logged a number of new runs, especially in the multi-day class 5 run genre, including 2 in California, Upper Cherry and Middle Kings, one in Wyoming, The Bull Lake Creek, and now capping it off with the Black Canyon. All very committing runs, and all equally stunning scenery.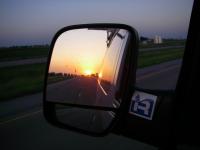 Following the Black Canyon trip it was time for me to pack up and head east. I made it back to Asheville NC this week in time to catch Dinver McClure for an after-work kayak-fishing mission on the French Broad, where I caught me a nice small mouth my first time in a Feel Free kayak.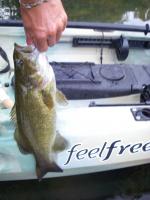 For you animal lovers wondering, I let him "FEEL FREE"
Check out this months LVM issue #27 "The Rockies" for some footage of our Rocky Mountain Summer.