Our first week in Colombia has been pretty adventurous (except for the flight which was tedious to say the least…Iberia are not great for in flight entertainment). After a couple of days in the capital of Bogota, Dave, Lowri Niamh and I headed out to San Gil to get on with the kayaking. First we ran the local rafting run – The Rio Fonce which was fun class III with a IV on it to get warmed up. And it is warm here!! It makes a change from Wales in the winter.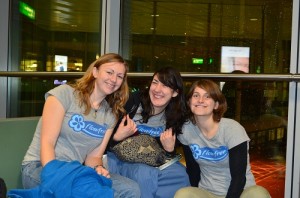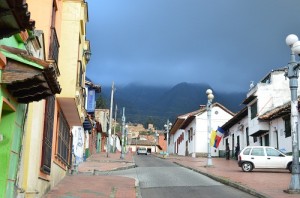 Next we wanted to do another day trip so we could all get happy with our new boats. We chose the Rio Mogoticos as we had understood that this would take 3-4 hours. In all it has taken us 4 days!! By 6 hours on the river on the first day the light was starting to go and we were nowhere near the get-out. We had to make the hard decision of whether to hike out or carry on. It was getting dark so we decided to hike out. First we had to get our boats up a cliff, then hike uphill through dense jungle, then hike through a plantation, then a field and finally we found civiliation in the form of a tiny Pueblo. But at least it had access to the road!! It had taken us nearly two hours in the dark. We went home and went to bed (or at least Dave and I did – Niamh and Lowri went out Salsa dancing and didn't get back until 5am!!)
Day two: we went to finish the river. We thought in our wisdom that it would be easier going downhill than hiking out uphill with our boats. We thought very wrong. After 5 hours of portaging syphon hell (only 2 of the rapids were runable) it was once again getting dark. We knew that the get out was on the left hand bank so we had to make it over to a place where we could then carry on walking without the kayaks. Just as darkness fell we found a place to ferry across and thankfully it was not a cliff on that side! We ditched the boats once again and started trying to find our way to the path at the get out. We went wrong a couple of times and had some very scary cliff climbing experiences (all in the dark) but finally, we found the path out. We eventually got picked up by our friends who had thought we had been kidnapped, and once again, with our tails between our legs, we had to go home kayakless.
Upon getting back that night both Dave and I came down with vomiting and you-know-what which meant the next day was a write off. As was the day after that for Dave and Fran. But Lowri and Niamh bravely stepped up to the plate (with the help of a Colombian raft guide hunk) to retrieve all 4 boats.
So hopefully in the next day or so Dave and I will not need to be quite so close to the toilet and we will be able to continue our adventure. It doesnt seem to have slowed the other chicas down too much as they seem to be enjoying the party scene without us.
Dave and Fran