Team Pyranha's Beth Morgan has taken Europe by storm in the 9R II this summer…
Not only did Beth win the AWP European Championship Race this year, but she also smashed the competition in the King of the Alps Mass Start Marathon, before competing (and placing second) in the first-ever women's race on the finals course, at the highest water level KOTA has ever seen.
We managed to drag Beth away from kayaking long enough to ask her a few questions:
Q. How does it feel to be European Champion?
A. It's a bit surreal, to be honest. We couldn't see the times at the bottom of the course so I had no idea about the results. I made a small mistake in the final so wasn't sure I was in with a chance. The first I knew of it was on the walk back up; Joe pointed a camera in my face and asked me how it felt to be European champion. I replied with "you're kidding right?".
Q. Tell us about King of the Alps – it was the first time women had raced on the finals section. How was it?
A. It was terrifying! I basically spent the entire week before looking at that rapid and making excuses not to run it. It was high, technical and scary. On the day of the race, I was feeling good after the marathon. The river had also been dropping and was the lowest I'd seen it since I arrived. I wanted it so badly, but I didn't want to fall into the heuristic trap of racing just to prove a point! The worst part of it all was sitting around for 1.5 hours waiting for our turn to race.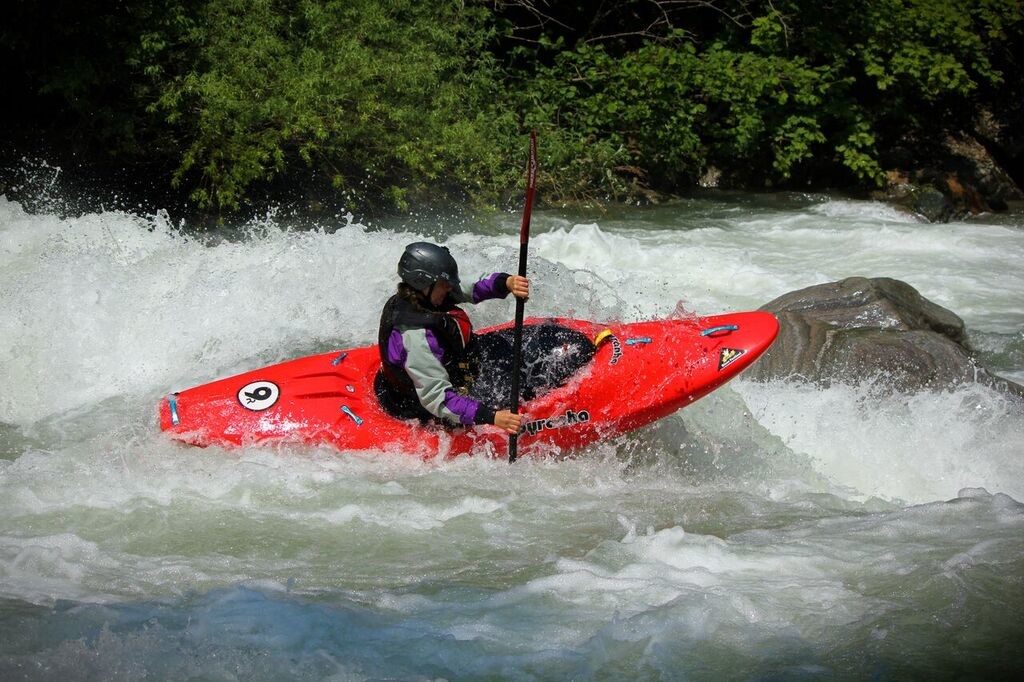 I was tired and nervous putting on. The race starts with a 15ft weir boof. I came off it a bit too far left and instantly pinned for a few seconds. For some reason, this helped me relax and I felt focussed and controlled through the rest of the course. My line through the intimidator couldn't have gone any better and I got to the bottom absolutely elated. I was the first to race so got to cheer on the rest of the ladies as they finished. It was unbelievably cool to race against 3 other awesome women. I feel as though we made a tiny bit of history that day.
Q. Do you think this will encourage more women to race in the future?
A. I really hope so… There were definitely fewer women racing at some of the events than I'd hoped. There's still such a massive gap between numbers in the men's and women's categories. However, I do think that it is improving and things are changing for the better. Seeing the first women's final at North Fork this year was incredibly inspiring and to have equal prize money for men and women in these events really is awesome. I do think there is still a bigger gap than the men though when you compare the number of women racing on class 3 compared to class 4/5.
Q. Why do you think that is?
A. Ah, there are so many reasons!! There are fewer women in the sport in general and although that has drastically improved since I've been paddling, there are still proportionally fewer at that higher level. It's a whole can of worms to get in to and one I enjoy discussing with my friends about on a semi-regular basis. However, they can be slightly frustrating conversations because I really don't know what the solution is!
Without going into a full-on debate (and at the risk of causing some backlash), I do think that women are much less likely to race unless they are 100% sure that they are good enough to do it and are going to nail their lines, whereas men are much more likely to just give it a go. I think that mindset is generally present in river running as well. For me, if I think I might flip in a rapid it makes me significantly less likely to try it.
Q. Ok back to the summer… What was your favourite race?
A. That's a hard question. They were all great, well organised and fun. I really prefer longer races. I'm not as good at short sprints because I don't have the acceleration or the best head game. One small mistake and you are done, whereas on a longer race you can make up that time. I also really like to get myself into a good rhythm. I love the Alpine Sprint as a racecourse because it is long and continuous. There's pretty much no flat water! I also really enjoyed the Timber Hole Enduro. It was my first time doing that race this year and also my first time running the Timber Hole rapid the day before. It's definitely one to get your heart pumping.
Q. And most importantly, how are you liking the 9R II?
A. It's great. I was pretty sceptical when you decided to remake my favourite creek boat, but so far so good. It's more forgiving than the original, to give you that bit more confidence to step it up, whilst still being fun and responsive. I also think it's faster because the extra volume in the back catches and shoots you out of things but you're also still in control. 9R II plus Ripper will be my ultimate line up.
We are so proud of Beth's race results this summer and absolutely cannot wait to see what she will go on to next. Here's a full list of her results this season:
Valsesia River Festival Alpine Sprint – 1st Woman
Valsesia River Festival Final – 1st Woman, 10th Overall
King of the Alps Marathon – 1st
King of the Alps Final – 2nd
Ekstremsportveko Myrkdalen Downhill / AWP European Championship – 1st
Ekstremsportveko Timerhole Enduro – 2nd
Sjoa River Festival Washing Machine Slalom – 1st Woman