Another year has gone by and I've been fortunate enough to experience another set of amazing adventures on the water with friends. I am blessed to be able to travel and kayak as much as I do.
I enjoy paddling for Pyranha because every model is designed to best fit a certain style of paddling. This year I had the pleasure to spend a significant amount of time in three of my favorite designs.
In May, the Thursday before Memorial Day, I met up with my good buddy Adam to catch a Mini Bus session before the level dropped out and the wave disappeared for the year. After camping out somewhere in New York and sleeping Friday morning away, we finally arrived at the Ottawa Friday afternoon for evening ripping.
I have to admit, the wave was intimidating at first and the real trick is learning how to actually get on the wave using the rope. I think most of Friday's session was spent just figuring out the right angle to pull myself across the eddy line into the current.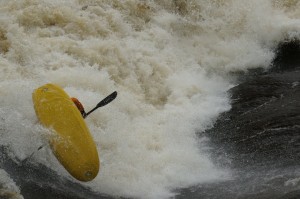 Adam Johnson going huge!
Fortunately, we were able to have ourselves a second session on Saturday morning before we peeled out for Quebec City. I felt much more comfortable surfing Mini Bus for the second session. This wave is glorious and if you ever have the chance to catch it, well, just do it!
Here are some pictures Adam got of me from our second session: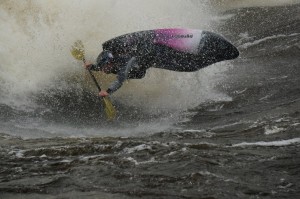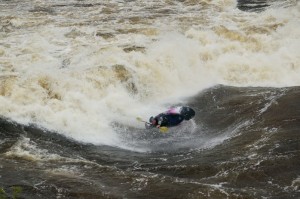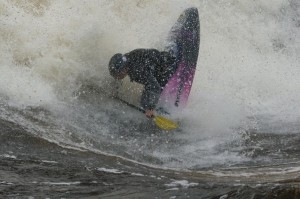 This wave certainly put Jed the test and it definitely lives up to the hype that surrounds it. The edges allow you to transition the edge with ease and the volume in the stern and bow are both proportioned to perfection!
After our second session we left the Ottawa to meet up with our good friend David Carey for a run on the Neilson before we had to head back home. I was stoked to be in my Burn especially for a run of this caliber. I have always been a fan of the Burn since the first generation. The planing hull and edges allowed me to turn on a dime. This was crucial for navigating through the Neilson's continuous rapids and huge slides.
Below are some photos Adam shot from our run: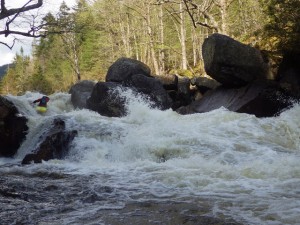 Backwards boof!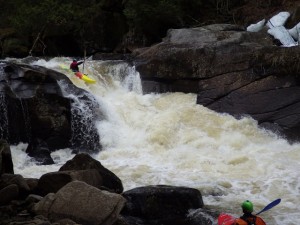 The final rapid on the Neilson.
Only about a month after my trip to Quebec, I left for a three week trip down the Colorado River of the Grand Canyon. If I had to pick the trip of a lifetime then this would be it. A little over a year ago I had applied for a permit with a friend who won the slot for a private trip beginning the end of June. He ended up not being able to go so I took the permit as the alternate.
My crew was made up of some of the most memorable boaters I've ever had a pleasure to paddle with. There were five rafts for storage which was great for us kayakers because it didn't limit us to a long boat. My weapon of choice was the Varun. The Varun is now a discontinued model but I felt it was the right boat for this adventure.
Here is why:
You can spend the whole day in the boat and without getting uncomfortable. The boat also tracks surprisingly well for its design which had a lot of added value for helping me keep up with the other crew members using long boats.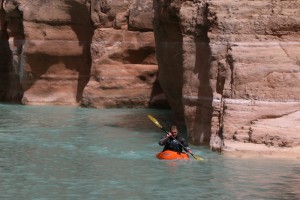 Paddling through Havasu. Photo by Art Barket.
Because of the abnormally high water, I was able to really test the on rapids that required technical moves.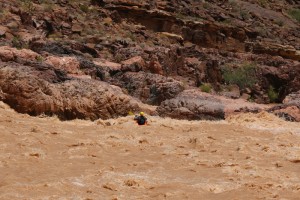 Paddling through Bedrock Rapid. Photo by Art Barket.
The boat is designed to be a river runner with a touch of play. Throughout the trip I was able to surf holes and waves on the fly.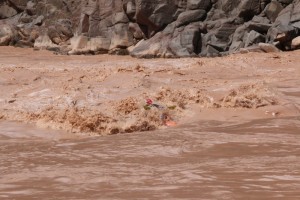 Photo by Art Barket.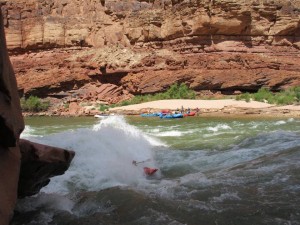 Getting my surf on at House Rock Rapid. Photo by Chrissy Zeltner.
If your dealer still has this boat available it is definitely worth a try on your local river.  I won't even try to describe the Grand in this post. The experiences you will have in this place are magical and unlike any other. It is truly a life changing experience and if you know a buddy with a permit who has the room …  hop on that trip!
My final trip of the year was in Costa Rica with Adam Johnson, Art Barket and John Moore for two weeks of some of the most epic kayaking I've ever done.  I brought my Burn as my weaponry of choice because I knew it would handle whatever Costa Rica had in store for me.
Adam, John, and I flew into Liberia with our boats the Saturday before Thanksgiving. It was Adam's third time in Costa Rica and he was able to leverage the connections he had made from his past visits to get us beta on what was running in the area.
One of Adam's connections, Wider, was a local to the area and was able to show us down one of his local runs the Rio Tenorio. The Tenorio had some great boofs and really fun moves but what made this river unforgettable was the beautiful fifty foot drop right at the beginning.
Here was Wider's line.  He entered from the right at the entrance and the curler set him up nicely to fall off the right side: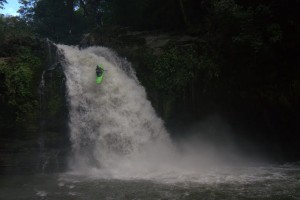 Photo by Adam Johnson.
Here I am dropping straight off the middle. The landing was a hard hit but it felt so good roosting off of this stout: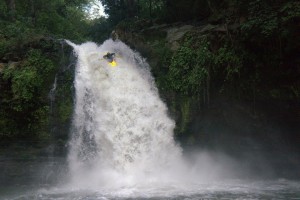 Photo by Adam Johnson.
After our run on the Tenorio we decided to travel East towards La Virgen and met Oscar who was kind enough to show us down his home town run, the Pozo Azul.  This is Costa Rica's very own North Fork of the Blackwater because of the variety of rapids that are on it. The first rapid is a twenty five foot drop with a tricky lead that requires a late boof stroke which gives you an idea of what is to come.
Here is Oscar showing us the line on one of the more technical rapids at the beginning: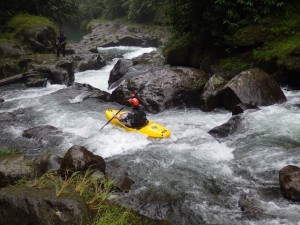 Photo by Adam Johnson.
The run ends with the cleanest thirty foot drop I've ever seen! Adam got a sweet shot of me throwing a sweet switch wheel: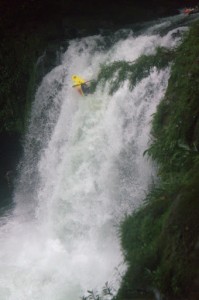 We moved south from La Virgen to Rivas near San Isidro for the final leg of our trip which included the Chirripo Pacifico. Everything that we had paddled up to this point on our trip was only a warm up for this river. Fortunately for us we had Costa Rica's very own Ferdinand Steinvorth to guide us down the top and upper section! We spent about four days altogether in Rivas boating the lower, upper, and top section.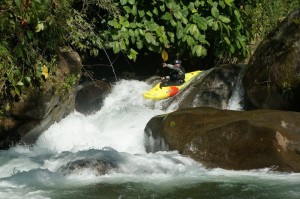 Manky drop on the top section. Photo by Adam Johnson.
Each section had different style rapids and characteristics but the upper section was a little longer and in my own opinion, the most difficult out of the three sections.  I was able to able to hold my lines when I needed to with the Burn's aggressive edge which came in handy with the technical boulder drops on the Chirripo Pacifico.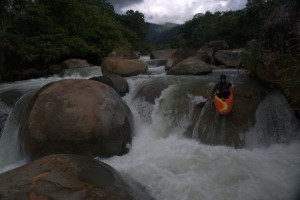 John Moore enjoying one of the many boulder slides on Chirripo Pacifico.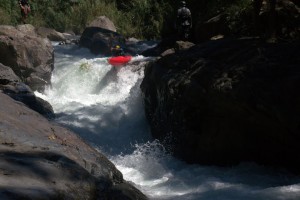 Here is Ferdinand crushing a boof on the Upper.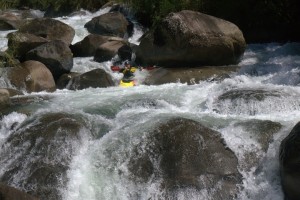 Coming through the first part of Ron Jeremy.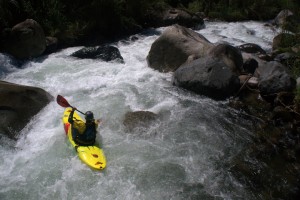 Here I am exiting the second part of Ron Jeremy.
So that was my year. I'm stoked to see where the coming year will take me and I am looking forward to using my favorite designs by Pyranha to  get me out on the water. I have a new 9R that I am hoping to  test soon on some of my favorite East Coast classics.
I hope to see you out there!
Brenton