It's been a riduculously dry spring in Virginia, but the rains on April Fool's Day were no joke. Rivers and creeks reached levels we have barely seen since last year. The rain opened the door for the 10th annual Goshen Race on the Maury River near Lexington, VA. The mass-start on this scenic class III-IV is always a spectacle as 20 to 50 paddlers fight for the head of the pack before dropping into the depths of the Pass. This year's race landed on a gorgeous day – sunny and warm – with a great water level for racing. Veteran paddler and Goshen-racer, Tate Huffman of Charlottesville, VA snatched the 1st place trophy by a strong margin. Last year's champ, Adam Freeman, took home a slightly smaller trophy this year, with 2nd place. Ciaran Brown, from nearby Buena Vista, rounded out the podium in 3rd place. It was a kick-a$$ day in Goshen Pass!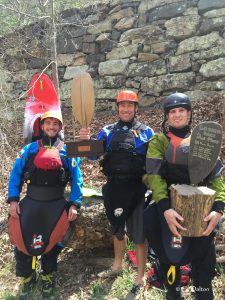 Above: Ciaran Brown, Tate Huffman, and Adam Freeman on the podium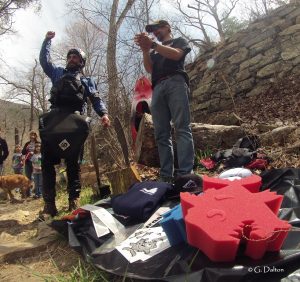 Above: Andrew Epperly rocks the "Carnage Panty" (on his helmet) – the least coveted of Goshen "trophies."
Every single racer and volunteer left the awards ceremony with a prize and a smile thanks in large part to the generous support of Pyranha Kayaks. Thank you Pyranha! 
For full results, boof on over to Appomattox River Company's page .