2016 has been one of epic proportions. This year I went to 12 states and 2 provinces, which is a lot for me. I started off January in Rock Island, TN and Columbus, GA. Back in January  there was a lot of rain, like to the point to where is was flooding all over the South East. Since it rained so much all the waterfalls were running at Rock Island. These waterfalls are amazing becasue they are between 15 and 20 ft. Once you finish running one of the many waterfalls you can climb up the side of a rock and run them again. This is practically a playground for waterfall running.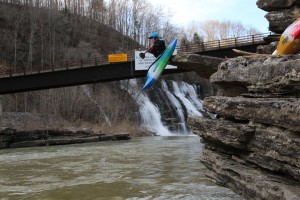 I also spent a lot of my time this year in Columbus, GA. Since it rained, the river was at flood stage, therefore the rapids were massive. While I was there, there was a wave that was formed. It was a really hard wave to get onto because of all the boils and swirly water. Once you did it get on it, it was really fun. The wave was really difficult to get a pass to throw a trick, but once you did you would fly. I was able to perfect my blunt and make it super consistent.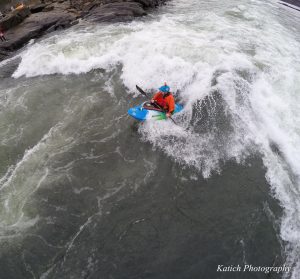 Then in February, there were the Alabama Cup Races. This was slalom and boatercross, the slalom course was pretty easy, but the hard part was after you just paddled as fast as you could the finish the course, you had to hike your boat back up the river, which was a long walk. Then I did the boatercross race, which was my favorite. I came 3rd in finals and I was pretty stoked on that cause it was my first time racing at the Alabama Cup Races.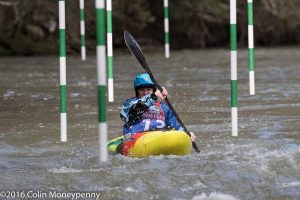 In April it was Tallulah Fest. This is definitely one of my favorite festivals in the South East. On the Friday I got there, a few friends and I went to go paddle Section 4 of the Chattooga. It was awesome. There was a really fun 7 foot waterfall, but it was tricky becasue if you boofed it wrong you could go slam  your bow into a big rock, which would probably hurt. Then there is part of the river called Five Falls. It sounds worse than it really is. Five Falls is class IV and V, its starts of with Entrance rapid which is basically a bumpy slide into an eddy above an under cut. Then there's Corkscrew, which is just avoiding big holes. The next part is called Crack which is a little 4 foot drop between two massive rocks, but here's the catch. It's only about 2-3 feet wide, so just barely big enough for a creek boat. Then the next part is Jaw Bone. In this rapid you're trying to avoid the massive rock that sticks out, but if you hit rock you could break your jaw because it's the perfect height to wear it would hit your face. Then the last rapid is called Sock em Dog, which is a boof that is about 5 feet and if you miss the boof you get trashed in a gnarly hole and you would most likely swim.
The next day I ran Tallulah. I was a little scared becasue there's a rapid on there called Oceana which is a massive 50 foot slide. With a huge wall of water and you would think  its a rock, but it's literally just water being splashed up. I was a little scared to run it, but after standing around for hours staring at the rapid, I finally got in my boat. I paddled up the edge, got the thumbs up that says I am clear to run. Once I got the lip I just started sliding. It's a bit of a bumpy ride and then you see the massive wall of water. You hit it, then you lift your bow to glide over the hole at the bottom and then when I finished I was so stoked. That was one of the biggest things I had ever run and it was amazing.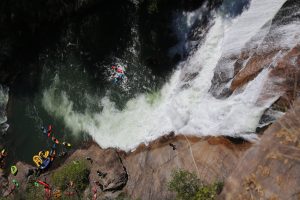 In May I trained at the Nantahala 2013 worlds feature for the GoPro Mountain Games, which I was attending in June. I was working on all of my tricks and I was going bigger than I ever have. I was able to get so many combos. I started to get my Loop, to Space Godzilla, to Cartwheel. Then I also got my Cartwheel to Split Wheel to Loop to McNasty. Then once June came, I flew to Colorado. When I got in the feature it was very cold, but I loved it because the feature was very steep. There for I got huge loops and Space Godzillas. Then was the freestyle event. I had a lot of fun competing and watching my friends compete. I came in 11th place and  I was ok with that. It was also my first Pro Women's competition.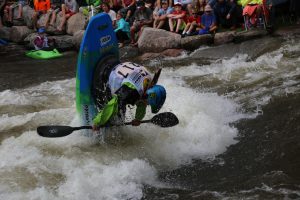 Then in July I went to the OKS Keener Program in Canada. This is one of the things I look forward to every year becasue it's three weeks on the Ottawa River. I learned so many tricks and perfected many too. On certain days we different things, so on Tuesday we practice freestyle kayaking. I chose to go to Garburator (Garb) that day. I told my coach that I wanted to learn to clean Blunt and Pan-Am. Many times I attempted my Pan-Am and kept falling on my face. I was getting a little irritated about it, but that's the beauty of freestyle kayaking. You can get irritated all you want and fall on your face a million times but the more fail, the closer you are to completing the trick. Then as we were leaving to go to lunch I went for one last ride and as I carved to the shoulder of the wave and got on top of the foam pile. I came down and I had a huge take off and I threw the biggest Blunt of my life. What made it even better was that if was a left blunt, which is my offside.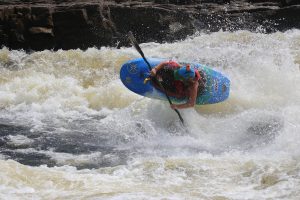 Then on Thursdays we have Big Water Bacon Beatdown Thursdays. It was the last Thursday of the session and my dad drove to watch. I kept attempting to get beatdown in Right Side Phils. I kept flushing not getting beatdown, I went to see my dad and he told me to go get beatdown and I said it's impossible. I have tried for the past 2 years and nothing. I went to go get in the water above Phils and little did I know, I was going to get the worst beatdown yet. As I went in I just tucked and hoped I could get beatdown for at least 30 seconds. Well, actually it was about a minute and a half, but when you're the one getting beatdown, it feels like a lifetime. At first it was fun, then when I tried to breathe flipped over again. So I swallowed a lot of water and I felt like my lungs were on fire. Then after a while I finally attempted to pull my skirt, but I was getting thrown around too much that I couldn't get to it. Then I was like launched out of the water. I came up and got oxygen and then went back under. At that point I was done. I pulled my skirt and swam. At first I wasn't to happy, but then I remembered that I am fine and it's a safe place to learn how to deal with situations like that on other rivers, so after I could finally breathe, my friends and I laughed about it.
In September I went to  Gauley Fest. This year I took my Jed down and I had a blast. I learned where all the Pogo Stick spots are and I attempted many. I failed a lot, but there was this one spot where I finally got it. There wasn't a lot of water going over the rock so I had to slam my bow down hard and once I got to edge I slammed my bow down the drop and as my bow hit the boils behind the rock I jumped and threw a huge loop. I was so stoked on it. When we got to Pillow Rock I was talked into jumping off the huge rock at the rapid. I was super scared but I did it and it was awesome.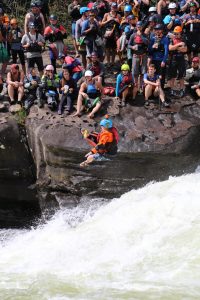 After that I got into my boat and paddled the rapid; this rapid is one of the biggest rapids on the river. Last time I ran it, I experienced the fun part of doing it, upside down… Haha, not really, but this time I took a better one where I wasn't upside down. I felt like I couldn't have had a better line through the rapid and the best part was at the end. My goal through the rapid was to not flip and I didn't, but I stern stalled out the last few waves of the rapid. It was awesome and I was super stoked on it.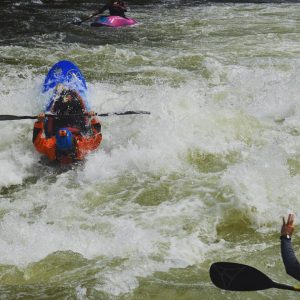 In October I did the Ocoee Race. This was my first year doing the race and its four miles of class III and IV. I didn't expect to win because it was a last minute decision to go. The Ocoee is about 4 miles and my goal was under 40 minutes and I finished the river in about 35 minutes. I was super stoked, and the fun part was becasue it only took me 35 minutes I was able to go do a second lap for fun.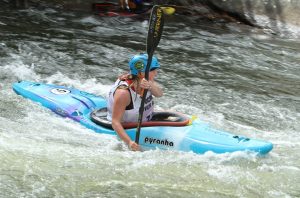 Then in November and though a little of December there was a huge drought throughout the South East, which meant no rain, so no kayaking. Then in December we had a huge rain and my favorite place to run waterfalls was running. Rock Island; I drove up there to go run some stouts. I took my Loki and my 9r. I had a blast in the Loki. I was hitting perfect boofs. Then at the swirly water at the bottom I was hitting stern squirts and it was awesome. I can't say how much I love my Loki. I ran the waterfalls about 8 times in my Loki. Then I hiked back to my car and grabbed my 9r. I paddled a new part of the waterfall and this line was pretty tricky. You have to go between a tiny slot and boof it on the right but if you boof to hard you will land flat. Which you don't want to becasue if you land flat off a waterfall you could possibly injure your back. Though if you didn't boof hard enough you would over vert and land on you face, which isn't fun. I finally got in my boat and ran the drop. I did it perfectly, I was so happy.
That was how 2016 went for me and I am super stoked on 2017. Here is my 2016 highlight reel.
Hope to paddle with you on the water,
Cat H.