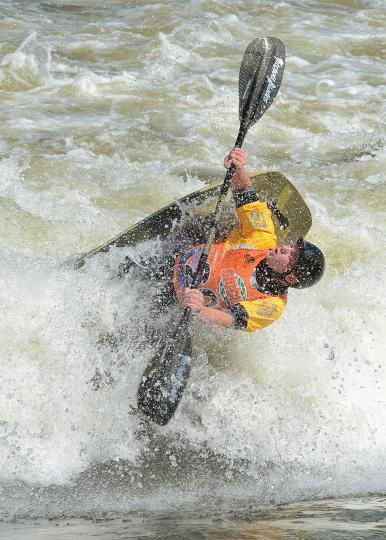 This year the freestyle world championships were held in the small german town of Plattling.
The hole is set on the edge of town just downstream of a railway bridge, Free camping was provided on the flood plain next to the hole.
Myself and Adam Ramadam decided to head out a month early to get some practice time in, when we got there the level was 140, not a nice level to be paddling a carbon boat. The first time we paddled there I was tentative about doing any moves that were going to hit the bottom, I mainly worked on mcnatys and phoenixs whilst adam set about finding a deep (ish) spot to loop, Being a c1 paddler Adam doesn't have to worry about smashing his feet on the bottom and becuase he paddles a plastic boat he doesnt have to worry about scratching/ breaking his boat. After multiple hits to his boat adam insisted that he'd found a deep spot . . . he hadn't.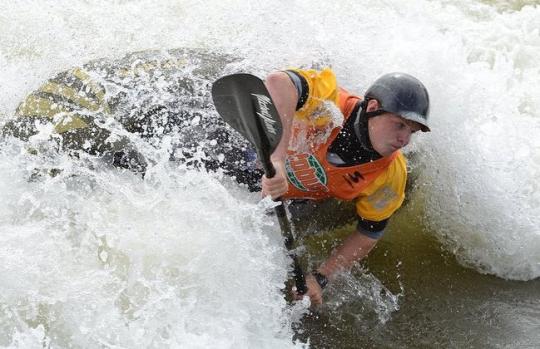 I hit the bottom on either the bow or stern of my boat at least once a day for the first 3 weeks while i was there sometimes it was just a tap other times a realy hard hit. The carbon Molan however held up realy well, which is a tribute to the great job that the guys at P & H did in making it, and was one of the few carbon boats not to break in the time we were there.
After a month training in low water, the official team practice began, this week also saw the water levels rise which finally made a good hole. This was probably the only part of the competition I didn't enjoy as we got 3 minutes per paddler to practice in our team slots, and either had to paddle really early or really late to get extra practice time in, I didn't enjoy being told when I could or couldn't paddle but watching the other teams team trainings was interesting !
Junior mens was meant to be on thursday but got moved to wednesday due to a "supposed" storm coming in.
My first ride started of well with the biggest loop I've ever done (video below), unfortunately the same loop ripped the ratchets through on my straps so I had to do the rest of my ride with out straps, Lots of running around trying to find spare parts for my straps ensued, huge thank you to all the guys that helped me out !
I made it through to the final with rides that I was't happy about, When it came to the finals I was in 5th place I could only improve on my placing so I decided to go all out, After watching videos of my rides with entry moves I realised I was losing about 8 seconds in-between my entry and my next move so I ditched the entry move and went straight in with a left mcnasty from the eddy which seemed to work well for me. My second ride felt really good, I didn't get the orbit or back loop but I guess you cant have everything and its nice to left with something to work on for the next competition (video below)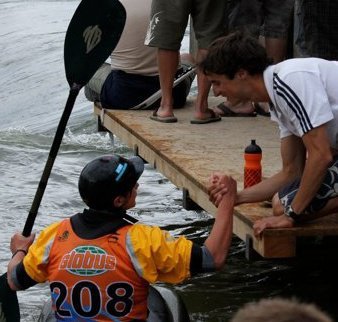 GB had an amazing success rate, with Claire O winning the Women s freestyle and squirt, Pringle winning the mens, Gabby Bates and myself placing 3rd in the juniors, James Benns placing 5th, James weight in his first year as a senior placing in the top 10, and Jamie Austin coming second in the squirt boating.The full results can be found on the ICF website.
It was nice to get a medal, but I think ultimately I got so much more out of my month in platting than just a medal.
I'd like to say a huge thank you to the guys I spent my time in platting with, to my sponsors Palm, Pyranha, Mitchel Blades, Strom Supplements, Paddle Works, Â and sweet water coaching, The river crew for letting a small annoying 12 year old tag along and flail around in his play boat, the Gb team and coaches for all of their help and to all of my friends and family back home !
Thanks for reading,
Cya on the water,
Bren
http://www.ustream.tv/recorded/15609608
http://www.ustream.tv/recorded/15544476