Before the Phonix monkey, and the Mcnasty, when the Loop was in its infancy,  and cartwheels were king, kayakers roamed the river looking for rocks to splat and holes to throw ends in.   As boat designs became shorter and the tricks took to the air a style of kayaking was lost.  People tried to replicate this style but the modern boats  in the six foot range didn't have the same effect as as the old boats with three feet of ends whipping through the air.   Stern squirts almost became extinct.  This year the designers at  Pyranha set out to revive this style and they did it in a big way.
The Loki, has revived the old days of downriver play and and added yet another dimension to the already stacked Pyranha boat line.  With  low volume ends reminiscent of the kayak designs from the late 90's, modern outfitting and design tweaks Pyranha has created a virtual time machine.   The balanced ends with near perfect volume distribution give way to cartwheels as smooth as the deck lines.  The edge is tuned perfectly for gripping a wave for huge carves and forgiving enough boof.  With just the right amount of rocker the hull carries speed to make moves and keeps the bow on the surface while paddling downstream.  The Pyranha signature connect 30 outfitting will keep you comfy and connected to the boat.
Who would like the Loki?  Anyone who enjoys running rivers and playing along the way.  Someone who loves modern freestyle but wants to try something different.  People who say, "I'm not a playboater" but want to be better paddlers.  Newer paddlers who are ready for that next step to ramp up their skills.  And pretty much anyone else, I have been having so much fun paddling this boat I have hardly paddled anything else since I got it!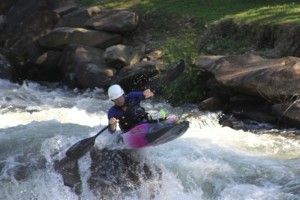 Do yourself a favor and get down to your local kayak shop and demo the Loki, it will change the way you paddle.