It's March and the weather can't decide if it is still winter or if it's spring here in the mid-Atlantic USA. Either way, this time of year we can't help but think, "What rivers will we get on this summer?" As I day-dream about summer adventures I think back to last year's summer safari. So here's some Rocky Mountain paddle-porn to help you through the late-winter blues:
SWIFTCURRENT CREEK EXPLORATORY: I can't believe how much "unknown" whitewater there is in northern Montana. McDonald Creek in Glacier promises to be an awesome class IV-V river roadside experience at June flows. I was gearing up to put-on it's glacier-silted waters when we found out  the creek is closed until late summer due to waterfowl nesting. Shutdown by baby ducks! Not to be denied, we headed over the divide on the Going-To-The-Sun road and found ourselves beside Swiftcurrent Creek as it drains scenic Swiftcurrent Lake. This creek offers a short section of super-steep, scenic goodness. As I hiked back I got to watch a cinnamon bear graze past at 50 yards. The first of several bears I'd encounter that day.


YOUR National Park: class-V federal hucking!
MIDDLE FORK FLATHEAD OVERNIGHT: Before dipping into Glacier,  I managed to squeeze in a  solo wilderness overnight self-support on the M. Fk. Flathead River. This river flows through the Great Bear Wilderness – a remote wilderness set aside in part to protect world-class Grizzly Bear habitat. If spending a few travelling through a wild mountain forest filled with large, dangerous omnivores sounds fun, this is your ticket. This one is hard to access and most folks pay for a small plane ride to a grass airstrip at the put-in. I opted to hike my Burn III to the river on an 8-mile forest service trail. Sounded like a good plan… in theory. Things went as well as a hike with a 100-lb boat-pack can go until I came across a forest service crew clearing the trail with handsaws and axes. They politely informed me that I was "screwed." Turns out the routewas blocked by blow-downs across the trail about every 25 yards – for the next 5 miles. So for the next few hours I dragged myself and my boat/gear through fallen pine tree "hells" on my way to the river. Finally I found a spot to lower my boat down to a tributary creek and (barely) paddle my way the last mile or so. All those years of low-water east coast knuckle-dragging payed off! The next two days were well worth it: good scenery, decent whitewater, great fishing, solitude, and fun camping. A few days after I got off the river a park ranger was killed by a grizzly along the same river, so if you go take the appropriate precautions (carry bear spray and make noise when hiking).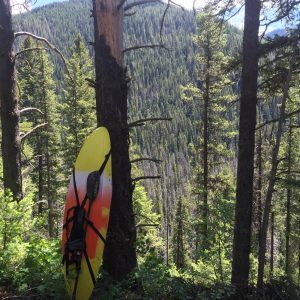 "Earn your turns." A little hike in the woods, with "boat-pack." And grizzly bears!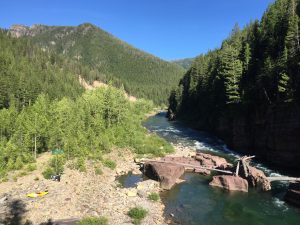 Some A+ camping on the Middle Fork Flathead.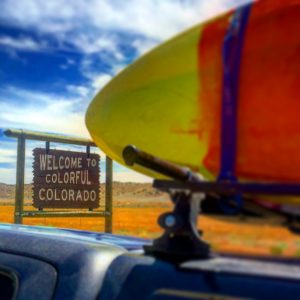 Welcome back to ColoRADo!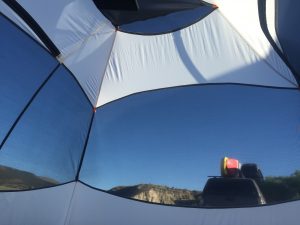 Tent-life. Waking up beside the river.
COLORADO PLAYBOATING: After another week of exploring Montana we headed south to see some friends in Colorado. I've paddled just about everything I can find in Colorado but have never gotten on the Yampa River. Our route put us right there, so we detoured in there and I snagged a sunset solo run through Split-Mountain Gorge in the Loki. Found a few good waves in there, but mostly I was just happily surprised at the magnitude of this cool little canyon. Check it out if you're in the area!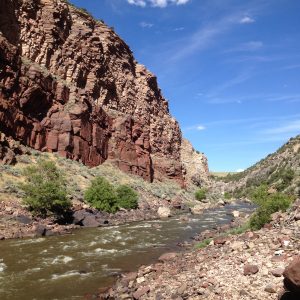 We love some deep canyons!
Now it's time to plan for Summer 2017. This will be a primo year for the Rockies and California. Who's in?