Pyranha Team Tour 2013
Italy – Stage One – Val Sessia – 21 – 29th May
We have all arrived safe in Italy after a gruelling but smooth drive down from the Pyranha factory in Runcorn.  We set out with a bunch of cash for fuel and tolls thinking we would have plenty of surplus cash on arrival.  We were very wrong.
On arrival we had extinguished almost our entire budget for the trip down.  We had not anticipated the 150 hit for the mont blanc tunnel, awch!!!!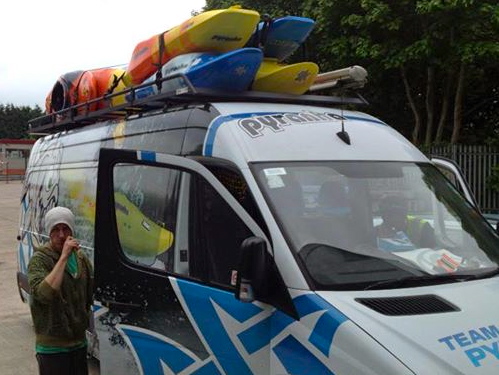 We arrived without stopping to Val Sessia on Tuesday 21st May 13 and strait into our first river, the Semenzina.  A run I would not usual select for a warm up run on arrival to a country.  Nothing too technical but we took a few initial hard hits for myself and David without sufficient warming up, I felt a bit silly pulling a shoulder muscle on the first run after preaching to all my students that stretching is the most important thing to do.  The rest of the run was fairly low impact, classic Italy creeking, beautiful.  In the afternoon I took David down the Egua for the first time in good flows.  I love this section.  It was the old Teva games race run many years ago for me so I was stoked to be back in higher flows than I remember.  It is a classic run for Italy providing a serious feel with minimum consequence.  When the sun is out, this is truly a photo kayaker's dream.  Following this run, the guys shot down the Alpine sprint section to warm down, a great 1st day returning to Campetogno for a nice shower and pizza for Tom Parkers last night in Italy before journeying back to the UK.
Whilst Tom was nursing his hangover, it was our 2nd day in Val Sessia and we wasted no time.  We all missioned back to the Egua and found the water had dropped considerably, being a large group now, we spent a few hours on the run taking our time and getting some nice footage.  The afternoon took us to the Semenza, running a few km's below the Egua section.  Here we met up with the German boys and had a lovely sporty run down there. It reminded me of some sections in Wales, similar to the Fairy Glen but obviously much cleaner and more pleasing to the eye.  Good fun for sure but I imagine in higher flows it could be quite interesting with not many options for portaging or scouting!  If you think you can see a line it probably is that one and it's not as bad as it looks from upstream, good to go at low – medium flows.  Following this section, we jam -jammed back to camp for coffee, showers and our first team – cooked meal.
The days following were pretty relaxed, there was some low level boating and relaxing after a long mission, a good time to catch up on trip and keep things organised, its super easy to let things slip and then things became chaotic.
The day before the festival the Pyranha team were accosted to run a creek race clinic on the Sessia sprint section for the day.  The course went extremely well and we managed to really set out a good race clinic that we can use for the rest of the trip.  All the clients were really happy with the guiding and coaching and got much out of our support, really nice day and good start for the Pyranha coaches.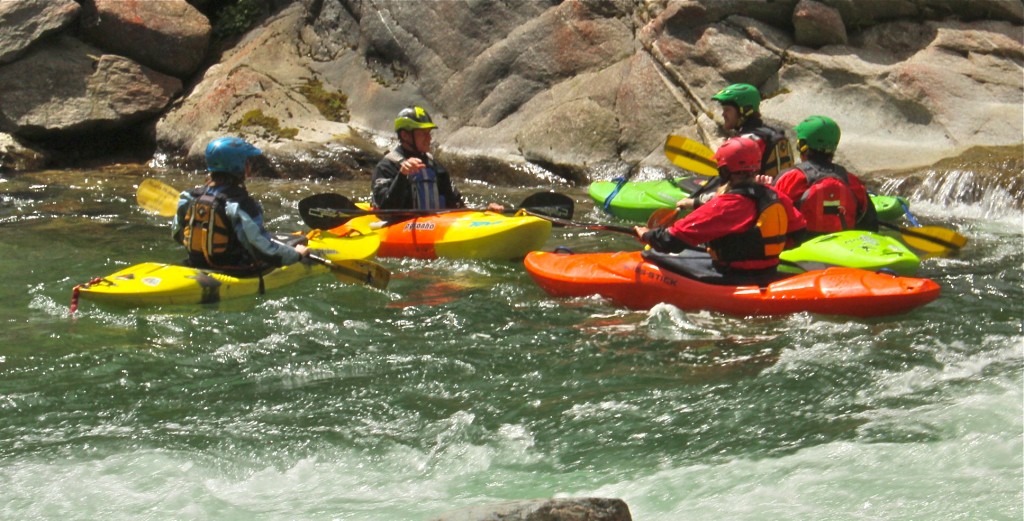 Saturday was race day, hosted by Gene 17.  There were to be three races, a team race with three boaters per team,  an individual race and the sweet rumble boat o cross in the evening.  It was a long day with lots of running about, long racing through the Sessia sprint section, around 12 minuets long.  It was brutal.  The Pyranha team came in 3rd behind the obvious Sutton / Ramazza team and the might of the Germans.  We did ok to come in just after their time. David came 5th in the Individual which he was pretty happy with!  The top 32 from the individuals went through to the sweet rumble.  All of the team made it through.  After a few heats of the rumble, David got knocked out followed by Andy who put up a good battle with top seed Ramazza.  I battled away with Joe Morley every round until the Semis until we were both up against Sutton, I was, surprising to myself leading off the block until the last eddy where Sutton passed me like a bolt of lightning followed by Joe Morley spinning me off line to hit the finish ahead by an arms length! An awesome race, one of the main reasons I love Boat X, you never know what will happen.  Joe Morley respectively went on to place 2nd in the final behind Ramazza who took the belt, well done Joe and Michele, Legends.
Saturday night was the festival party and David Bain's 20th birthday.  We all had a meal in the restaurant with a nice birthday cake to finish it off.  East from Fokiwa adventure played live for the party, well done East. The prize giving was insane, they held it at midnight, by then everyone was fairly drunk and the prize give a ways were crazy.  The party went on but chilled out towards the end.  Big thanks to Gene 17 for organising a super cool Val Sessia River Festival.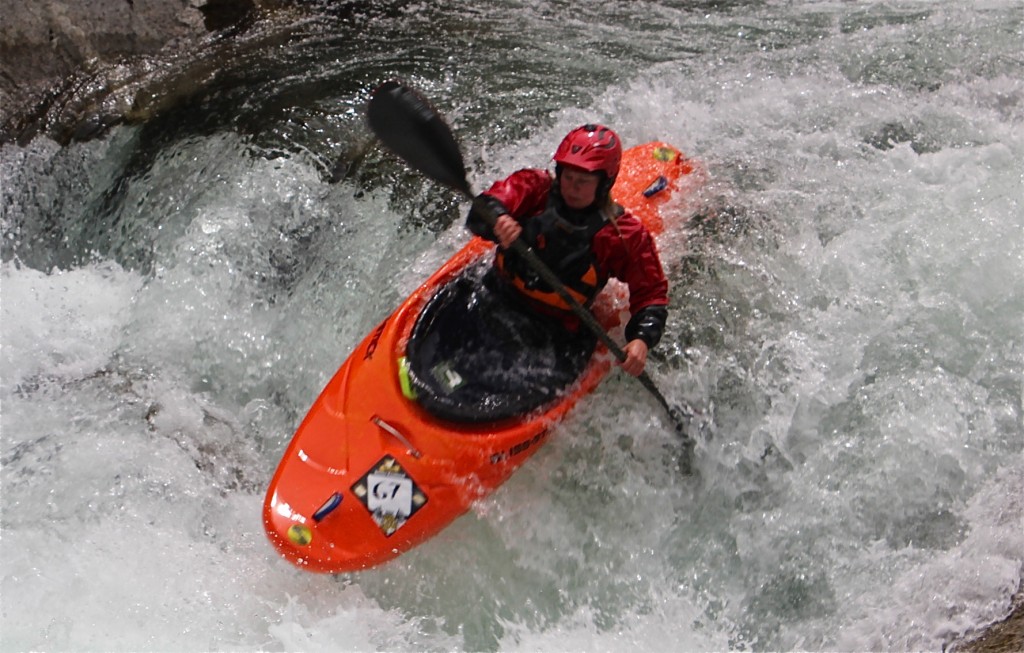 We wasted no time after the event; we went out and paddled every day before heading to Slovenia on Thursday.  Monday was Lowri's last day with us before heading home so we had a full day out starting with Sessia Gorge followed by the Semenza then to finish up the day, Andy and Lowri hucked the Landvasser drop.  On Tuesday, myself and David went into the saw-mill cataract ( Devil's slide ), first decented by Shaun Baker back in the 90's.  We paddled just drops two and three as the first looked like a crazy mission to get to.  We both made the drops ok and had a great time in there.  I would recommend knowing what your doing if your thinking of attempting the devil's slide, its not amazingly difficult but could have serious consequences in things went wrong.  After the falls we paddled out to meet up with the van at the confluence with Sessia.  This was a welcomed sight and the end to a really good mission.  Wednesday was to be our last day on the water in Val Sessia, we had planned to go look at the Heidi section of the Sorba as it had rained hard Tuesday night.  I had been looking into this section for many years and finally had a chance.  Sadly, on inspection with Matze for the mission it was still too low for the key drops so we passed on the mission and joined a bigger group to paddle the Gronda, Sorba slides and the Sorba down to just above the Devils slide secion.  This lower gorge after the slides was technical class 4/5 with some really nice feel good sections, recommend that you have someone who knows it to go with and you would have a much nicer time.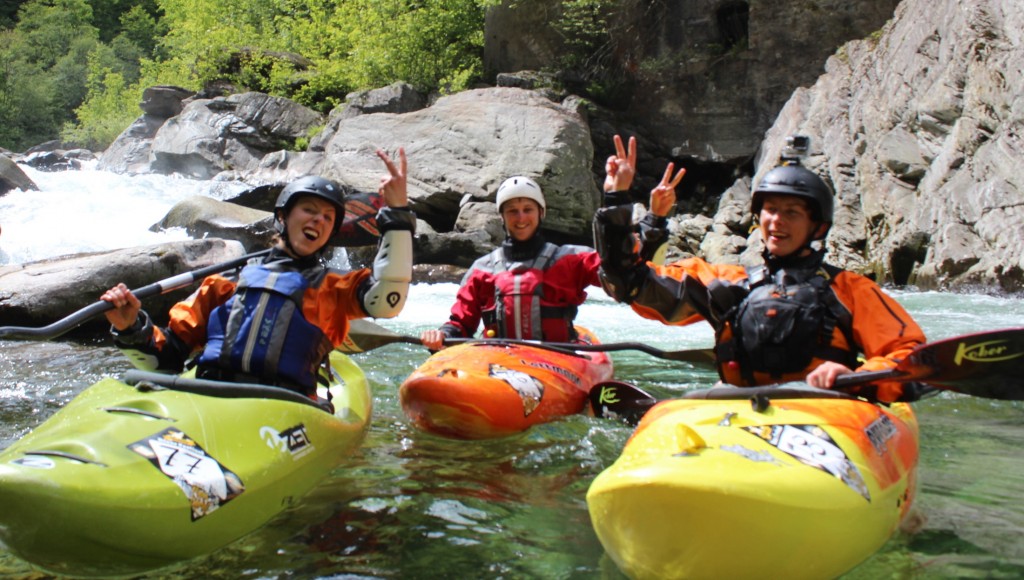 We returned to Campertogno for a nice BBQ with Matze and Katya, a really nice last night at camp ready to mission over to Slovenia.  Overall, the Team Van had a great time in Italy and now ready to move on.  Stay tuned for more Pyranha Team Van progress, From Campertogno, Val Sessia Valley, Cookie, Bainer and Butler out, peace