Oops
Sorry this is a bit late, but with all the fun and games of the past few weeks I really have just had no time to sit down and write some words about Pyranha Fest! The event took place over the weekend of the 20th and 21st September, on the River Treweryn in North Wales, there was quite a bit going on over the weekend, courses organised by Tom Parker (and run by the Pyranha Team paddlers) covering a wide range of core paddling skills and group dynamics! Boater X competitions, boat outfitting master classes (If you didnÂ't go to this you missed out on the biggest pile of free foam IÂ've ever seen!) Photographic workshops, Free style coaching with the Legend Mr Pete Catterall and many other interesting paddling related bits, oh the two new boats were lunched, The Karnali, a softer river runner designed for the progressive intermediate paddler went down a treat & the big one, the Z.one, this is the boat that has been produced to take over from the very popular Ina Zone and shares many design characteristics of the Ina zone, But made better with slightly changes in the cockpit, bit more bow rocker, a longer softer but more defined rail and the whole boat has been stretched out to make it super fast threw the water. However itÂ's still really easy to paddle really user friendly, a great boat. If you havenÂ't paddled them yet, find them and try them!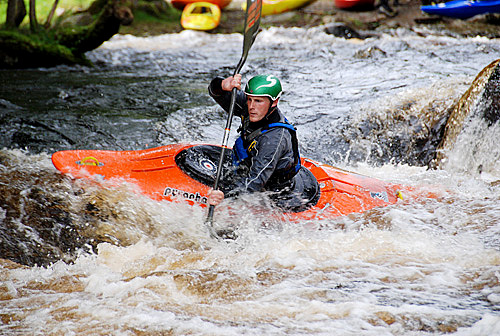 Mikey Abbott and Andy Phillips, of the informs Whitewater Warriors had made the long trip over from Norway for the weekend to run a "Warrior Master Class" which proved very popular and of course the river was open to enjoy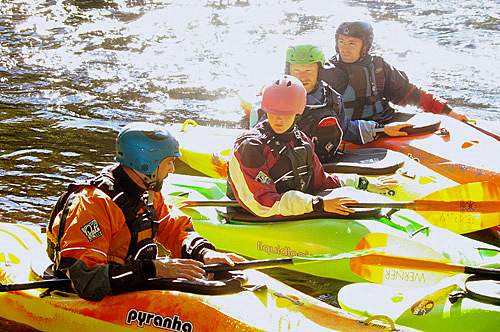 Saturday evening the entertainment didnÂ't stop! It just left the water and moved into Bala for a night of beer drinking, Film premieres curtsey of the FatCats with there resent trip to Greenland a great talk from the Warriors about there travels. The night descended into a beer glass and some good naked dancing, what a night!
Sunday was a re runs of Saturdays paddling fun. IÂ'm very sorry to the nice chap whose shoulder became dislocated! I hope your wellÂ….. And sorry I did forget to give out the names of the winners from the boater X
4th place (but 1st woman home) Emma Runcorn, Very well done!
3rd place Graham Milton
2nd place Adam Donlay (think that was your name! Sorry if IÂ've spelt it wrong)
1st place Josh Wedgwood (now this is quite amazing when you realize young Josh is only 14! Very well done) IÂ'm not sure if there were any prices!…….. But great win!
Overall what a top weekend how Sammy got the sun to shine I will never know but a top event well done Pyranha cheers Sammy! Again again