BONJOUR À TOUS!
First things first, I'm more than excited to be a part of the TeamPyranha! Since I've been paddling, I've spent most of my time in slalom boats. As they are reactive and challenging, I always chose boats because of how they give me feedback throughout my surfs, runs or "trainings" but also how fun and multipurpose they are. That said, Pyranha boats suit these criterias perfectly.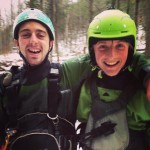 I started paddling in 1999 in the Valleyfield club summer programs. As I got older, I became a simple summer instructor in 2005 and I worked my way up to become the Technical Manager of this club. In the last couple years, I taught and coached newcomers. Some of them became good enough to compete around Canada and a few places in Europe so I have the chance to follow them sometimes with the help of CKC and the Quebec federation. As of now, while the winter hits its peak here, we are lucky enough to keep paddling outside as soon as the weather is clement (or not).
2014 was a BLAST for the Valleyfield club and myself. As the club approach its 20th birthday, many projects came into play and are giving us wings. That said, spending my time planning and building programs this winter, I look forward to the coming summer. Events, classes, summer camps and the Wednesday classic will keep the whitewater park on almost 24/7.
As a team member, I'll share with you my thoughts and knowledge to help you improve your paddling. I'll post some drills, paddling hints, boat reviews and physical preparation tips that would help you understand more about how to move your boat, body and blades in water.
Stay tuned!
LP Légaré
FS: Jed M (for its quick reactions)
RR/Technical work: Z.One Med/Small
Creek: Shiva L (displacement hull rocks!)
Paddle: straight shaft Warrior 715cm2, Select paddle