One month ago I bought a ticket to Portland with the plan of running a couple rivers throughout Oregon. Currently I am more then halfway though my nine day trip and I have rune more vertical feet than most people have run in their life.
The first day I got picked up from the airport after waking up at 3am to get on the plane. We quickly drove to Eagle Creek and Kyle Hull and I ran 35 foot Punchbowl falls and 90 foot Metlako falls. It was around 6.00 when we ran the falls so the light was too low to film.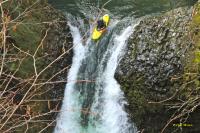 The next day I ran Upper and Lower Bridal Veil Falls. The Upper drop was supposedly navigated twice before. The Upper falls is about 60 feet with an auto-boof halfway down. The bottom drop is a 30 to 40 foot slide. I scouted the drop briefly and decided to run it. The lip of the top drop was gigantic. The crowd at the bottom had to be 100 feet down. Luckily I had great lines on both drops.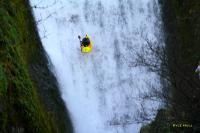 After, John Hyland, Kyle Hull, and I traveled to the Little White Salmon. This classic creek is a gem. The water was high, but nonetheless we headed down the river. This has to be my new favorite creek. Kyle and I ran every rapid including Sprit falls, a monstrous 30 footer with a very dangerous rapid called chaos right after. We both had good lines.
The next two days were spent Southeast of Hood River on the Mckenzie River. Kyle hull and I ended up running 75 foot Koosah falls and 85-foot Sahalie Falls. Both had difficult lips. Our lines were good though.
After that, John, Kyle, and I went to Celestial falls, a clean fifty footer. We ran our boats in, hoping not to get spotted by the locals and we were successful. Celestial falls is a great drop for an introduction to hucking.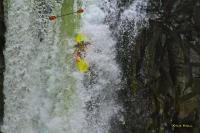 The last day I was in Oregon I went back to Eagle Creek. My goal was to run Metlako 5-8 times in a day. The water was ridiculously high the morning I woke up.  I hiked up to check out Metlako Falls and it looked pretty good. I ran back down to the car, did the two-mile hike with my boat, above Metlako and started hucking. I ended up running this infamous 102-foot drop 6 times that day. The only battle scar I came out with was a gash and a black eye.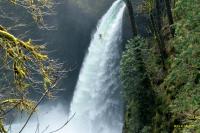 It definitely was not fun leaving this amazing place. The quality of waterfalls and rivers is astounding. Hopefully I will get to go back this year.