Fresh back from OR we are excited to tell you about our new boats for the 2013/14 season. First up, the one everyone is talking about, the new Burn!

The third generation Burn is the latest in Pyranha's long line of cutting edge river runners.  Paddlers have come to rely on the Burn's combination of playful hull, precise edges and forgiving deck profile for everything from the beginnings of whitewater to Class V creeks. The new Burn refines these features further to give you more speed and drive, more precise tracking in turbulent water and effortless boofs and adds in new meta grab handles and redesigned outfitting. The Burn's combination of stability and precision make it a proven all round performer–whether you are a beginner running Class II or an expert firing up big drops.
Rapid Magazine chat to Craig about the new Burn III

Burn M – Available September 2013
Burn L & S – Available Autumn 2013
Also new from Pyranha is the Fusion Sit on Top.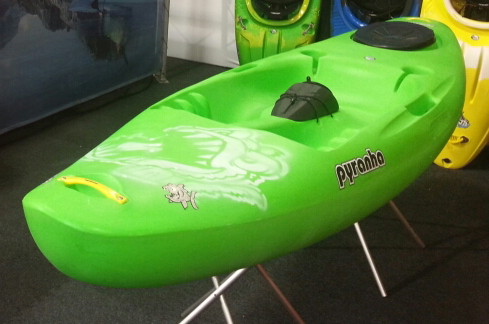 The new Fusion SOT combines the forgiving hull of the best-selling Fusion crossover kayak with an open top design that will appeal to paddlers who prefer the simplicity of a sit-on-top.
The Fusion SOT has a stable, nimble hull that runs rivers and surfs waves with ease. Drop the retractable skeg and you can cruise flatwater sections or quiet backwaters and a dry hatch provides plenty of room for overnights and exploration. Fun on moving water and quick across the lake, the Fusion SOT is one kayak for all your adventures.

Available Autumn 2014
There are lots of other things in the pipeline from Pyranha and check out what's new from Venture here – www.venturekayaks.com